From Sarah Lipoff, POPSUGAR Pets
Homemade Wild Bird Treats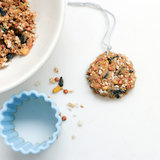 Ingredients
1/2 cup peanut butter
1/2 cup lard
1 cup birdseed
1 cup bread crumbs
1/2 cup flour
Directions
Melt the peanut butter and lard in a small saucepan, and whisk until smooth. Any kind of peanut butter works for making these wild bird treats.
Measure and add the birdseed, bread crumbs, and flour to a small mixing bowl. This is a great recipe for putting stale bread to use. Simply grind old slices to use for making these bird treats. Add the warm peanut butter and lard, and stir until incorporated. The mixture should hold together when rolled in a ball. If it's sticky, then add a bit more flour.
Roll the dough flat, and use cookie cutters to mold shapes, roll into small balls, or press into rounds of a muffin tin to form the treats.
Allow the treats to chill in the refrigerator for several hours until they harden. Use a toothpick to create a hole for threading the treats with string, or simply leave whole. Place outdoors, out of direct sunlight, and watch your wild bird friends enjoy a special treat!
Information
Category

Bird Food, Pet Treats