How to Teach a Dog to Lick
Spring Training Tip: How to Teach a Dog Tricks He Already Knows
Yes, this sounds like a pointless task, but let me explain. If you want to teach your dog how to bow, for example, think about that stretch he already does when he wakes up — It looks just the same. So, the next time you see the pup doing something you want to turn into a trick, issue the command as he already does it and give him a treat.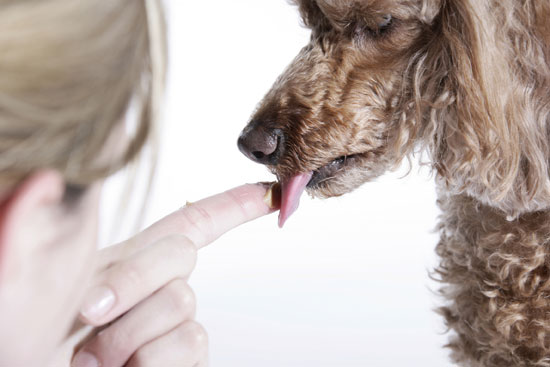 Dogs can then associate words with an action and learn to perform the task to get that yummy reward. This technique is easiest with things a pooch already does regularly. Find out how I made it work for North and read more.

North and I have a firm no-kisses-on-the-face rule. However, he does know what I mean by "give kisses." When strangers meet him on the street, I ask if they would like some affection and, if so, to hold out their hand. If someone says "give kisses," my smarty pooch knows to give them a lil lick on the hand. If a dog doesn't naturally do this, smear some peanut butter (or other tempting treat) on the top of a hand and put it in front of the pup's face. As he goes to sniff and then lick it, say "give kisses" so he learns the command and the resulting way to act!