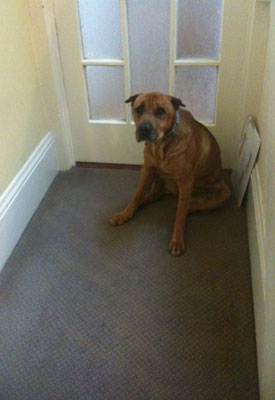 No joke! I've recently moved and there's a new furry face that appears to want to keep me company right in my hallway. You may recall the
feline friend waiting outside my last apartment
, and this time it's a dog. I don't discriminate.
I see the pup sitting or lying outside the door across the hall and he never moves, even if I coo or if North lunges tries to go over to say hi nicely. Am I just a magnet for pets?!
I'm fairly certain the dog belongs to whomever lives in that unit, since I haven't met that neighbor yet, but the canine is so chill and content that I'm guessing he prefers to wait for his mommy (or daddy) outside the door instead of in. Have any of you seen anything like this yourself?