Meet Kokoro-chan, the Heart-Marked Cousin of Love-kun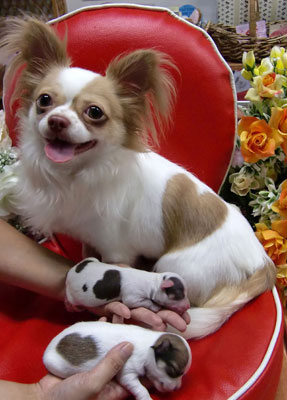 It seems like only yesterday we were oohing and ahhing over the birth of lil Love-kun. Now check out this other 3-day-old Chihuahua, Kokoro-chan. With a telltale heart shape, this pup has the same father (Heart-kun) but a different mom — so these babes are cousins in cute.
Now, we already know that this marking is not that unusual, and I can think of a couple other pups with identifying markings (like Licorice's "L" shape). Sadly my pooch just has an splotch on his neck, but compare these two love marks — Love-kun's in the front and Kokoro-chan just behind — in a closeup shot when you
.