Menswear Dog Tumblr
Move Over, Boo! Meet Menswear Dog, the Internet's Newest Canine Celeb
Just in time for New York Fashion Week, a fresh style-setter arrives on the scene, but there's something different about this guy: he's a dog. Meet Menswear Dog, a 3-year-old Shiba Inu with a penchant for high fashion. Need advice on how to style your man's chunky cable-knit cardigan with his rugged Winter boots? Menswear Dog has the answer!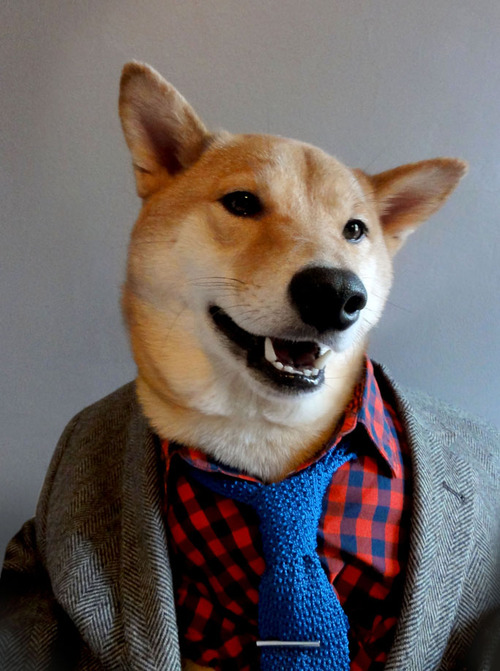 To get to know this chic pooch, just keep reading.
According to the Tumblr, Menswear Dog has "a panache for all things style," and "his interests include never washing his selvage denim, lurking around SoHo for someone to notice his steez, and sniffing fine a$$ bitches." To attest to his "steez," one of the outfits on the now-viral Tumblr consists of a vintage wool herringbone blazer paired with a Ben Sherman checkered shirt and Polo Ralph Lauren knit tie. This is not kid's (or puppy's) stuff. Menswear Dog, whose real name is Bodhi (named after Patrick Swayze's character in Point Break), is a sartorial authority truly deserving of his own fashion blog.
However, according to his owners, graphic designer David Fung and his fashion-designer girlfriend, Yena Kim, Bodhi's a "spry, feisty little guy" who doesn't make photographing him easy. "The behind-the-scenes is super awkward," said Fung. "There's all sorts of clips in the back of the clothes, and I'm propping him up. But you get this window of magic between him squirming around." Well, he could have fooled us. Covered in fur or not, we could easily picture Menswear Dog on the cover of GQ.
Source: Tumblr user Menswear Dog