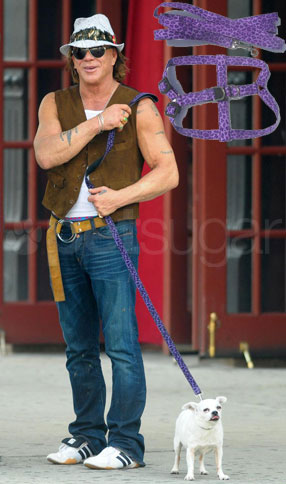 Mickey Rourke took a stroll with his
traveling chihuahua Jaws
in New York's West Village earlier this week, and was seen leading his pooch with a very purple and very leopard-spotted leash. I knew Mickey
was into fashion
, but who knew this guy was such a trendsetter?
Sure, purple leashes have been around the block a few times already, but this pattern looks veeery similar to a Louis Vuitton scarf that I've seen around town. Has Mickey got his hands on a custom-made leash?
It's possible, especially with all the fashion shows he attended this year! But in the meantime, you can follow Mickey's lead (literally and figuratively) and pick up a similar Purple Leopard Harness and Leash ($40) I found online, and set the trend in your town.