There are few things as adorable as two (or three!) animals huddled together in an embrace of love, warmth, jest or just for the heck of it. Call it cuddling, getting cozy, spooning, or just plain cuuuuuute. Get your daily dose of cuddly goodness here.
Baby Hippo Cuddle Bumps Mom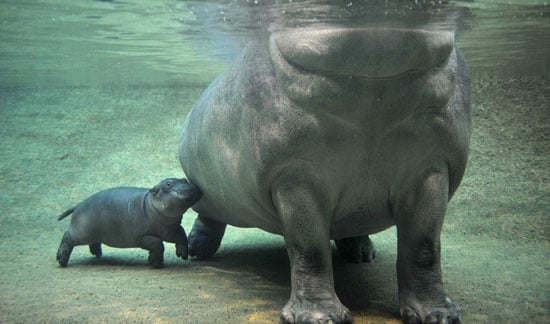 This baby hippo inched up to mama underwater [1] before he had even been named. Naturally, he was born underwater (like many hippos) and even nursed submerged in the water.
Side-By-Side Sweeties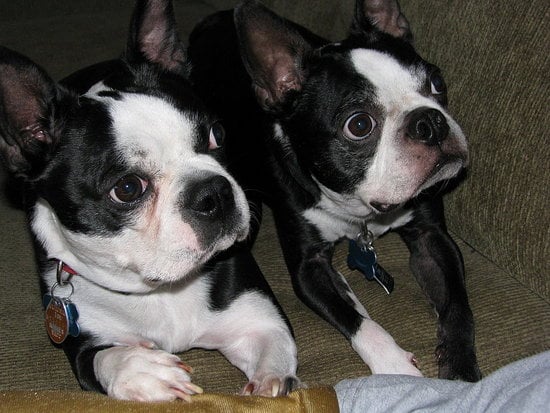 Spotted: Boston Terrier brothers Joey and Tanner [2] sitting side-by-side on the couch just being bros.
Enemies and Friends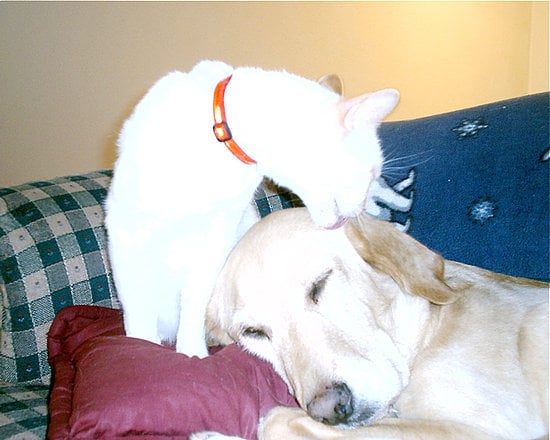 Although their family admits Angelo and Baya fight like cats and dogs [3] after years of co-habitation, they still appear to love each other enough to cuddle.
Cottontop Tamarin Baby Masters Cuddle in Two Weeks' Time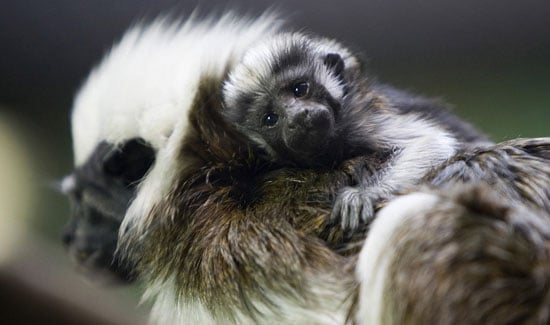 This little Tamarin [4] wants a ride! The two-week-old peeking babe cast on onlookers while innocently catching a ride on daddy's back.
Say Hello to Mikey's Little Friend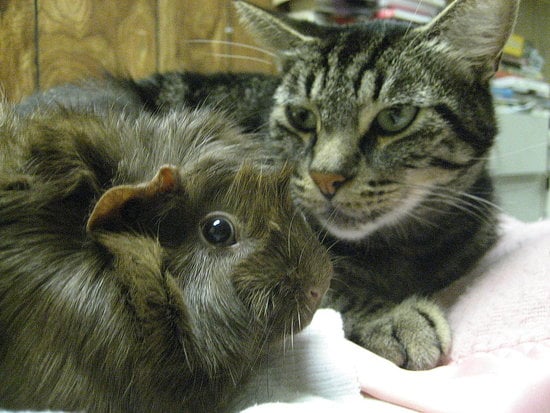 It make look like Mikey is about to eat the guinea pig [5], but your eyes are deceiving you. Mikey and his houseguest actually get along quite well, cuddling and napping together.
You Be the Spoon!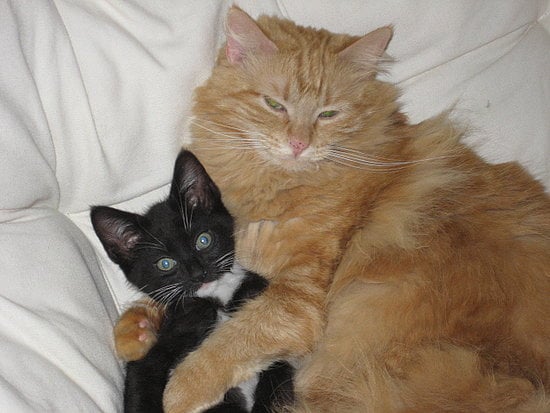 These two sisters from another mister have no problem curling up together for a nice nap.
Lucky and Jesse Are Two Peas in a Pod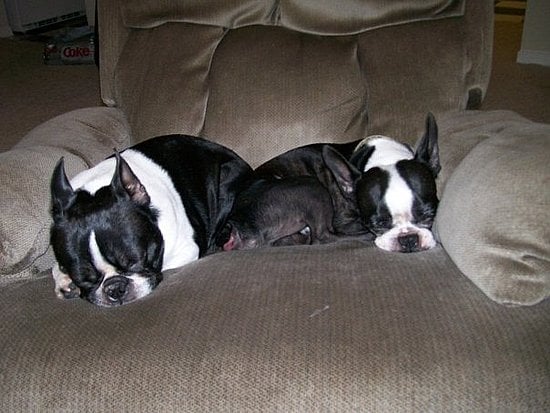 There's nothing I love more than a Boston Terrier, and two Bostons are even better than one [6]!
Grandma Keeps the Kiddies in Line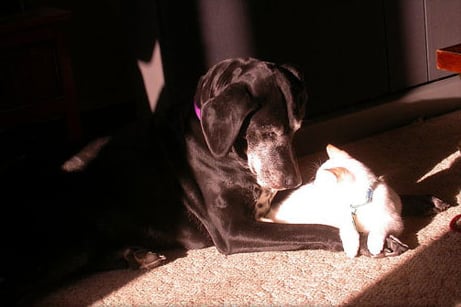 I guess in a household of five pets [7] there has to be one that keeps the others in check. And in LadyHawkes' house that would be the oldest black lab she has dubbed "Tutu," which means Grandma.
Max and Cricket Spread the Love
Buddies Max and Cricket [8] prove yet again that dogs and cats can, in fact, be friends.
You're Safe in Mom's Arms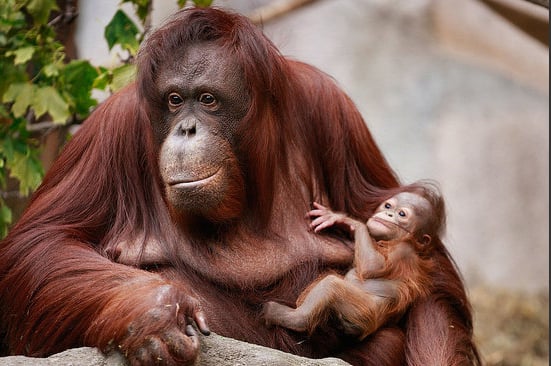 This baby girl entered the world on Oct. 6, 2008 [9] at Illinois's Brookfield Zoo to proud mama, Sophia, a 27-year-old Bornean Orangutan seen here cuddling the lil one.
Orangutans are the only great apes from Asia Along with these animals native to Borneo, there's a closely related species from the nearby island of Sumatra. Their diet is made up of 60 percent fruit and other plant parts.
Party Pals Pucker Up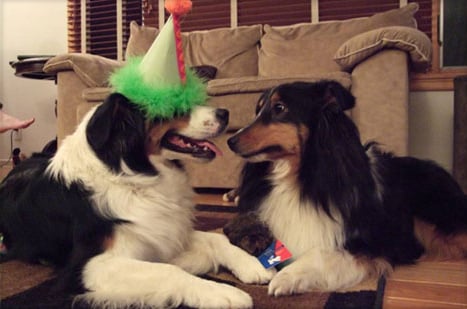 Gotcha had so much fun during her third birthday festivities [10] that she couldn't even keep her hat on straight. She's such a party animal!
Three Baby Tigers Are Better Than One!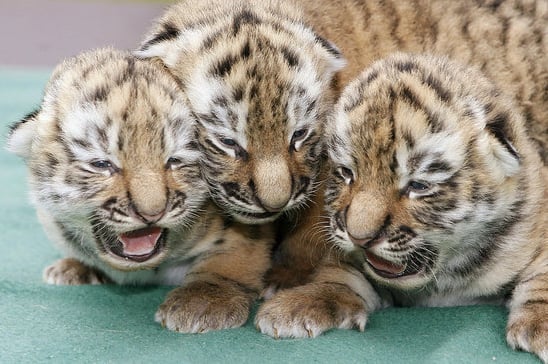 Born to mom Bella on [11] in the land of baby animals (aka, Germany), the Siberian tiger babies made their big press debut in Leipzig.
Fluffy Balls of Love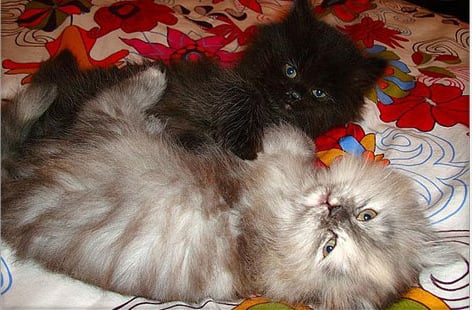 OK, this makes me want to adopt [12] an entire litter of kittens. So. Cute.
But Mom, I'm Tired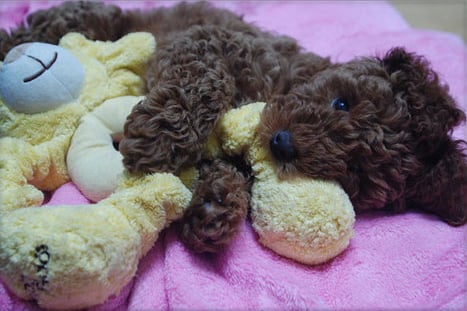 Life is pretty sweet when you can take a nap with your favorite toy [13] in the afternoon.
Hamburg's Baby Hippos Hug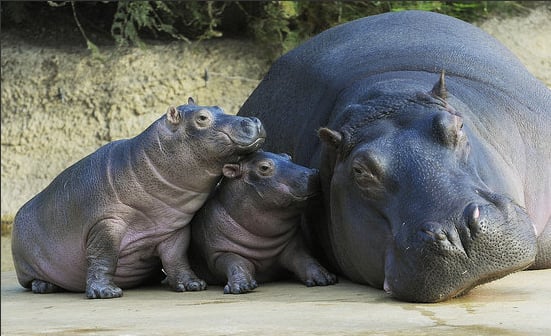 This happy family lives in Hamburg, Germany [14] — the babies, born in November and January, were the first to join the zoo in a number of years.
Awwwwfully Up Close and Personal With Two Lil Lions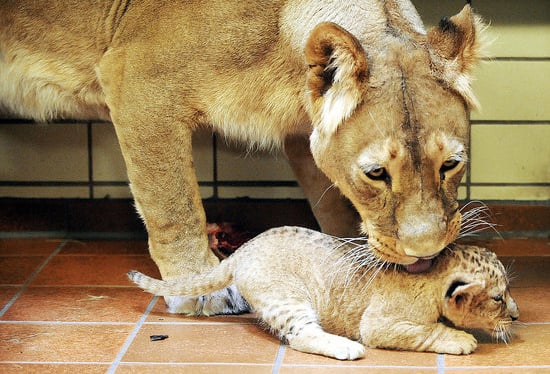 It's another adorable little big cat [15]. This time a different species (Java's a leopard) but just as ready for that close-up. The four-week-old lion cub was born in Dortmund, Germany, and there's actually a twin. No joke but these two are already quite the soccer stars, perhaps in training for the next World Cup, and taking after another German animal we love to look at?
Cuddle Up, Baby!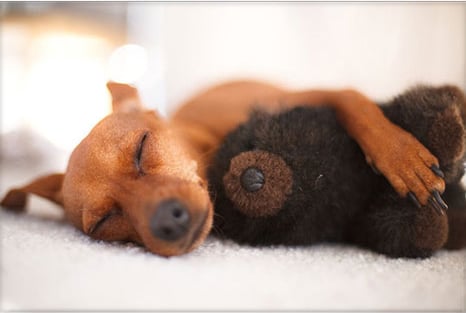 Puppies are so sweet when they are sleeping, especially when they snuggle up to their favorite toy. I seriously can't get enough of this picture of BridgetJones [16] — how sweet is it!?