You don't need to remember this Titan since he's still alive. As the only animal honored in the 30 Guinness records announced on Nov. 12, this pooch really measures up! The 4-year-old dog is blind, deaf, and epileptic but measures in at a whopping 3 1/2 feet tall from floor to shoulder, taller than even Gibson, the previous record holder who died back in August.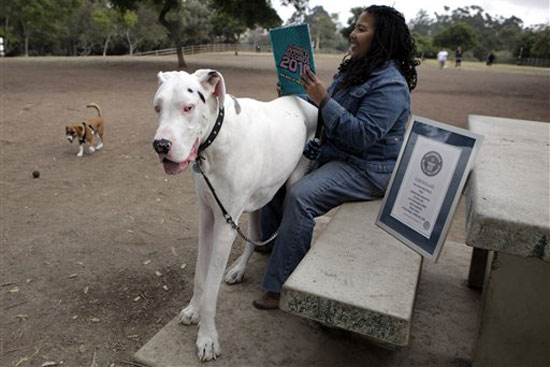 Rescued from the Middle Tennessee Great Dane Rescue as a puppy, he could see out of one eye when younger before going totally blind but remains calm and friendly towards all friends, human and furry. Due to his height, he undergoes acupuncture and chiropractic adjustments every three weeks and, if he could safely stand on his hind legs, he'd probably top 80 inches ear to toe — wowza! Check out his
official website
and see a selection of his puppy pics below.
Source: TITAN & Friends and Source: Guinness World Records