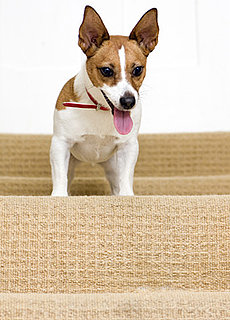 While I have no carpet inside my apartment,
my building's hallway
features carpet . . . and carpeted stairs. I like to do my part to keep the area tidy and, when I was vacuuming my doormat yesterday, I noticed a bunch of pet hair caught on steps by the door. My
Dyson
has
had attachments for little nooks and crannies (now misplaced somewhere in my apt.), but I recently tested out this technique taught by a pal. Curious what I used to get those loose hairs? Find out when you
.
Rubber gloves! I donned a new pair of kitchen gloves and moved my palm and fingers along the stairs to instantly grab the hair, which is drawn to this texture. I got through four steps before rinsing my gloved hands with the kitchen spray faucet, drying with a paper towel, and repeating the process — super easy and speedy, too!