Summer Dangers For Cats
8 Summer Dangers For Cats
Like us on Facebook
We're happy to present this article from our partner site Yahoo! Shine:
When we think of summertime dangers for pets, we're probably thinking mostly about dogs. Dogs spend more time outside; dogs tend to have a more intense relationship with what's on the picnic table; dogs are more likely to like the water.
But some cats hang out outdoors, or near pools and ponds — and too much sun can have harmful effects on our feline friends, too. Now that summer is officially underway, it's a good time to review the hot-weather dangers that might face our cats — with a little help from this rundown from PetPlace's Dr. Dawn Ruben.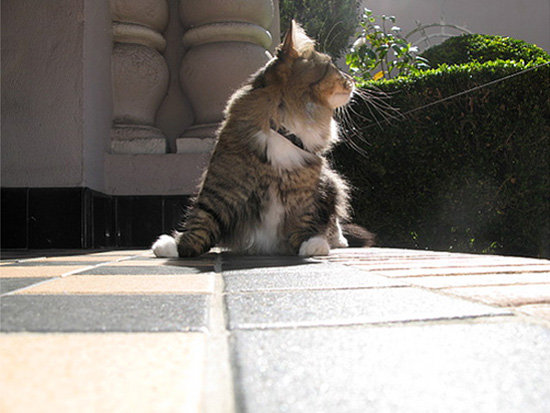 Keep reading for tips.

1. Fights with other animals. If your cat spends more time outdoors in the warmer weather, chances are she's not on a leash — and other cats roaming the nabe aren't either. Consider a small harness, or only letting Fluffy out under supervision.

2. Insects. We would never have put "maggot infestation" (!) on our list of cat-related worries, but warm weather means more insects…means flies can lay eggs on your cat's skin or in cuts and scrapes. Yuck! Keep your cat clean and brushed, and look her over for cuts, bruises, bites, and fleas and ticks each time she comes back inside.

Shine Healthy Living: How to stay cool in a heat wave

3. Antifreeze. It's still a danger in the hot weather, as summertime is when many people change the mixture — and it will taste just as sweet to your cat.

4. Sunburn. A particular concern for white and hairless cats, but even the furrier felines can get burnt ears — and develop skin cancers later on.

5. Picnic food. Forget the Norman-Rockwell-y image of a kitten lapping up milk; cats don't have the enzymes needed to digest dairy products. But they'll go after them if left unattended — and the tuna salad that's been out too long will make them super-sick. Even barbecued meats that might seem okay could be too rich for their pancreases. Keep the kitties away from the human food (use some of that tinfoil to line the table surface; many cats hate how it feels on their paws).

6. The pool. Some cats do enjoy a dip; if you have a pool, make sure the pets can't get to it unless you can keep an eye on them (even strong swimmers sometimes can't get out of the water on their own). Others just like to drink out of anything that's NOT their bowl — we witnessed the cats at the Hemingway house merrily lapping from the swimming pool — and obviously the chlorine isn't great for their little tummies.

7. Algae. Maybe you swim at a pond or lake instead of a backyard or neighborhood pool. Turns out ANY standing/stagnant water could allow algae to form, and the blue-green variety in particular is super-dangerous to pets. It also attracts mosquitoes. If you can't dump out standing water, do make sure your cat isn't drinking from puddles of it.

8. Fish hooks. Another one we'd never have thought of, but it seems that cats take an interest not just in the catch, but in the bait we use to fish — and will eat it along with the hook and line. In that case, call a vet pronto, and tie the end of the line to your cat's collar to make sure no more of it goes down the hatch. DO NOT PULL ON THE LINE. If the hook is stuck in skin or a paw, you can try cutting the barbs with a wire cutter, then pushing the hook through and out — but getting a cat to hold still for that procedure may not be possible. We'd advise calling the vet regardless, and wrapping the cat in a towel for the trip so she doesn't worsen the damage. (To herself OR you. Heh.)

What trouble have YOUR cats gotten into in the summer months? Tell us what to avoid — or funny stories about paws in pina coladas — in the comments!

— Sarah D. Bunting

Copyright © 2012 Yahoo Inc.

Elsewhere on Shine Pets:
Pet Safety During Cookout Season
5K Reward for Cobain's Missing Cat
Dog Rescues Abandoned Newborn