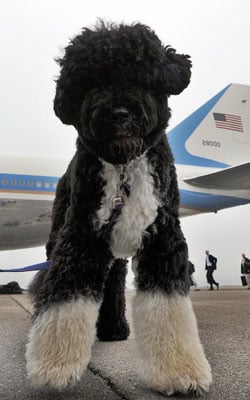 Ahh, for me, the saddest part of vacation is when it comes to an end but Bo Obama seems eager to scamper onboard on the way back to DC. After spending the week on Martha's Vineyard, he's heading back to his normal life at the White House — naturally via Air Force one, how else would a presidential pooch travel?!
Even though there was word of his very own doggie parade on the island when he arrived last week, the First Dog was a no-show to the big event. Oh well, I'm sure he was booked solid with fetching and frolicking with the girls — he looks as playful as ever coming for the camera like it's a yummy snack, hopefully one of those bags has treats inside!
See a bunch more of Bo when you
.