If you decide to dress up with your friends this Halloween [1], then consider getting creative and making your costume instead. That way, you'll have a one-of-a-kind outfit that can't be bought from a store, and you'll save money as well. Out of ideas? Check out some of the coolest Halloween group costumes.
Rugrats
Relive your childhood with this Rugrats group costume.
Beanie Babies
All it takes is some animal ears or hats and a quick DIY [6] to make the beanie baby tag!
Roller Coaster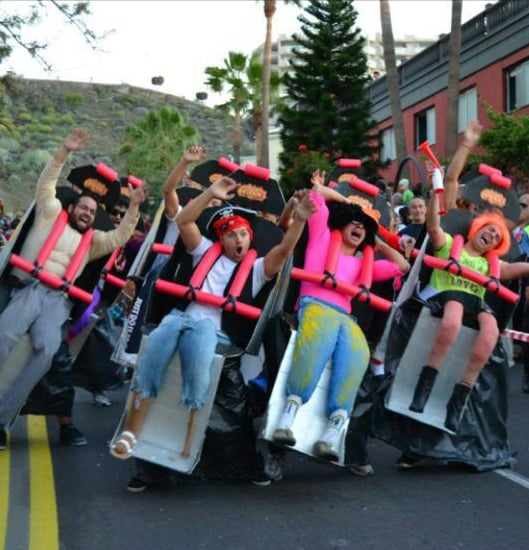 Ready for the ride of your life?
Source: Reddit user aeo1003 [7] via Imgur [8]
Minions
Take over the world with your fellow minions this Halloween [9].
Teenage Mutant Ninja Turtles
Be creative with your pals and spray-paint disposable aluminum baking trays to use as your shells for these Teenage Mutant Ninja Turtles costumes. Dress up in green and wear the right color bands, and you'll get a uniquely homemade group costume that people will be raving about.
Care Bears
Brighten up a Halloween [10] party by opting for the cheery Care Bear group costume. Make ears out of colored paper or felt, pick a bear to emulate, then wear its requisite colors. Finally, make your Care Bear belly out of white paper or felt cloth and draw the symbol on with colored markers.
Men in Black
Wear a black suit, put on shades, get two other friends to do the same, and you'll have your top-secret Men in Black group costume.
101 Dalmatians
What's great about the 101 Dalmatians group costumes is that you can invite as many people as you want to join in, and you probably can throw it together with items you already own.
Wear a white outfit and use a black marker to draw dots all over. Use makeup to draw spots on your face.
Trolls
Gel up your hair and spray it with temporary hair color. Wear a nude top, some colored shorts (or go all nude, if you prefer!), and you'll have a really cool-looking troll entourage.
Kiss
Get three other friends to slap on Kiss's trademark makeup, throw in some leather, and you'll look like the distinctive American rock band.
Aliens From Toy Story
Put together a bright blue top and bottom, and DIY [11] a bright green headpiece complete with three eyes.
Lego People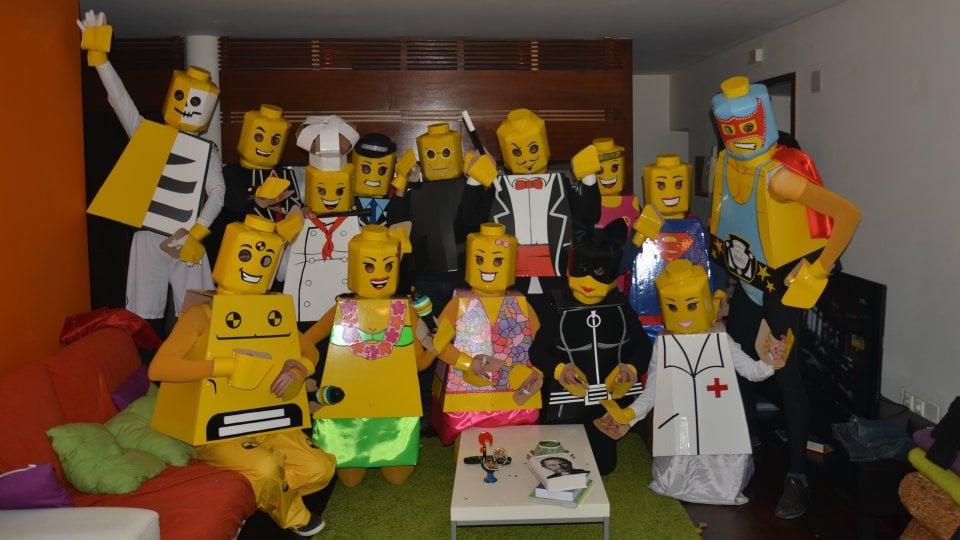 With some cardboard, foam, poster boards, and lots of yellow paint, you'll turn heads with this Lego group costume.
Source: Reddit user nothing_pt [12] via Imgur [13]
Hippies
Love is all around you — spread the peace by teaming up with some pals to be hippies this Halloween [14].
Social Media Platforms
Geek out by dressing up as your favorite apps or social media platforms.
The Powerpuff Girls
If you're going to be the Powerpuff Girls this Halloween [15], get blue, red, and green outfits and add black belts to the ensembles. If you don't have black belts, you can easily replace them with black duct tape.
Fast-Food Giants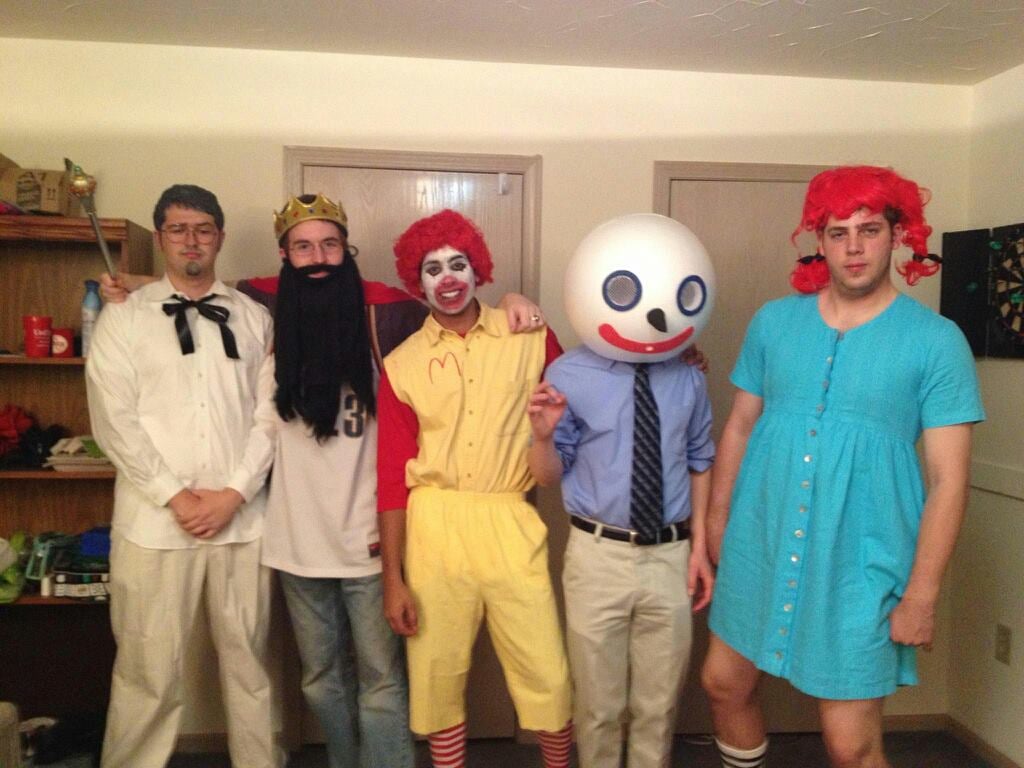 It's your chance this Halloween [16] to indulge by going as one of your favorite fast-food chains.
Source: Reddit user undrtkrwrestler [17] via Imgur [18]
Scooby-Doo
Ruh-roh! Team up with your gang to form a Scooby-Doo group costume that's easy to put together.
Scrabble Words
Team up with your friends to form Scrabble words. Take it a step further by dressing up to match the word.
Source: Reddit user jonnyb038 [19] via Imgur [20]
The Many Faces of Johnny Depp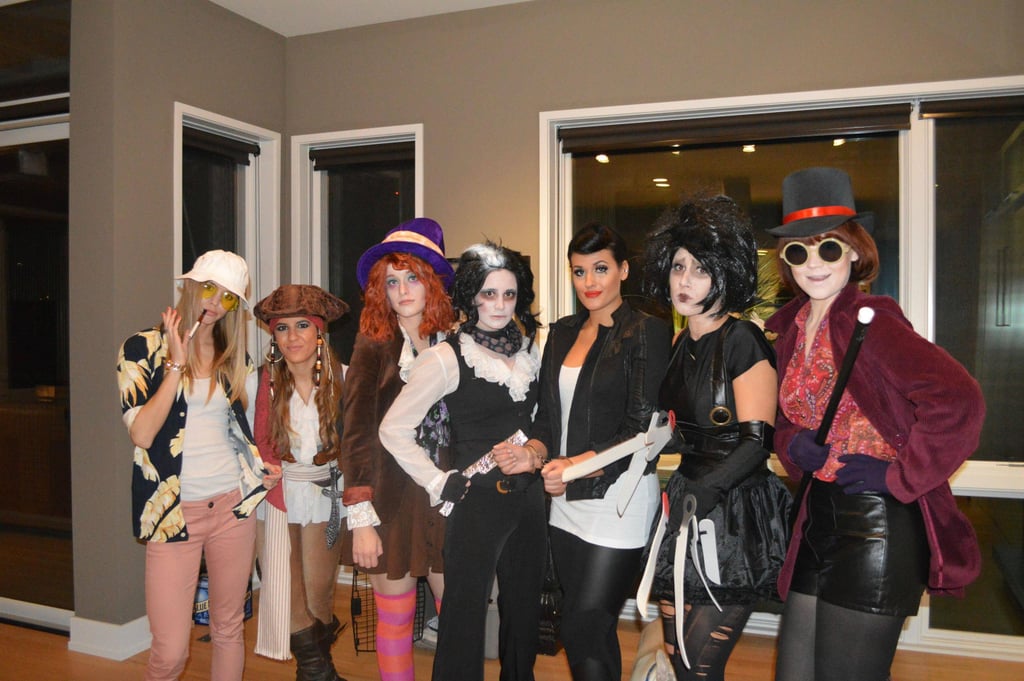 One fun idea is to pick your favorite celebrity and have each person in your group dress up as him or her. But remember to each wear a different look. This group of gal pals managed to dress up as the various roles Depp has played in movies.
Source: Reddit user aubra_cadabra [21] via Imgur [22]
Mario and Gang
Mario and his pals always make great group costumes.
Source: Reddit user shadowmanjack [23] via Imgur [24]
Four Seasons
The perfect choice for four best friends — the four seasons.
Simpsons
Be everyone's favorite Springfield, MO, residents this spooky holiday.
Source: Reddit user BROshon_Moreno [25] via Imgur [26]
Crayola
Team up with your friends to form a Crayola pack.
Wizard of Oz
Go off to see the wizard with your gang this Halloween [27]!
Cool Runnings
The Jamaican bobsled team!
Doctor Who
Guess who?
Power Rangers
Band together to battle evil as a group of Power Rangers.
Sushi Bar
Get your carb overload with this sushi-bar group costume.
Spice Girls
Your friendship will never end with this group costume.
Hungry, Hungry Hippos
Remember this awesome board game from the '90s? DIY [28] colorful hippo heads and reminisce about the good old days from your childhood.
Seven Dwarves
Have seven other people you want to team up with? Be the seven dwarves and Snow White!
Star Wars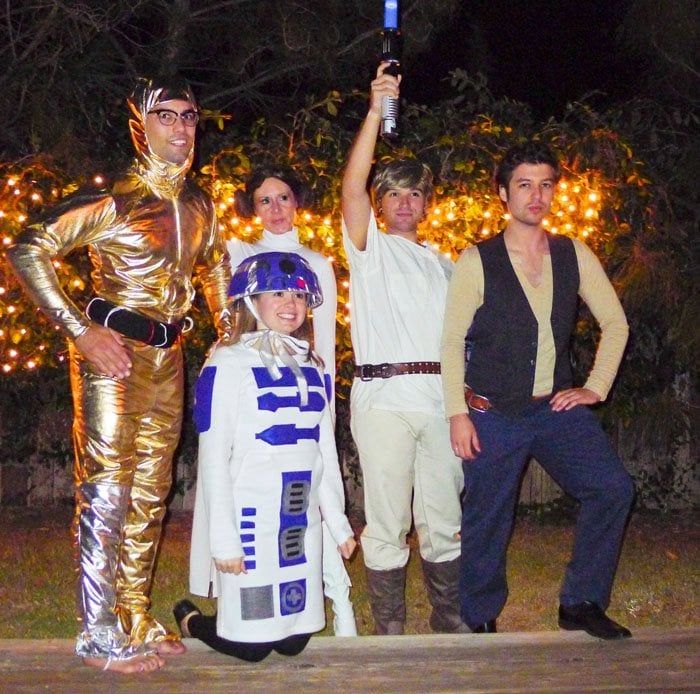 May the force be with you this Halloween [29].
Source: Reddit user andyrosenberg [30] via Imgur [31]
Anchorman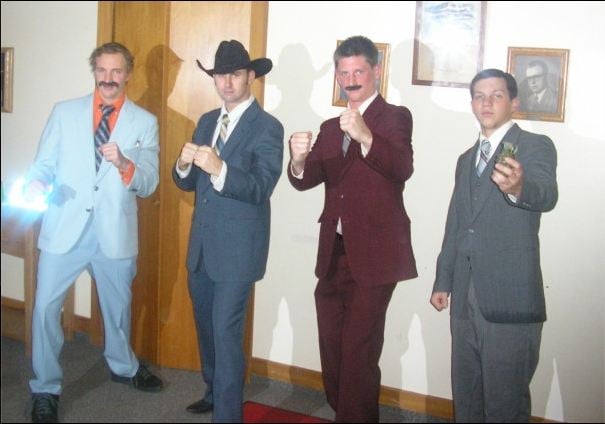 If you and your friends want to be important this Halloween [32] (and have leather-bound books and rich mahogany-smelling apartments), then please dress accordingly.
Source: Reddit user stroker351w [33] via Imgur [34]
Bath Products
Feel so fresh and so clean, clean with this bath products Halloween [35] group costume.
Pac-Man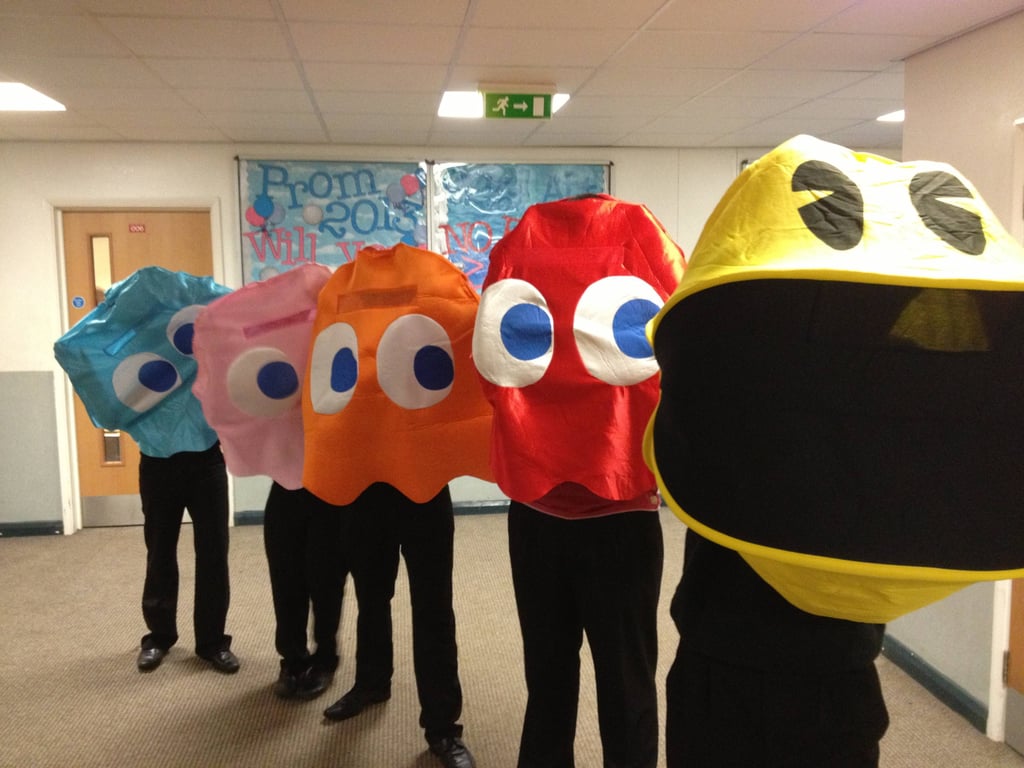 Get your pack to dress up as Pac-Man characters.
Source: Redditor [36] via Imgur [37]
Black-and-White People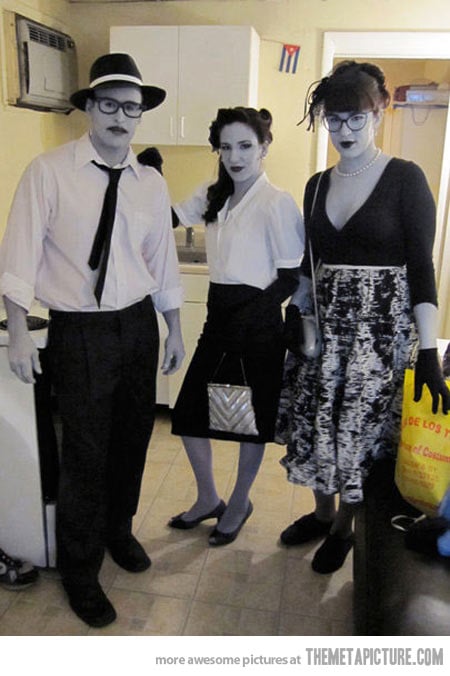 Color is overrated.
Source: Reddit user Myst23 [38]
Tetris
Quite a fitting group costume.
Source: Reddit user GigaWatson [39] via Imgur [40]
Browsers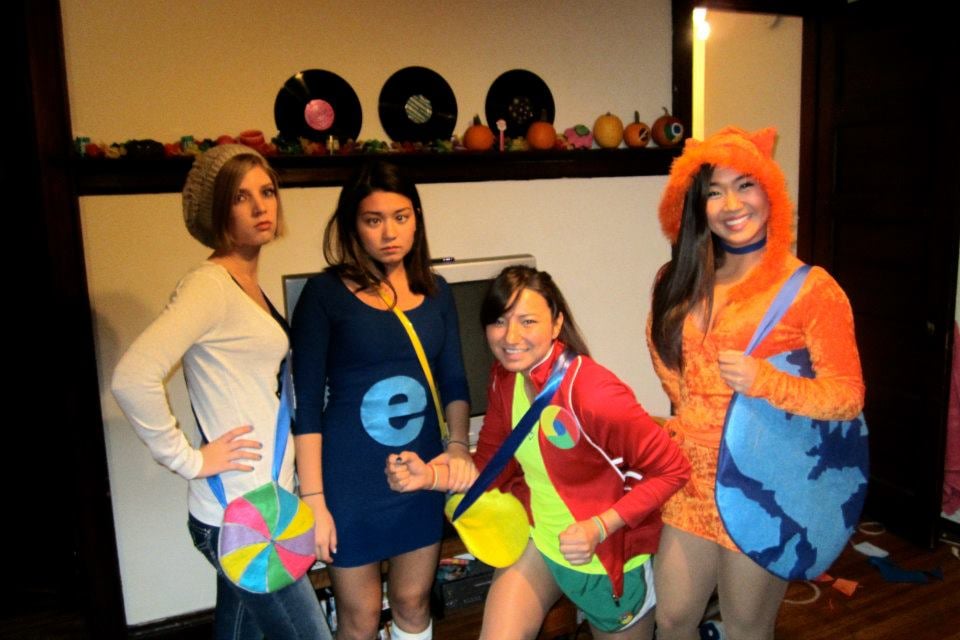 Guess which browser leads the pack?
Source: Reddit user megustacomer [41] via Imgur [42]
Futurama
This Futurama group costume actually won this group of friends a best costume award at a party. 
Source: Reddit user Klever81 [43] via Imgur [44]
Flintstones
The perfect family costume!
Clue
Solve a mystery with your pals this Halloween [45].
Taco and Sauces
Can't get any hotter with this group costume!
Mad Men
This is the perfect group costume for those who are mad about the 1960s-based TV show.
Sister Wives
The more the merrier.
Candy
For those who have a sweet tooth.
Harry Potter
Relive the adventures from the beloved Harry Potter series.
Rainbow
Gather up a group of friends and represent your color as a part of a rainbow costume. Top it off with a pot of gold at the end!
The Wild Thornberries
This kooky family is a fun costume idea, and most of it is probably already in your wardrobe.
Mean Girls
These ideas are so fetch!
S'mores
This s'mores group costume is complete with a campfire!
Rock, Paper, Scissors
This cute costume is easy to make at home, with just a few cheap materials.
Beer Pong
Wrap yourself up in red and call it a day!
OPI Nail Polish
If your a beauty buff, then this cute OPI nail polish costume is right up your alley (and supereasy to make).
Board Games
Be your favorite board game!
Sesame Street Characters
This Sesame Street costume is epic, and the options for what characters you can be are endless.
Shark Week
Gather up seven people and take a bite out of Halloween [46].
Twister
Get twisted with your pals this Halloween [47].
Mimes
Silence is golden with this mime group costume.
Piñatas
Make the party part of your own costume with a piñata DIY [48].
Pin it!