Being surrounded by greenery is a good way to relieve work stress, but not all of us work within a stone's throw of a park. Bring nature to you instead by setting a mini office plant on your desk.
Don't worry about the plants clashing with your cube decor — gone are the bulky ceramic office planters of days past. Now there are plenty of tiny options that will add style to your desk.
Glass Pyramid Terrarium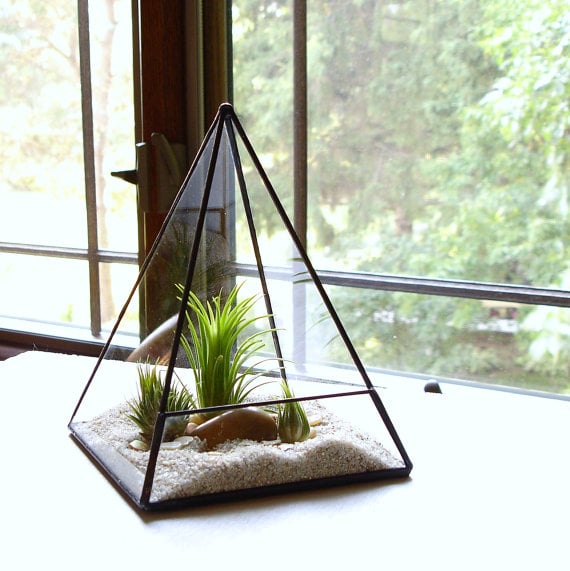 Gaze upon this noble pyramid terrarium [1] ($65), featuring hand-cut glass, whenever you need some peace or inspiration.
Geometric Wooden Planter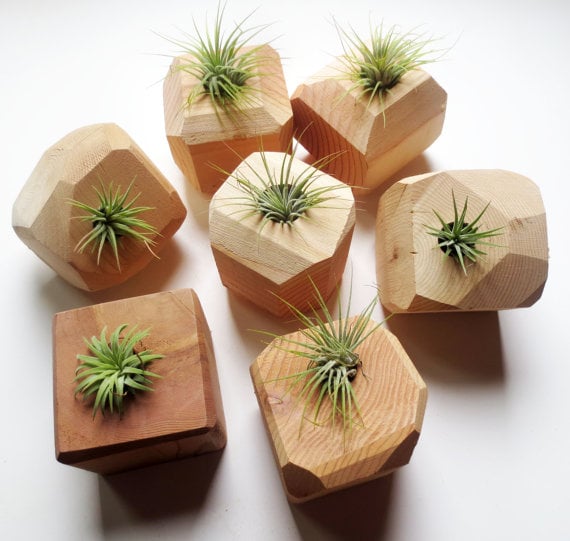 The greenery is a soothing glimpse of nature, while the geometric shapes of these planters [2] ($20 each) bring to life any flat office space.
Small Copper Diplodocus Dinosaur Air Plant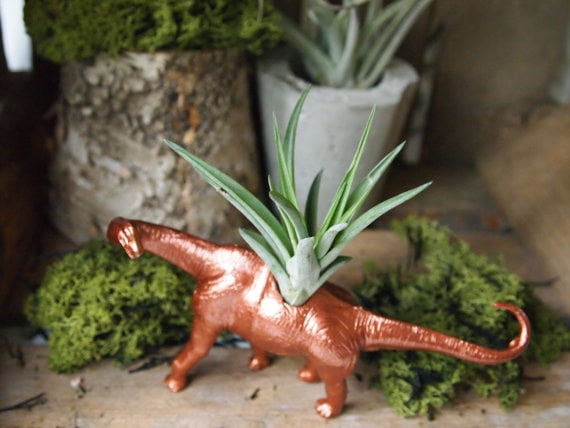 Copper and bright green are earthy reminders of the world outside of your office, and this little dinosaur [3] ($10) is a nice reminder of an era before Twitter, Facebook, and civilization as we know it.
XO Air Plant Terrarium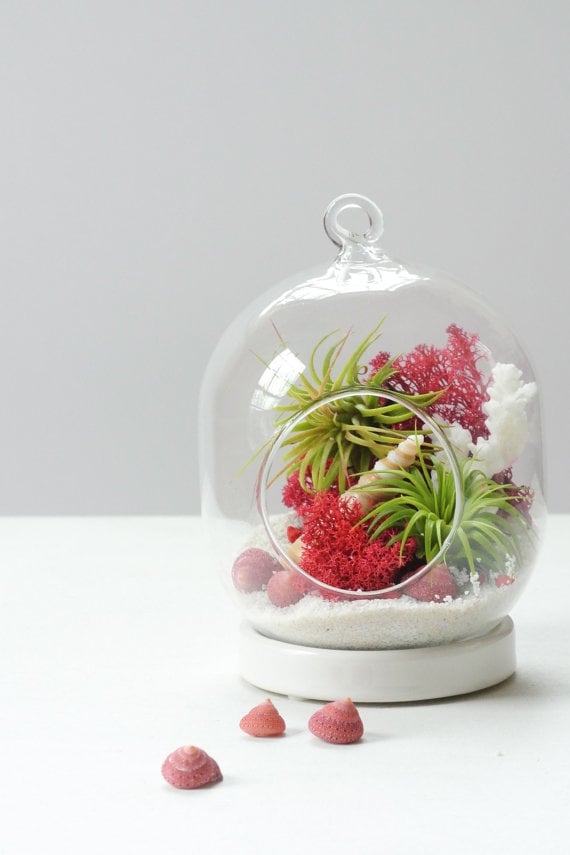 Bring a splash of color and tropical vibes to the office with this air plant terrarium [4] ($40) featuring red preserved reindeer moss, shells, and coral.
Light Bulb Plant Terraium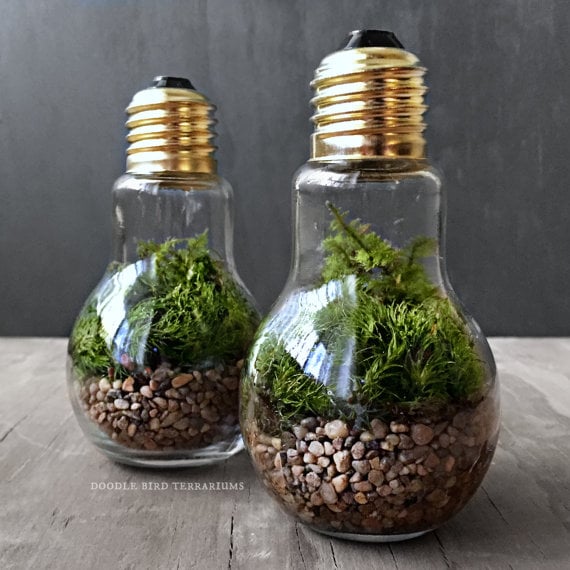 To stimulate more "ah-ha!" moments at work, order these industrious terrariums [5] ($19 per glass bulb), each filled with fresh, vibrant green moss.
Succulent Woodsy Bird Nests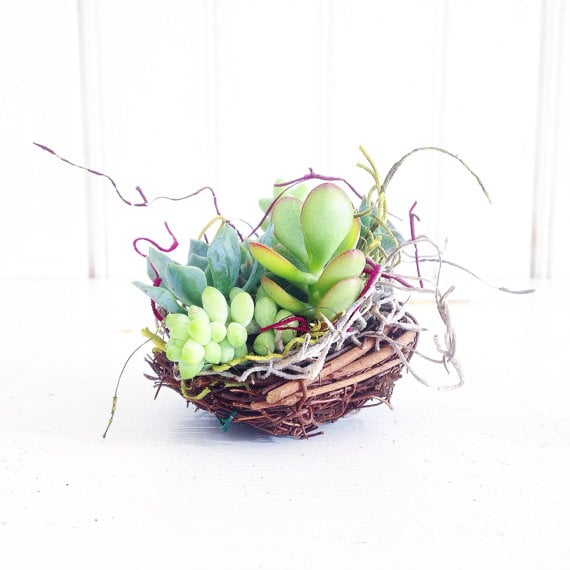 This sweet and delicate succulent bird nest [6] ($14) adds a touch of whimsy to a serious business environment.
"I Love You" Moss Terrarium
A whole dramatic love story frozen in time, this mossy terrarium [7] ($78) provides a daily message of affection within a wild landscape.
Wood Frame Plant Holder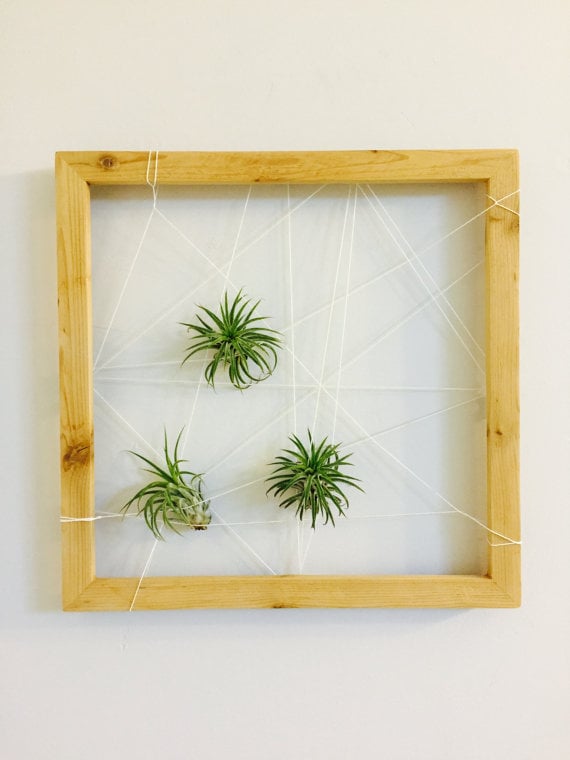 This cedar wood frame plant holder [8] ($39 each) with string holds cute little plants suspended in air, bringing a bit of dimension to your cubicle wall.
Cork Planters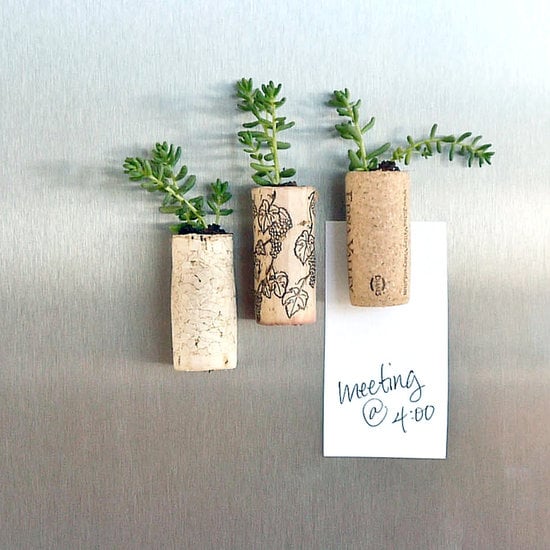 These hollowed-out cork planters [9] are a great example of upcycling at its best. DIY [10] them to make planters or even magnets.
Photo: Sarah Lipoff
Vintage Book Terrarium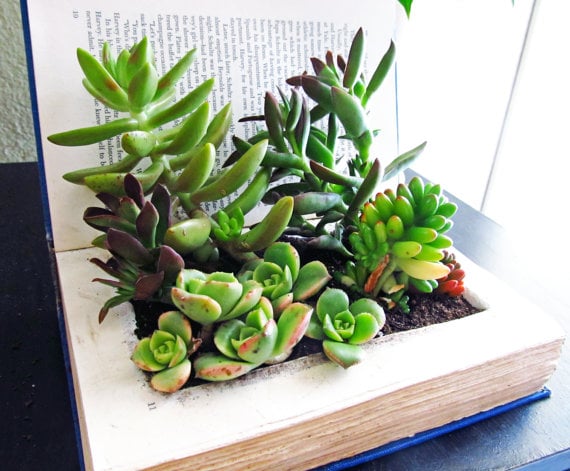 Take a page from this vintage book [11] ($50) filled with pretty succulents. Be sure to choose the option that comes with book, succulents, and soil.
Blue Desk Plant Holder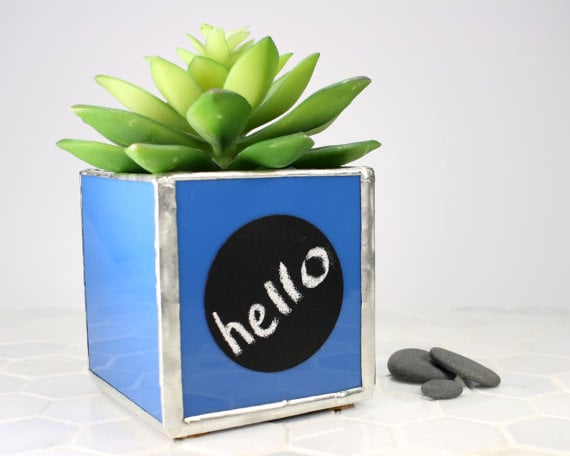 Succulent holder and conversation starter all in one, this cube planter [12] ($23) includes a tiny chalkboard for delivering messages without having to speak a word. The blue glass holder is ready to house the succulent of your choosing.