Mini Holiday Herb Wreaths
DIY Fun: Adorable Mini Holiday Herb Wreaths
Like us on Facebook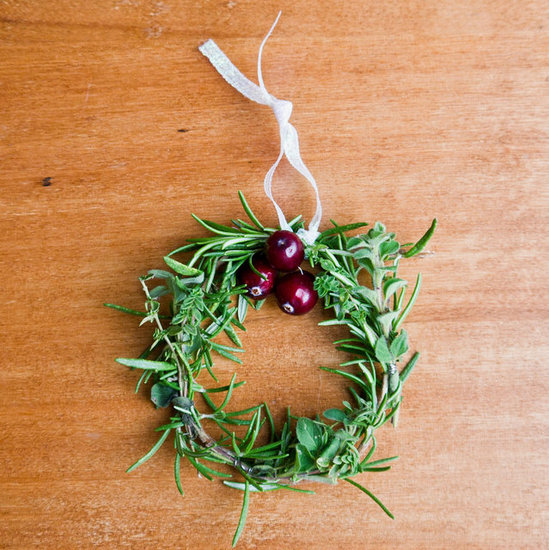 Gather your favorite gal pals for a fun afternoon of making fragrant and adorable mini holiday herb wreaths. Not only do these make really cute gifts, perfect for giving to office mates or neighbors, they also can be used as festive gift tags or place settings. Use woody Winter herbs that dry without wilting for a wreath that stays fresh and smells fantastic for weeks. Along with being cute, and wonderfully easy to make, each wreath costs less than a dollar to make.

What You'll Need
Bunch of fresh rosemary
Bunch of fresh thyme
Bunch of fresh oregano
24-gauge craft wire
Cranberries
Ribbon
Scissors
Directions:
Select the longest branches of rosemary when shopping for the herbs, which result in wreaths around three inches in diameter. Pick one branch and bend to form a circle, securing by wrapping with a short length of the craft wire.
Now gather three or four sprigs of the other herbs and twist them together with a small piece of craft wire, leaving a bit for attaching to the round of rosemary.
Create three or four bundles of herbs and attach them to the rosemary, filling in the wreath.
For a pop of color, thread three fresh cranberries with a length of craft wire and attach it by twisting the ends of the wire to the wreath. Finish by tying with a length of ribbon.