NYC Hot Dog Cart Monthly Rent: Guess How Much
Like us on Facebook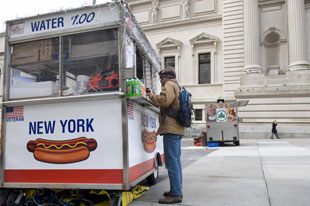 Street meat is a staple on New York City streets, and like any other business, some vendors pay pricey rent for primo locations. The steps leading up to the Metropolitan Museum of Art is one of the most lucrative spots for a vendor because it's a tourist hot spot without many other places to eat.
The Parks Department auctioned the right to sell hot dogs from the steps last year, and the highest bidder was evicted from the space Friday because of failure to pay rent. Can you guess how much the vendor agreed to pay the Parks Department every month?
NYC Hot Dog Cart Monthly Rent: Guess How Much
How much did the evicted NYC hot dog vendor have to pay in monthly rent for his space on the Met steps?