Read on for some of the cleverest organization DIYs and tricks that will get your home orderly in no time.
—Additional reporting by Lauren Chan
Magazine Holder Becomes a Kitchen Organizer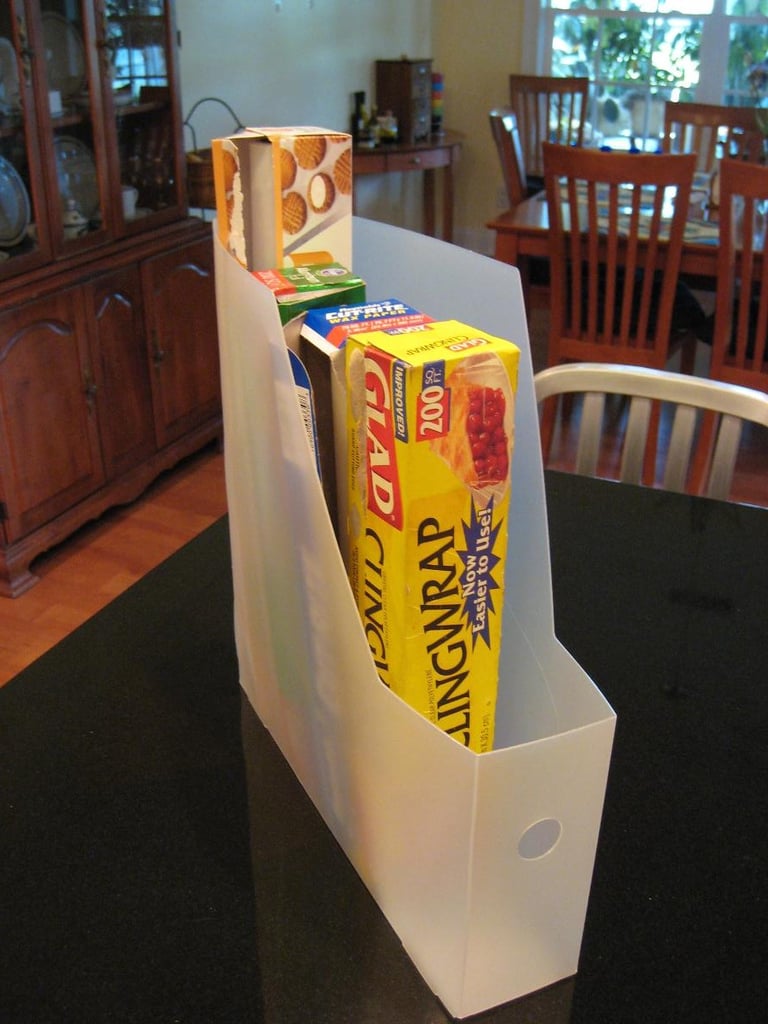 Store some of your kitchen supplies in an upright magazine holder [3] to save space.
Source: Chica and Jo [4]
Add a Rod Under the Sink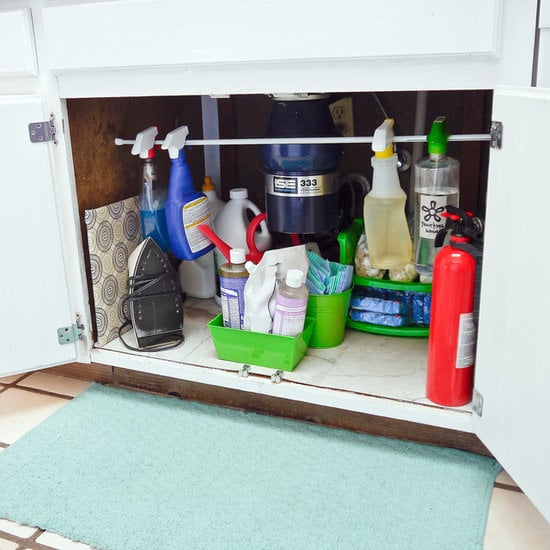 Hang your spray bottles on a rod [5] under the sink.
Photo: Sarah Lipoff
Bread Tags to Distinguish Wires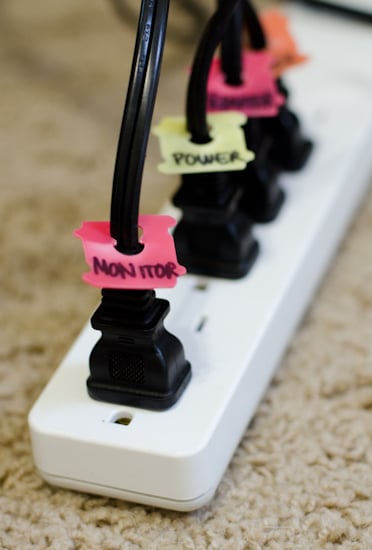 Tell your wires apart with labeled bread tags [6].
Source: The Photographer's Life [7]
DIY Memory Board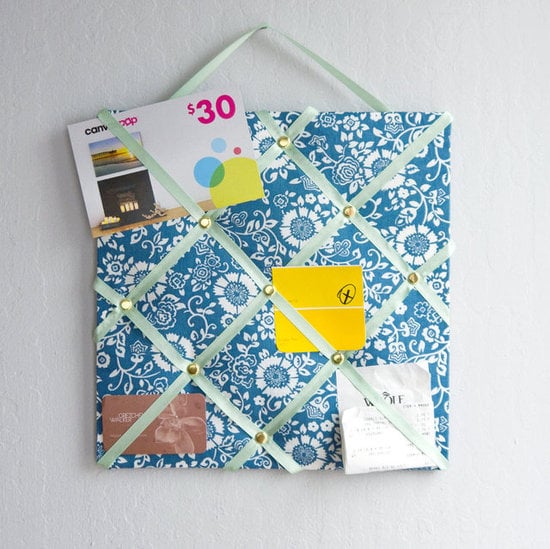 This cute DIY memory board [8] will keep all your reminders and notes in one place.
Photo: Sarah Lipoff
Plastic Bottle Jewelry Stand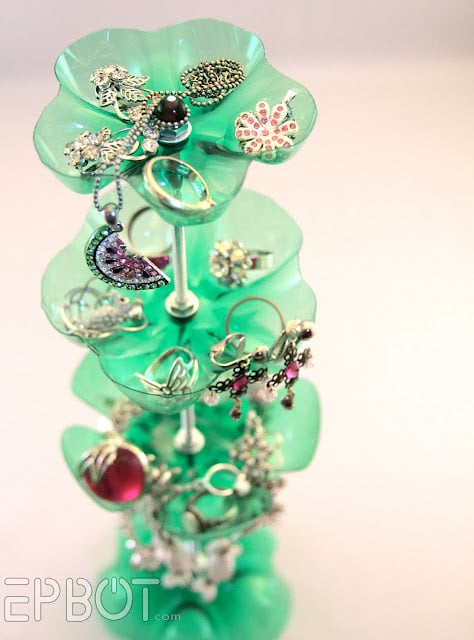 Create a jewelry stand from the bottoms of Mountain Dew bottles; just thread them together with a metal rod. Get more instructions here [9].
Source: EPBOT [10]
Greeting Card Magnets
Use pictures and greeting cards to make magnets for your fridge. Here's a tutorial on how to make picture magnets [11].
You can even use numbers instead of pictures to make your own magnetic calendar.
Photo: Sarah Lipoff
Painted Keys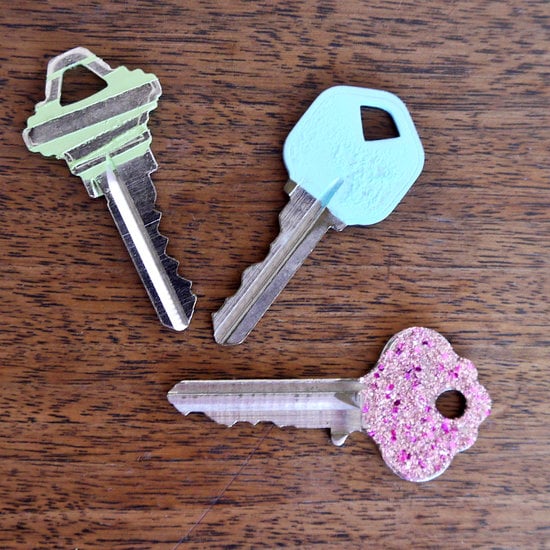 Paint your keys with nail polish [12], so you remember which one opens what door.
Photo: Sarah Lipoff
Jewelry Frame Organizer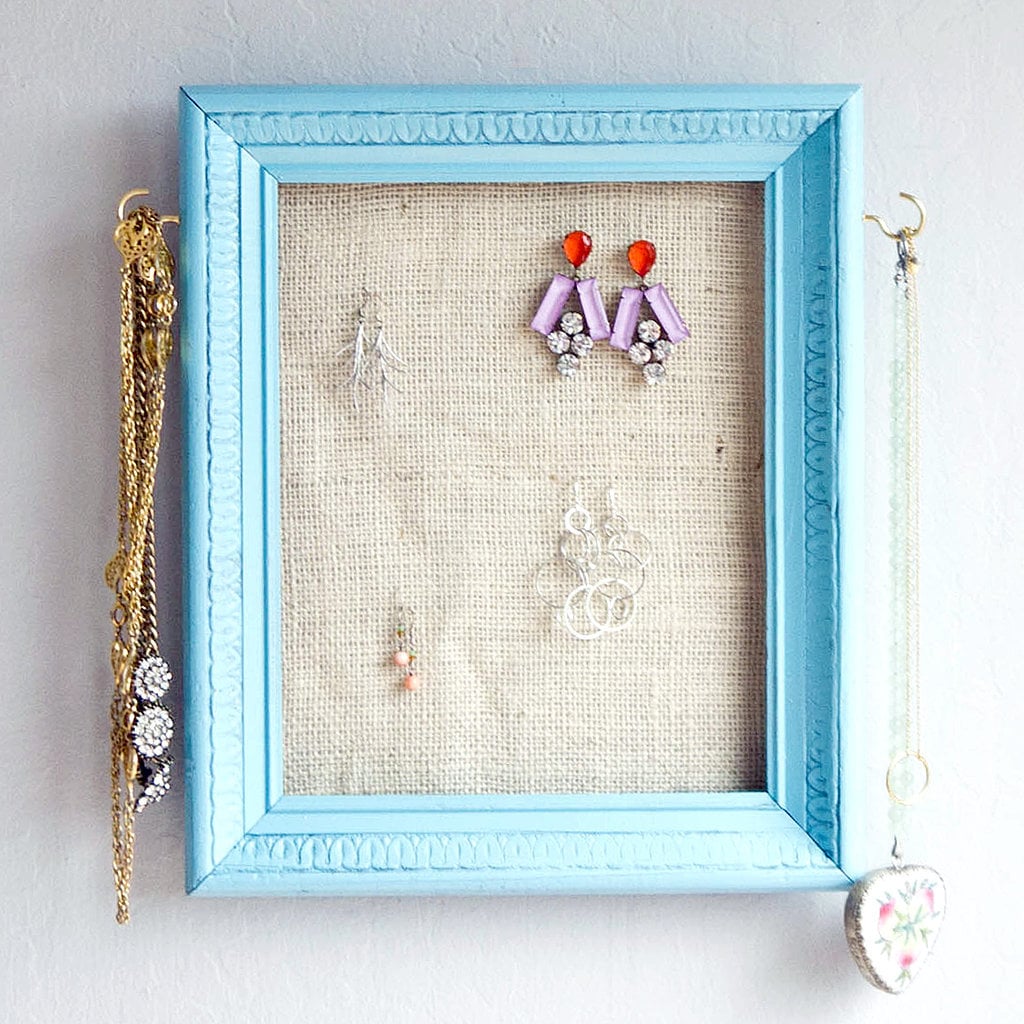 Frame some wire mesh or burlap for a unique jewelry organizer [13].
Source: Sarah Lipoff
Ice Cube Tray Organizer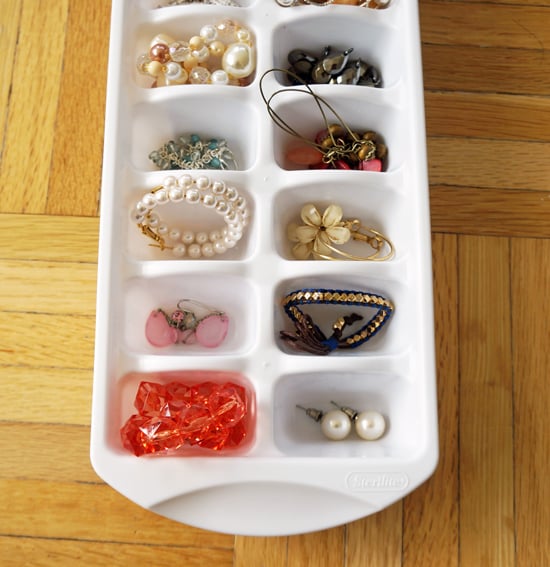 Organize your jewelry with an ordinary ice cube tray [14].
Photo: Emily Co
Rotating Goal List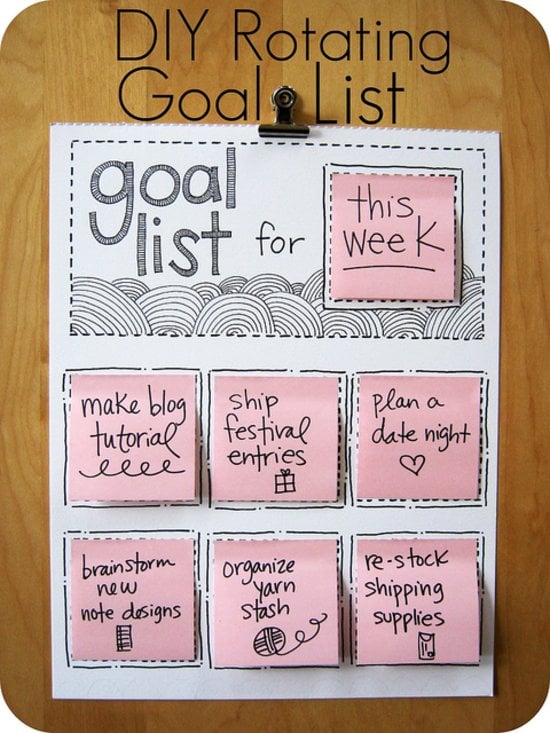 Stay on top of your goals with this neat rotating goal list [15]. You can easily switch out goals by sticking on a new Post-it note and peeling off the old one.
Source: Cornflower Blue Studio [16]
Toilet Roll Cord Organizer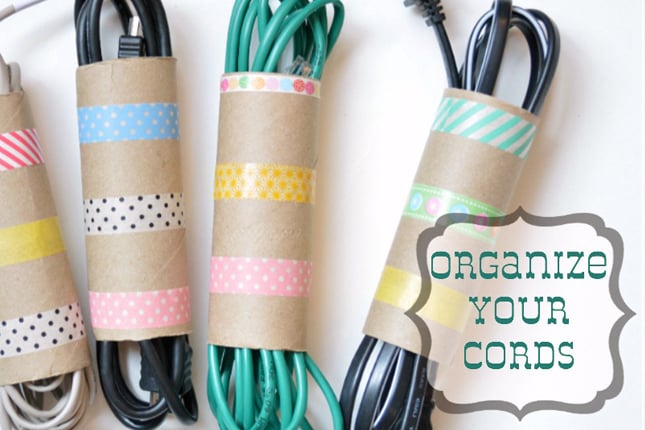 Organize your cords with washi-tape-decorated toilet rolls [17].
Source: Our Thrifty Ideas [18]
Day of the Week Clothes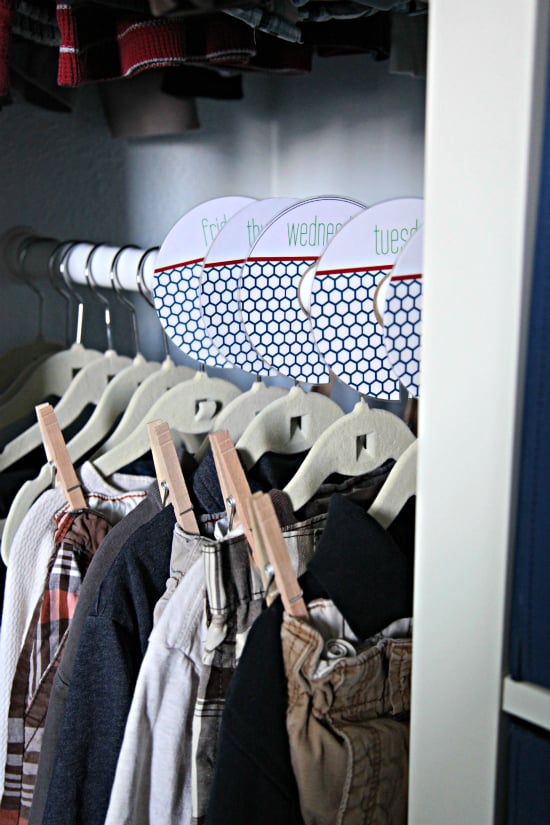 This idea is commonly used for kids, but I think adults can use it too. I really love the idea of planning out all your outfits for the week [19].
Source: IHeart Organizing [20]
Magnetic Strip Organizer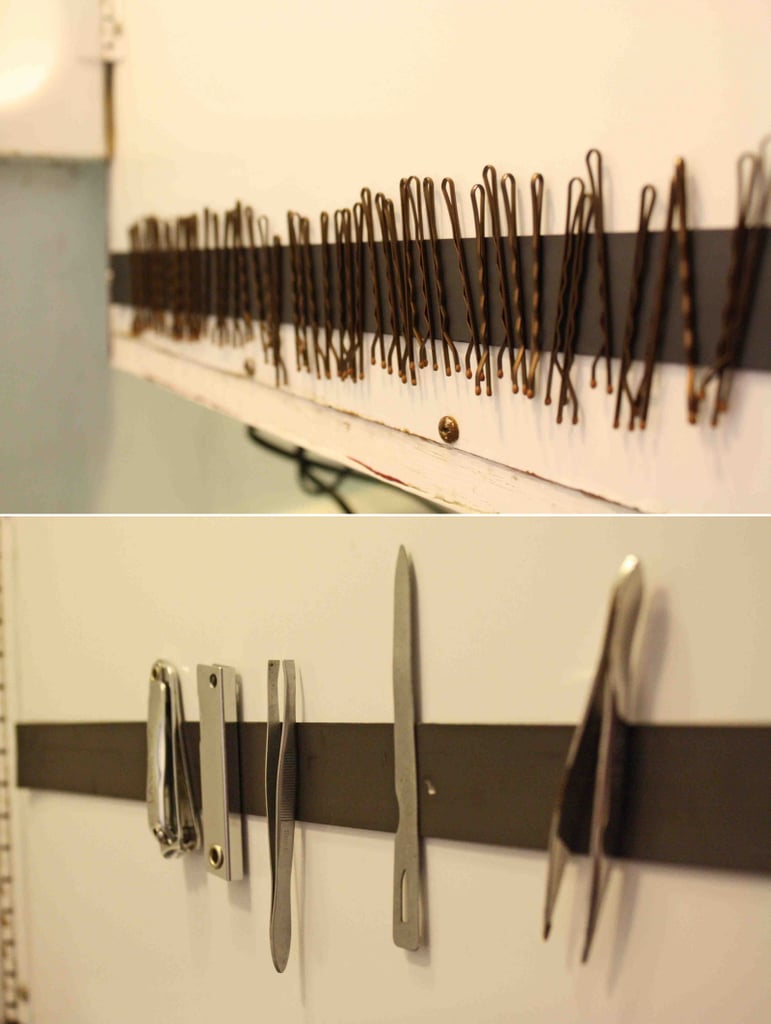 Hang bobby pins and other metallic equipment on magnetic strips [21], which you can stick on the backing of your medicine cabinet.
Source: Brittany@Superwoman [22]
Spoon Garden Markers
Stick pictures of plants on spoons, and use them as garden markers.
Source: Flickr user LillianClaire [23]
Turn Ikea Shelves Into a Table
This workspace was created from cobbling together two Ikea shelves and a tabletop.
Source: Make It and Love It [24]
Charging Station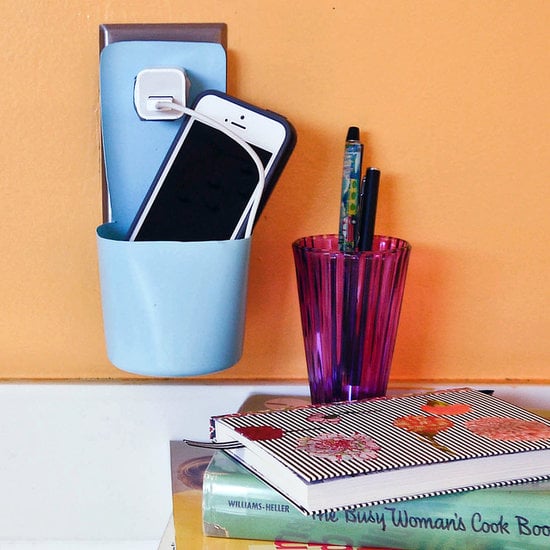 Hide unsightly wires with this DIY [25] plastic bottle charging station [26].
Photo: Sarah Lipoff
Wine-Bottle Jewelry Stand
When you're done with your wine, turn the bottles into chic jewelry holders.
Source: Instagram user songofstyle [27]
Hidden Storage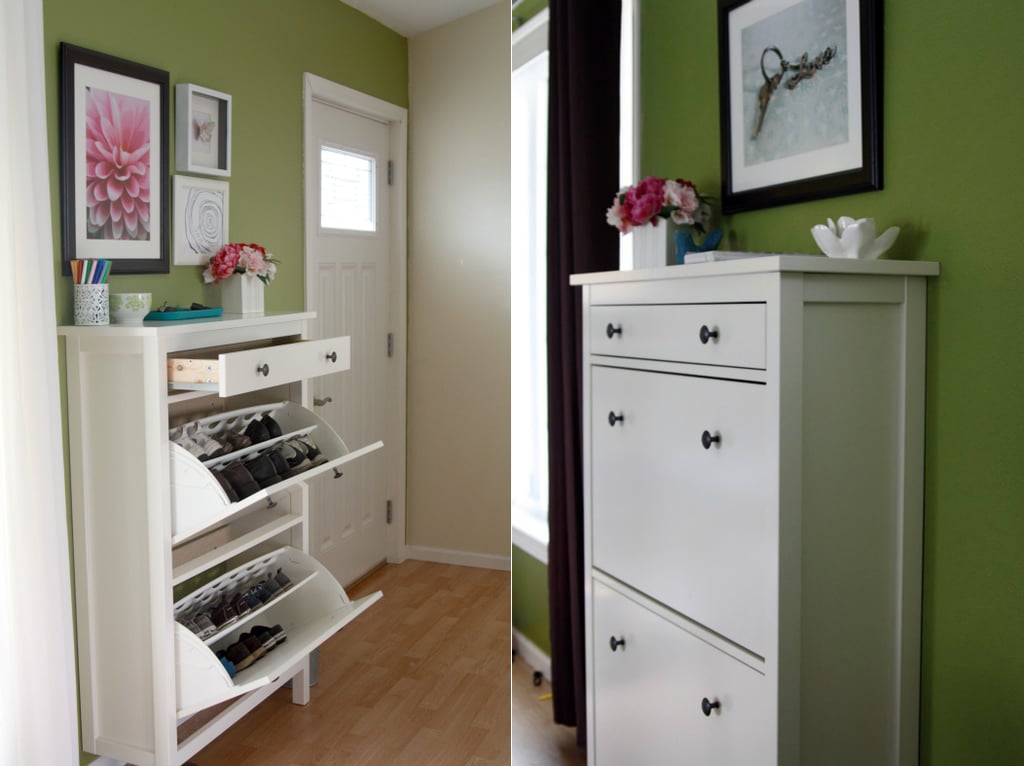 Whenever you can, try to opt for hidden storage over visible storage, such as this shoe cupboard [28].
Source: IHeart Organizing [29]
Washi Tape Calendar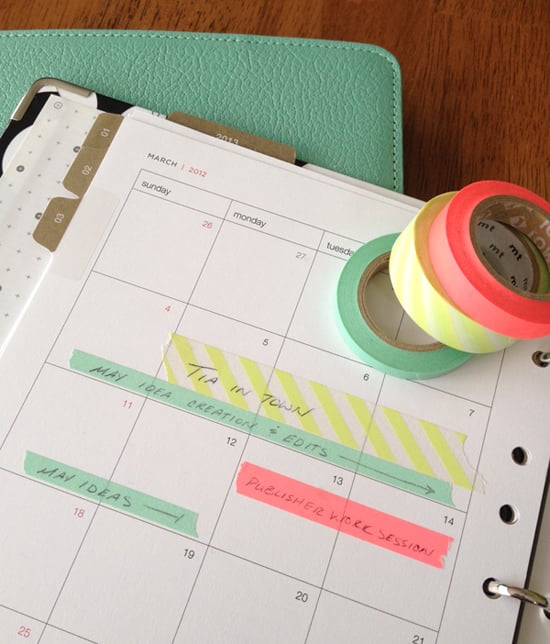 Add color to your calendar with washi tape highlights [30].
Source: Take Two They're Small [31]
Plastic-Bag Dispenser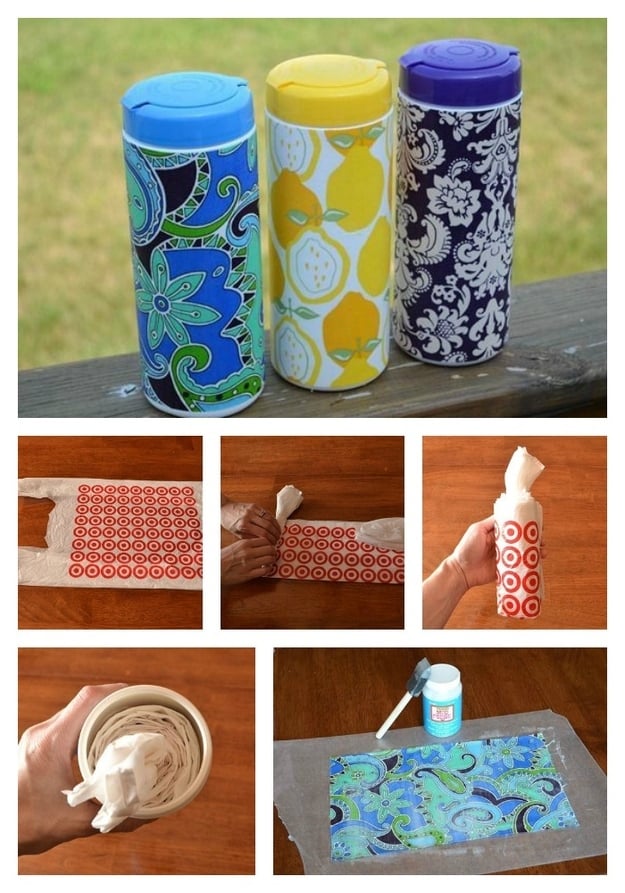 Take an empty disinfectant wipes bottle, and turn it into a plastic-bag dispenser [32].
Source: Tatertots and Jello [33]
Cheese Grater Earring Stand
Paint a cheese grater, and hang your earrings on it for a fun and unusual earring stand.
Source: Etsy user Irit Cohen [34]
PVC Pipe Holder
Turn a PVC pipe into a handy dandy holder for all your beauty tools.
Source: Don't Worry Be Happy Keep Learning [35]
Recipe Planner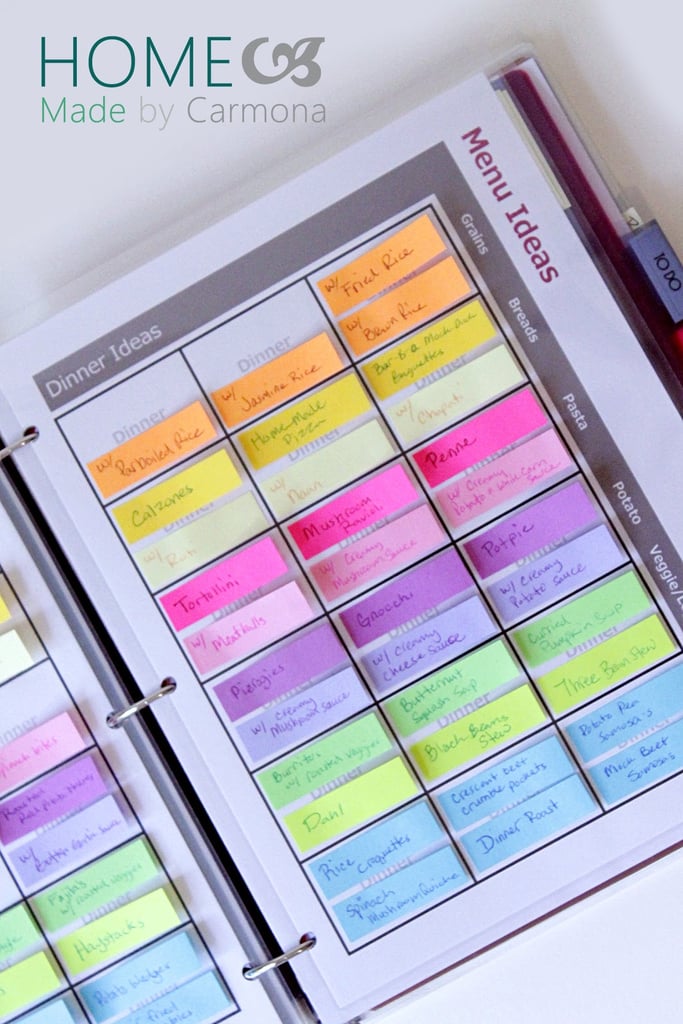 Sticky tabs make creating a meal plan [36] a breeze.
Source: Homemade by Carmona [37]
Shopping-Bag Organizer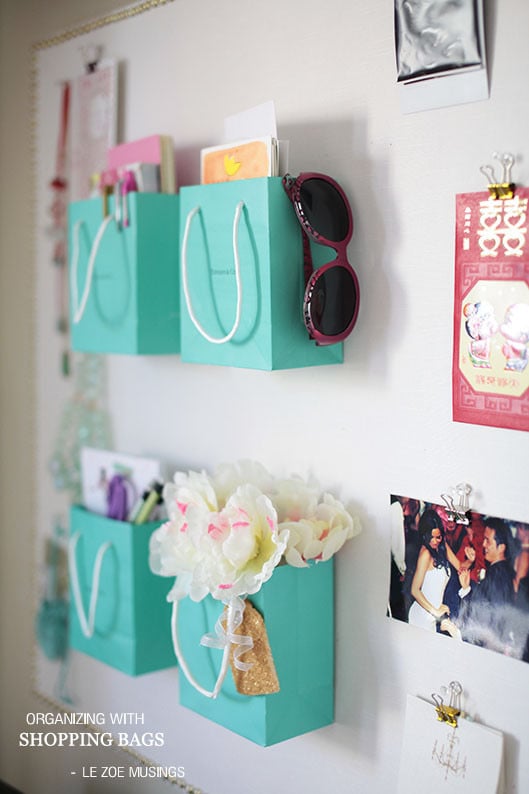 Pin up the prettiest shopping bags on your wall, and turn them into little organizers.
Source: Le Zoe Musings [38]
Tack Wires Under Your Table
Hang your wires on the underside of the table to hide their unsightliness.
Source: Flickr user blupics [39]
Paper-Bag Baskets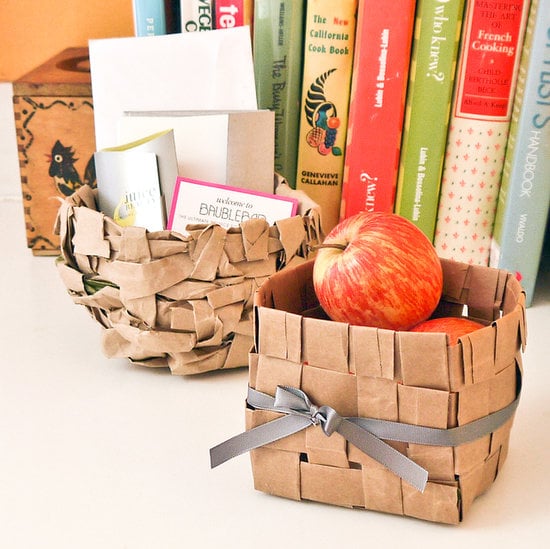 Weave strips of paper bags together to make these cute baskets [40].
Photo: Sarah Lipoff
Above-the-Door Storage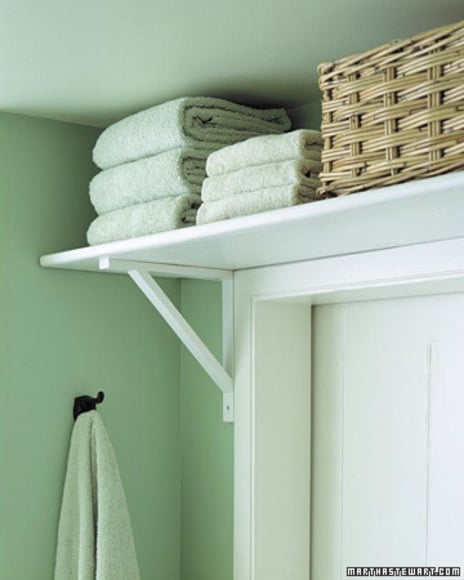 Install a shelf above your bathroom door, so your supplies will be within reach anytime you need them. Source: Martha Stewart [41]
Suitcase Side Table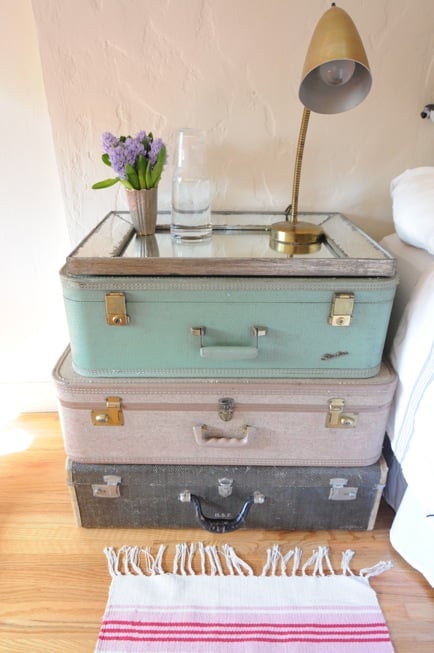 Make your own beautiful side table by piling up vintage suitcases, and top it off with a rustic mirror.
Source: Cupcakes and Cashmere [42]
DIY Charging Station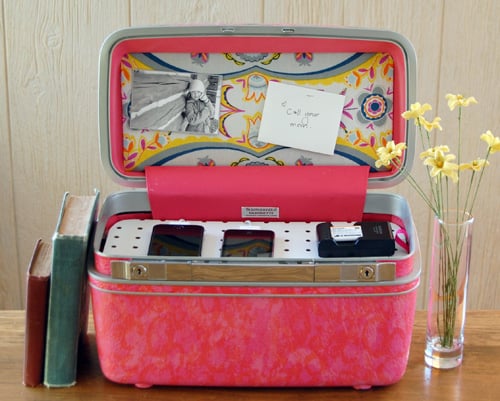 Create a charging station [43] for several different gadgets to avoid a big mess of wires and gadgets.
Source: Design Sponge [44]
Roll Up Your Tops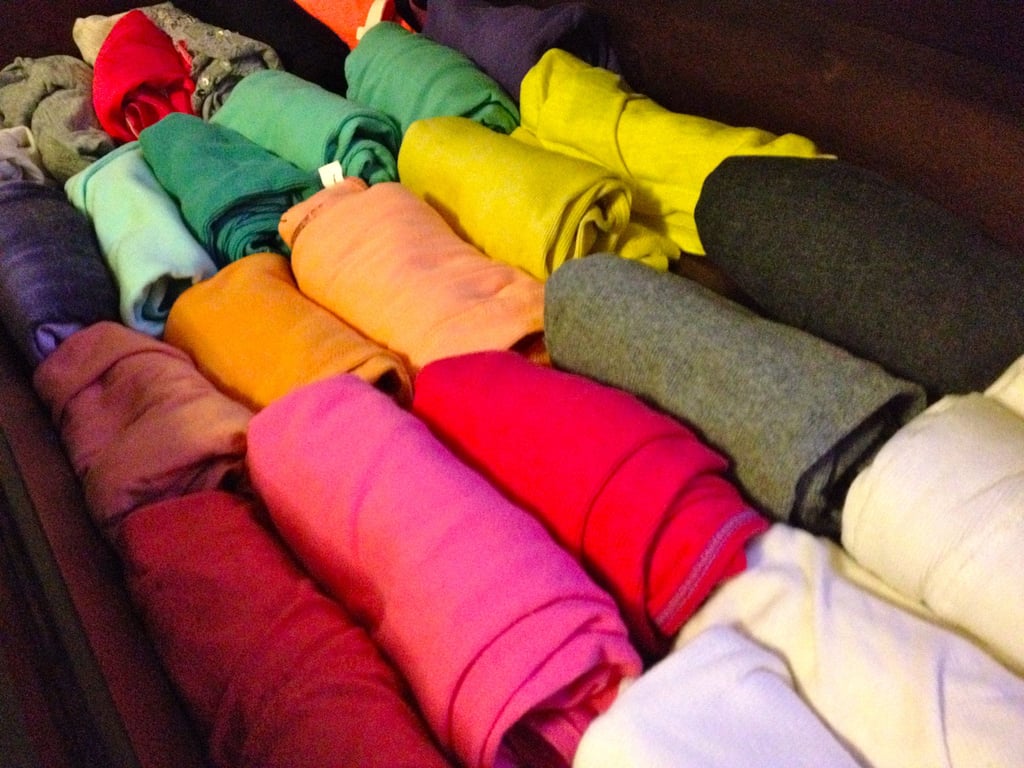 Roll your tops when packing them in your drawer. This is a pretty genius idea, because all the tops will be visible and not piled on top of each other.
Source: Love Sunset Blonde [45]
Soda-Tab Tier Hangers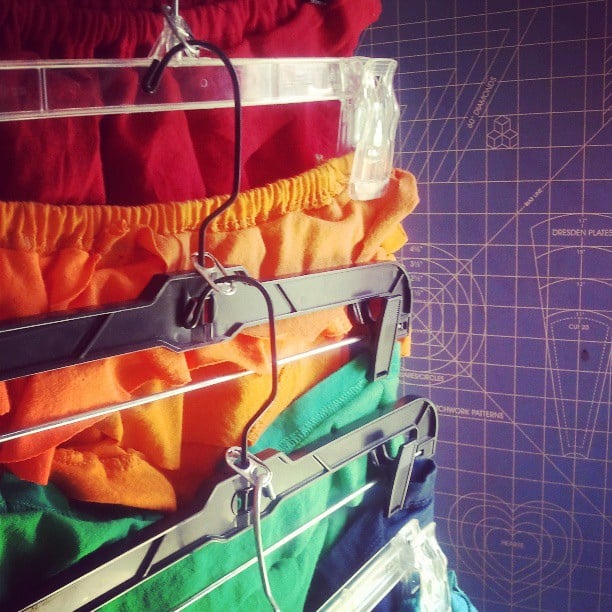 Hang soda tabs on hangers [46], so you can stack hangers and take up less space in your closet.
Source: Vanessa Devaki Andrew [47]
Boots Hanger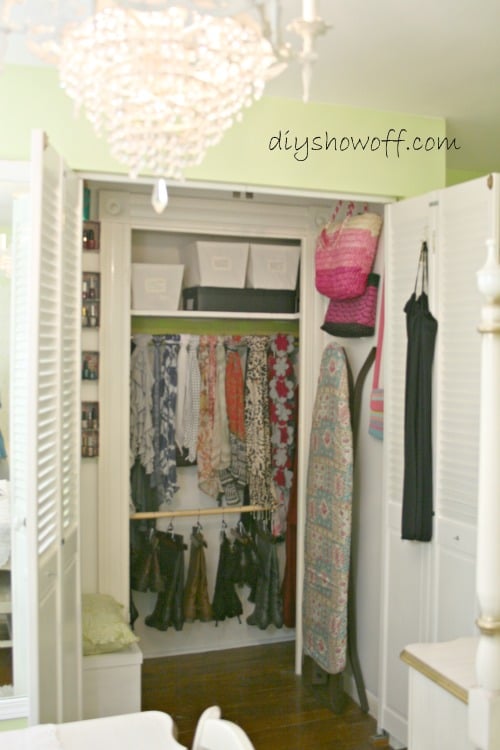 Hang your boots on an extension rod installed in your closet.
Source: The DIY Showoff [48]
Sunglasses on a Hanger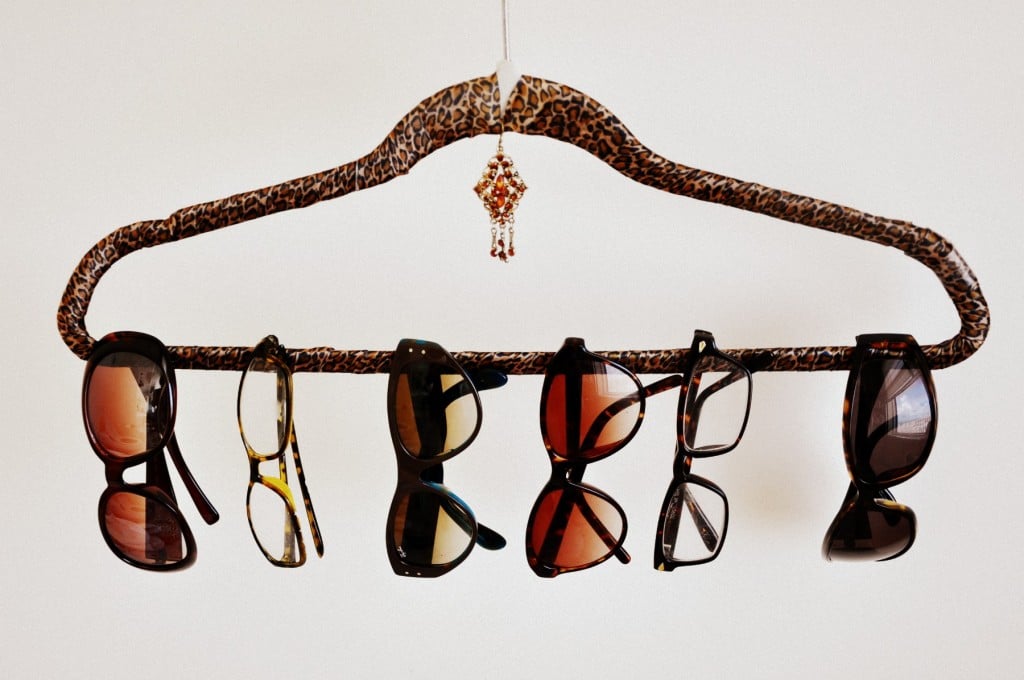 Hang your sunglasses on a hanger for easy storage.
Source: Love U Madly [49]
Oatmeal-Box Ribbon Holder
A ribbon holder is a must for every craft fanatic. Make one out of an oatmeal box by following this tutorial [50].
Source: Curbly DIY Design Community [51]
Trash Bags on a Roll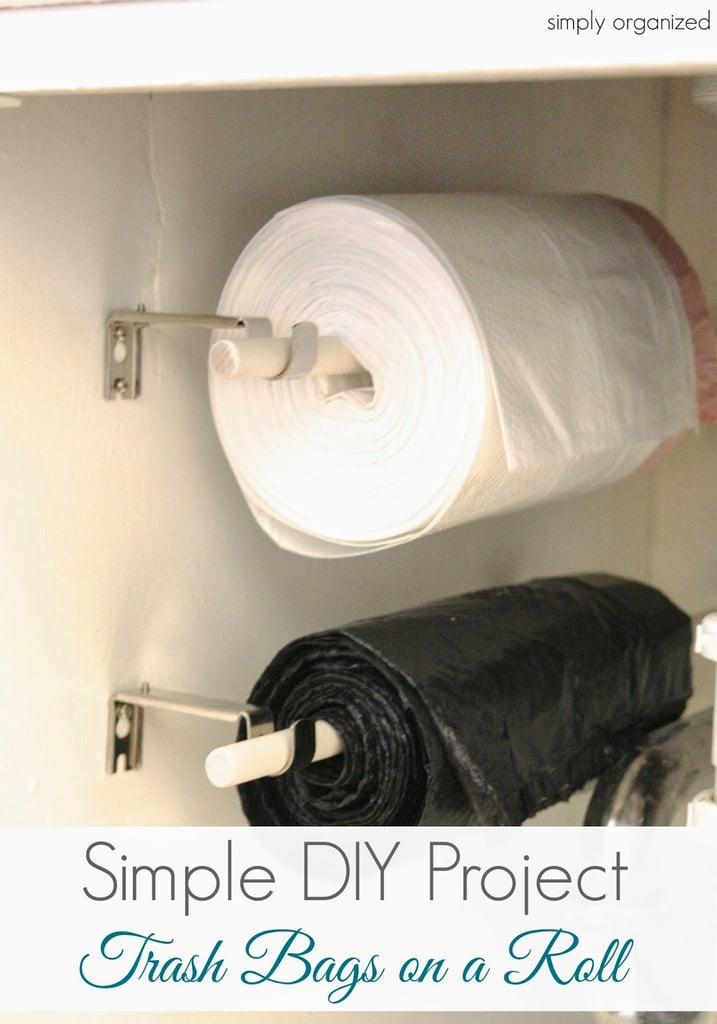 Maximize your under-the-sink space, and store your trash bags on a roll [52].
Source: Simply Organized [53]
Wrapping-Paper Racks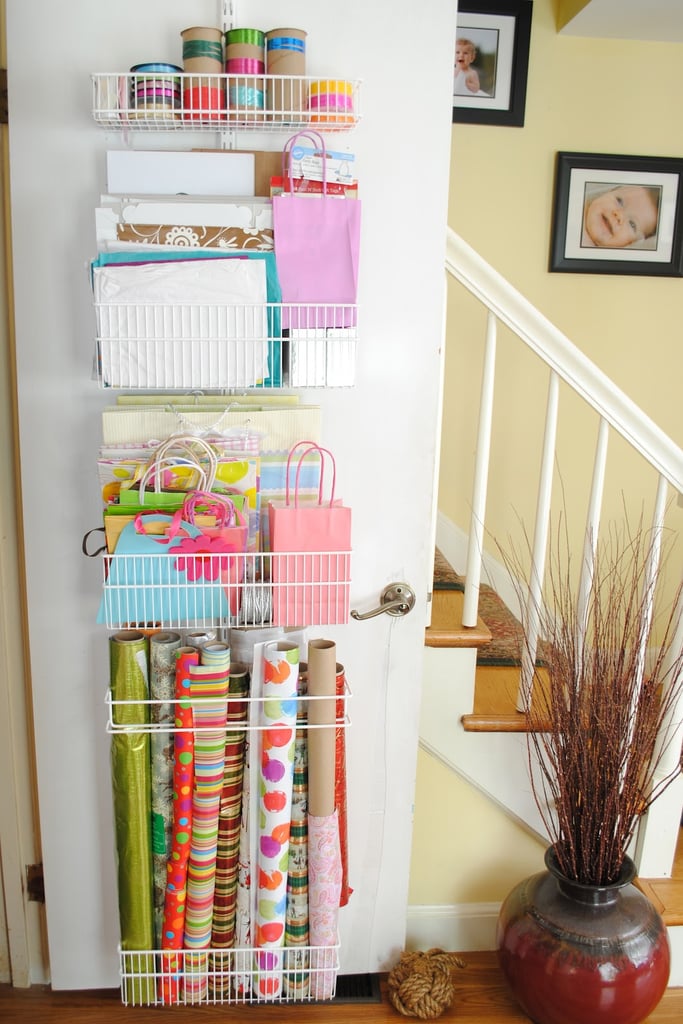 Install racks at the back of closet doors for a place to put your rolled-up wrapping paper.
Source: The Chronicles of Home [54]
Lost-Sock Organizer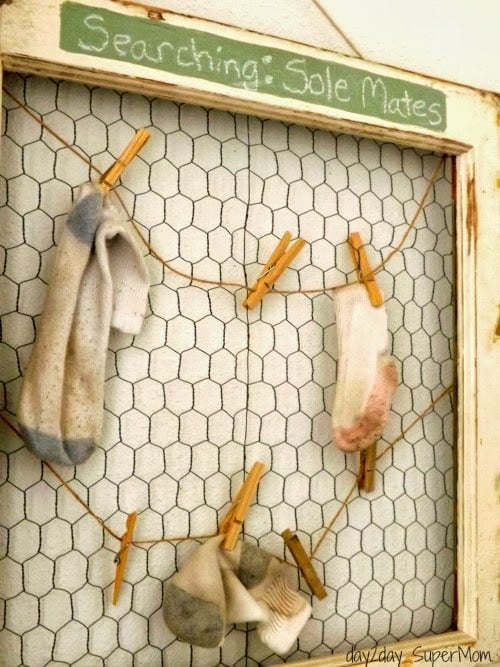 Always losing socks? Make finding your sole mate easier by pinning up the lone sock on this organizer.
Source: Day2Day Super Mom [55]
Cleaning Supplies in a Shoe Organizer
Keep your cleaning supplies in a shoe organizer [56] that hangs over your door to maximize the space in your home.
Source: Whine & Cheez [57]
Embroidery Hoop Hamper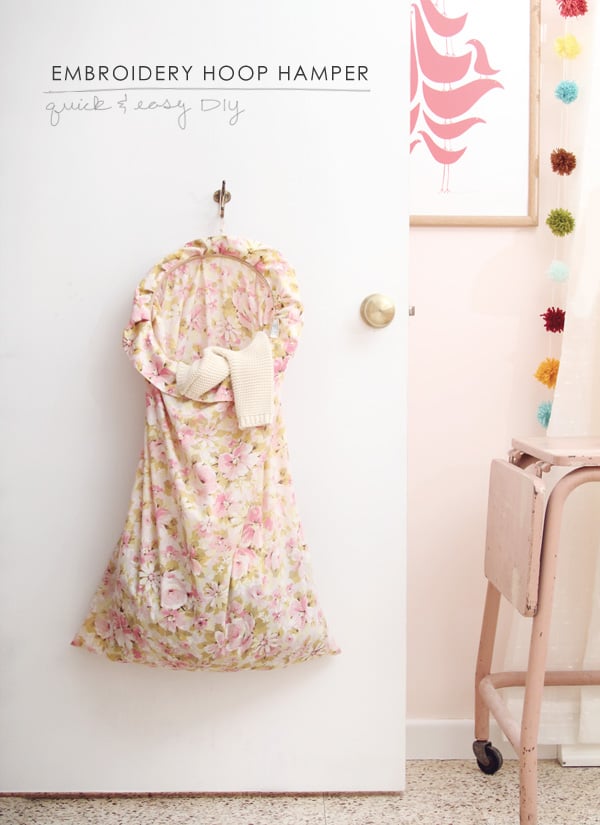 Storing dirty clothes has never looked prettier than with this embroidery hoop hamper [58].
Source: Making Nice in the Midwest [59]
Shoe Hangers
Make tiny hangers for your shoes [60] with the leftover hangers you get from the dry cleaner.
Source: Instagram user katrinaelainee [61]
Magnetic Spice Jars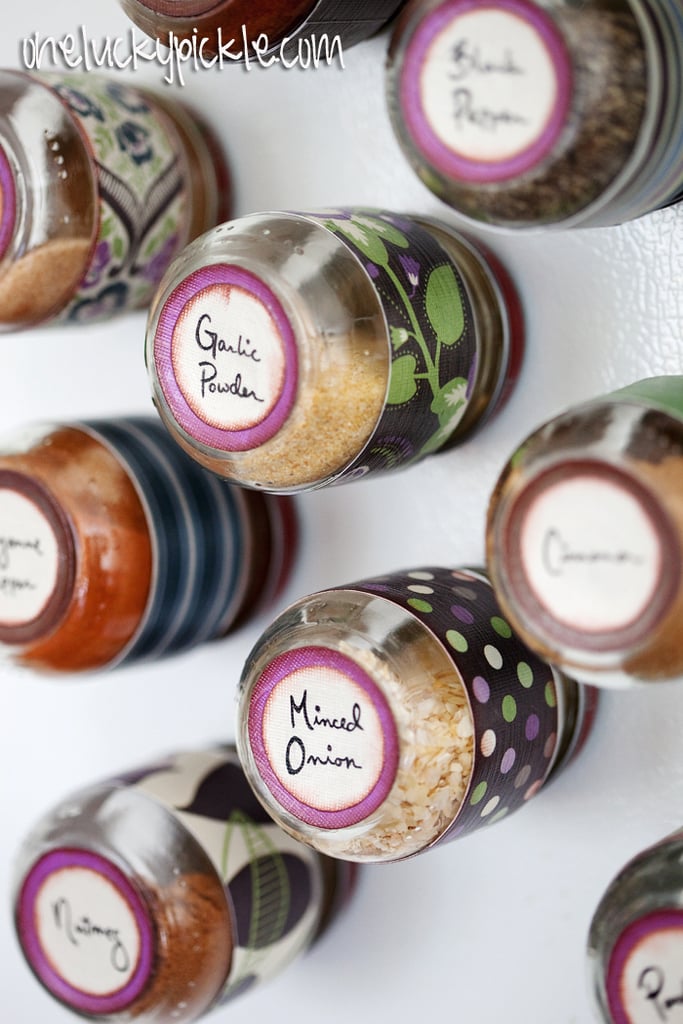 Make these cute magnetic spice jars [62] to stick on your fridge.
Source: One Lucky Pickle [63]