What Is a Money Market Account
Keep Dipping Into Your Savings? Try a Money Market Account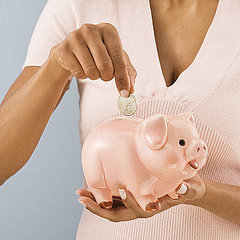 I love online high-yield savings accounts like SmartyPig and ING because they allow you to earn great interest on your money, but sometimes dipping into the pot can be too tempting. If you're trying to build up your oh-so-important emergency fund, which experts say should be from three to six months of expenses, you may want to try opening a money market account. This type of account is similar to a savings account, but with certain limitations that can help keep you on track. Seventy percent of you already think having more than one savings account is a good idea, so find out more about how to save with a money market account when you read more.
Just like savings accounts, money market accounts earn interest (although the rate depends on the amount deposited), but keep you from being able to access your funds freely. Some money market accounts come with checks but limit the amount of withdrawals you can do a month and also penalize you if you don't keep your funds above a certain minimum. Adding a money market account to your financial mix is a great way to keep your money accessible for the most important of emergencies, but will keep you from convincing yourself that that ShopStyle steal is worth dipping into your savings pocket.
Rules and fees for money market accounts vary, so shop around online. Also, since it's common for MMAs to have minimums of $1,000 or more, start building your emergency fund with a high-yield savings account (they usually have low or no minimums) and transfer once you've amassed the needed sum. And as always, make sure your accounts are FDIC-insured.