10 Geekiest Songs on the Radio
10 Geekiest Songs to Hit the Radio
Like us on Facebook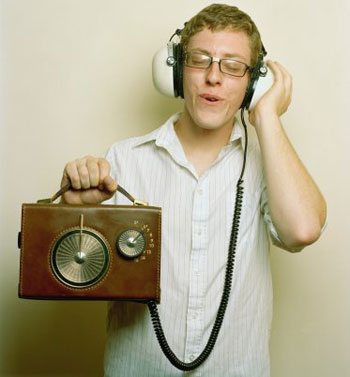 After Lady Gaga released her tech-centric "Telephone" video on Friday, I couldn't help but rack my brain about other songs that include references to modern-day geek and tech culture. After doing some digging, I can safely say there are plenty of tunes out there, but I couldn't list them all. Narrowing it down to 10 geeky songs that got some major radio play in the past few years was tough, but it had to be done. Could number one on the list be the geekiest song/video combo ever? It's possible. Check out the list when you

.


Beyonce — "Videophone" Beyonce may be a good girl in real life, but her alternate persona, Sasha Fierce, talks about taking sexy videos on her man's phone in this tune from 2009. Maybe she can do a follow-up on her next album about the dangers of sexting.
Soulja Boy — "Kiss Me Through the Phone" Long-distance relationships can be tough, especially when you're on the road like Soulja Boy. He tells his "future wifey" to text and kiss him through the phone while he's gone. How sensitive!
Lady Gaga ft. Beyonce — "Telephone" Not only is this jam riddled with cell phone, text, and phone call references, but the video is also one big product placement for popular gadgets and geek culture.
Jay-Z — "D.O.A. (Death of Autotune)" Jay-Z made his feelings about the music industry's over-use of auto tune quite clear in this 2009 release. He wants it to die. Nuff said.
Britney Spears — "Email My Heart" Our favorite pop princess broke a poor boy's heart back in 1999, and she's trying to make it up to him by sending him mushy apology notes via email. Some might call that tacky (and suggest sending a hand-written note), but don't hate — she was just ahead of the tech movement.
'NSync — "Digital Getdown" Video chatting never seemed so dirty as when the boys of 'NSync sang about it in this hit from 2000. Also, who knew 'NSync was so ahead of the auto-tune curve?
Trey Songz — "LOL :-)" This hit from 2009 includes references to texting, sexting, twitpics, iPods, and following him on Twitter. This is one rapper who knows how to use his tech to, uh, get what he wants.
Daft Punk — "Technologic" You really can't label yourself a geek unless you've heard this 2005 hit from the French techno duo. It's a pounding tune that fires off tech verbs throughout the entire four minute and 45 second song.
Weird Al — "White and Nerdy" Yes, Weird Al is known for his hilarious song parodies, but this one kinda tops them all. He's fluent in Java script as well as Klingon? Come on, you know you love it.
Brad Paisley — "Online" OK, hear me out — I didn't know this song from 2007 even existed, but it's one seriously geeky tune, and has a totally fun video to boot. "Online" not only satirizes the online dating world — referencing MySpace, three-way chatting, sci-fi, and Macs — but the video also stars Jason Alexander (of Seinfeld fame) and — wait for it — William Shatner! It doesn't get any better than that. Plus, who knew Brad Paisley was such a geek?