Trends in the technology industry have notoriously fast life cycles (Remember LaserDiscs [1]? HD DVDs [2]?) But if this year's CES was any indication, the Ultra High Def (a term used interchangeably with 4K) TV is in it to win it. Unlike the flop that was 3D television, 4K with its near-real picture quality is what the people were after all along.
Here, preview what will be 2014's most sought after 4K televisions. Brace your wallets, they won't be cheap.
Photo: Kelly Schwarze
Sharp AQUOS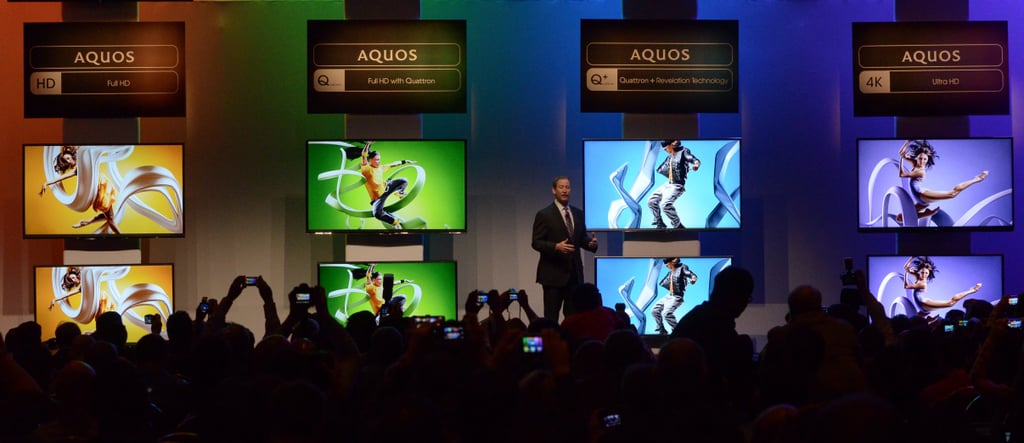 According to Sharp, the company has placed over 2 million big-screen (60 inches and larger) TVs in living rooms over the last six years. Each of the below LED TVs come equipped with Sharp's SmartCentral platform, which puts cable, satellite, and streaming services in one hub. Users can also watch TV and use the web at the same time in a split-screen mode. While the Quattron line of TVs isn't 4K, the company says its proprietary Quattron technology allows it to be among the highest HD resolution available today.
AQUOS 4K Ultra HD Series — This 4K resolution television process 2160p video on 60- and 70-inch screen sizes from a silver-brushed solid aluminum exterior bezel. Each unit is 3D-ready with two Bluetooth 3D glasses in the box. It's all about those extra pixels with this TV, as it's four HDMI inputs are 4K and HDMI 2.0 compliant. The two screen sizes are $5,000 and $6,0000 (get saving!).
AQUOS Quattron+ (Q+) Series — Sharp says the Q+ series televisions are the highest resolution full HDTV currently on the market and are created future-ready to broadcast the 4K content most other current HDTV models are unable to handle. All Q+ TVs are packed with four 4K-ready HDMI inputs and two USB ports for any entertainment peripherals. They're 3D-ready and come packaged with two Bluetooth 3D glasses.
UQ Line — With titanium-brushed aluminum bezels on the 60-, 70-, and 80-inch screen sizes, the "U" in the UQ Q+ line definitely does not stand for "understated." Shipping in March 2014, the UQ line — which has THX certification — will range in price from $3,000-$6,000.
SQ Line — The SQ line of the Q+ series has a silver-brushed plastic bezel available in two screen sizes: 60- and 70-inch. Shipping in February, they're expected to cost $2,300-$3,100.
AQUOS Q Series — Available in two screen sizes, 60- and 70-inch, the black-plastic-bezeled Q Series is the entry point of Sharp's Ultra HD TVs, priced between $1,700 and 2,700.
AQUOS HD — Sharp's 1080p HD line comes in some jaw-dropping sizes starting in Spring 2014; 60-, 70-, 80-, and 90-inch screens will vary in price from $1,300-$9,000. The 90-inch screen is 3D capable with glasses.
LG Ultra HD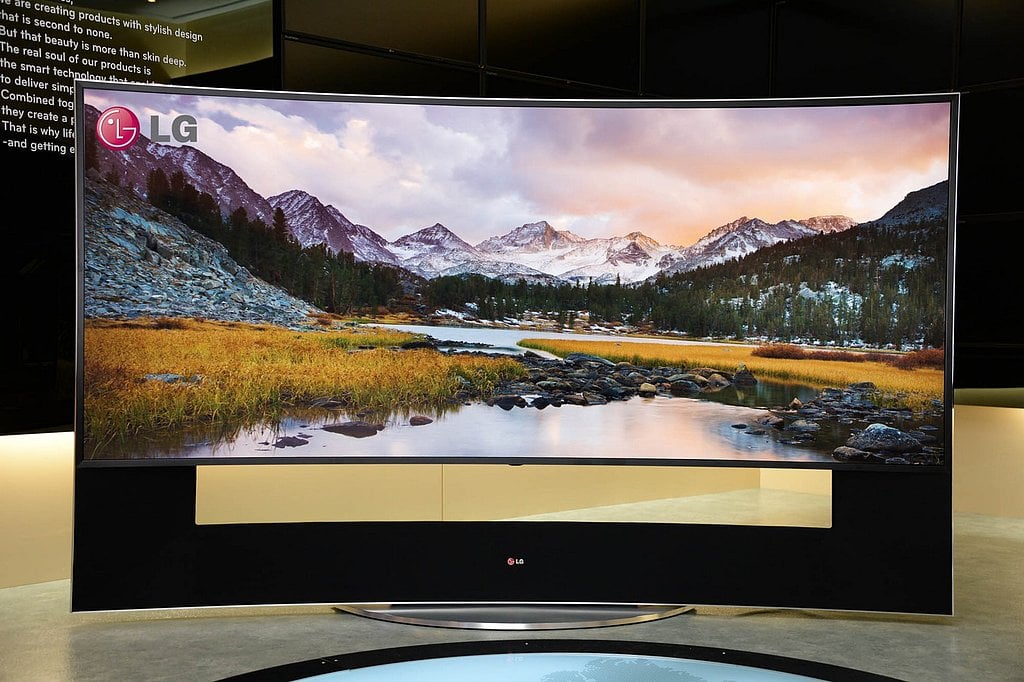 The premium UB9800 series of LG Ultra HD TVs debuted in 65-, 79-, 84-, and 98-inch models. The new TVs will display 4K content from any input source, including HDMI 2.0, USB, and LAN, and new technology built into the displays reduces motion blur, giving the screens a ridiculously lifelike feel. The sound, produced in collaboration with Harmon/Kardon, has also been improved.
LG's CES showstopper, however, was the 105-inch curved Ultra HD TV, a true mammoth of a display. The 21:9 aspect ratio reflects what most movies are filmed in, offering an immersive, theater-like experience for the viewer. A front-facing 7.2 multichannel sound system designed by Harmon/Kardon adds further dimension to the TV's viewing experience.
Photo: Nicole Nguyen
Samsung Curved 4K Series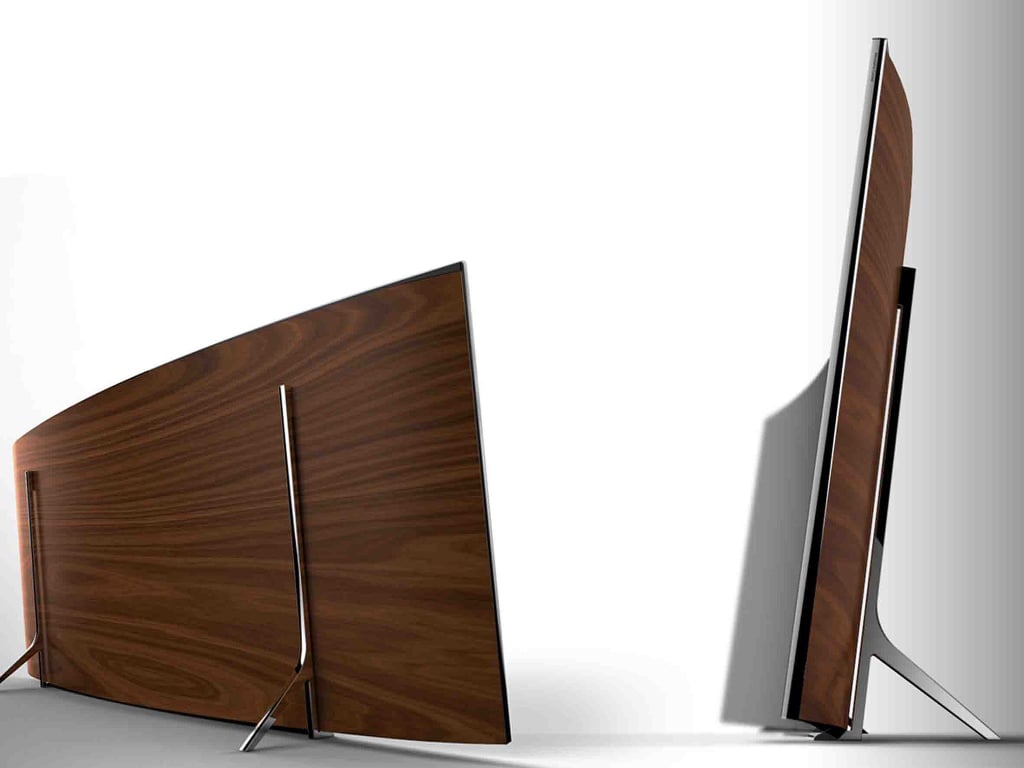 Unlike its flat colleagues, curved TVs, Samsung says, are meant to offer a more panoramic, true-to-life viewing effect. Samsung's curved TV lineup for 2014 includes the 105-inch curved UHD and the U9000 Series. The curved 4K display, the 105-inch LCD TV (seen here with a single piece of wood backing) has a widescreen 21:9 aspect ratio, just like the LG TV [3].
The U9000 Series will come in three display sizes: 78-, 65-, and 55-inch screens. Despite the curve, consumers can continue to furnish homes with TVs as gallery; the screens can be wall mounted with the use of a specialty kit. Pricing for the new entrants to Samsung's home-theater electronics hasn't been announced, but it's safe to say they won't be anywhere near the bargain-basement level.
Source: Samsung [4]
Sony's XBR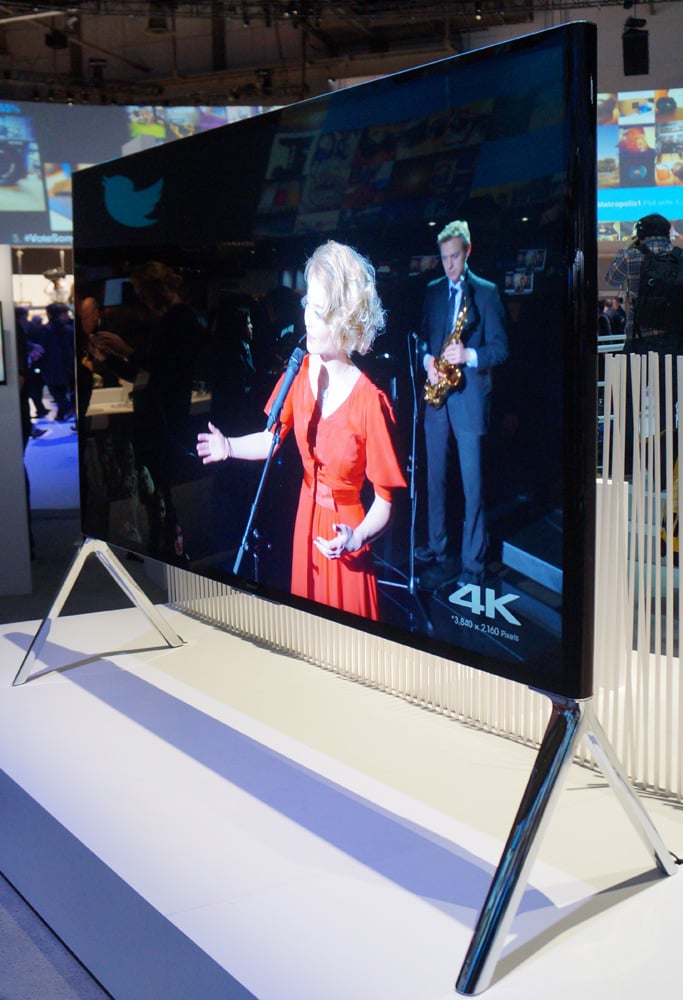 At CES 2013, companies were talking big about the future of 4K, but there was little hi-res content on the market to support these innovations. Sony now has a few options for customers to access 4K media through the Smart TV interface with Netflix's upcoming 4K entertainment [5] and a selection of content on Sony's own Video Unlimited [6] streaming service. Though pricing hasn't been announced, these televisions are all hitting stores this Spring.
XBR-X950B — Sony's top-of-the-line 4K TV comes in an 85-inch screen size, along with a 65-inch if that's just slightly too big. It uses what Sony calls Dynamic Range Pro, where the LED lights are directly behind the screen, making for brighter colors and deeper blacks.
XBR-X900B — Three screen sizes are available with the X900B: 55-, 65-, and 79-inch. Sony is bolstering not only the image quality, but also bringing an emphasis back to sound, which is seen in the wedge shape of this particular TV. By tapering the display's width as it reaches the top of the frame, Sony engineers were able to fit ClearAudio+ speakers in the bottom of the display. Like the curved TVs of Samsung or LG, this wedge may prove tricky for wall mounting.
XBR-X850B — The entry model of Sony's 2014 TV lineup, the X850B could make the dream of having cutting-edge technology come closer to a reality. The same 4K resolution is on hand, but with paired-down screen sizes of 49, 55, 65, 70 inches.
Photo: Kelly Schwarze
Vizio P-Series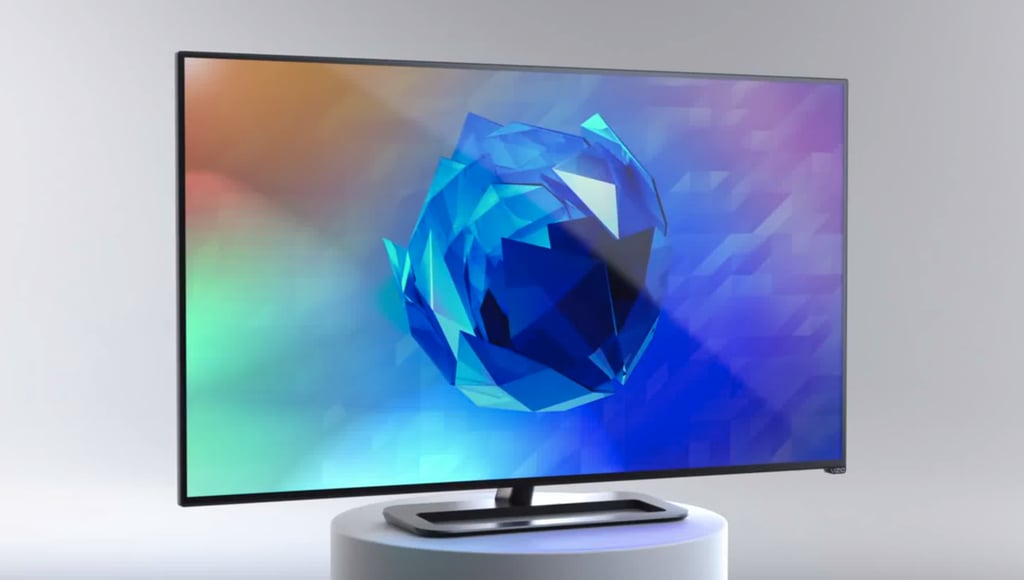 The 4K TV for the people is how Vizio would prefer you think of its new line of P-Series TVs, and starting at $1,000, it's the only Ultra HD display most "regular" consumers can afford. The P-Series is available in five screen sizes: 50- ($1,000), 55- ($1,400), 60- ($1,800), 65- ($2,200), and 70-inch ($2,600). Packed among all those pixels is a V6 quad-core processor so that graphics move fast across the screen. Each unit is equipped with Vizio's Smart TV platform, so you can access that Netflix 4K content as soon as it debuts using the included new WiFi Direct Universal Smart Remote, which doesn't need to be pointed straight at the TV to change the channel.
Source: Vizio [7]
—Additional reporting by Nicole Nguyen