Adobe Kuler App
Adobe Kuler Reveals the True Colors (of Everything)
Inspiration can strike when you least expect it, which is why Adobe Kuler (free) is a must for your app arsenal. The newly released iOS app automatically creates color themes based on photos from your camera roll, Flickr, or the web.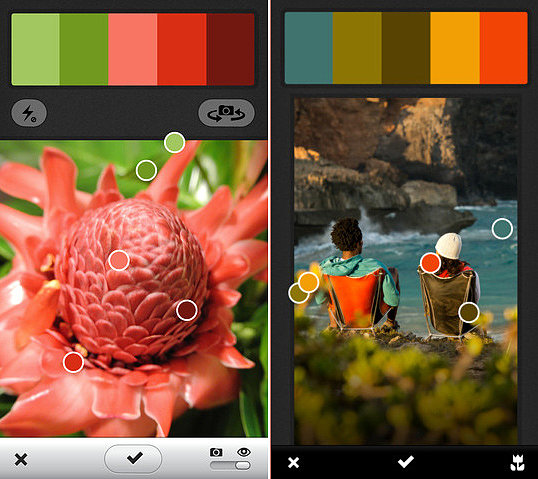 In camera mode, Kuler extracts the dominant hues in an image, and animated little circles move around, revealing the most eye-popping colors of that picture. Tap the image to stop the animation, then drag the circles around the screen to target specific colors in a photo. Adjust the colors with a color wheel or RGB sliders and, once your theme is set, share it via Twitter or email. Kuler will also display colors' monochromatic and complementary colors to help you round out your theme.
All of the themes you've worked with are synced with the Adobe Creative Cloud and saved in the app so that you can refer to them whenever you need. If your Adobe Creative Suite Software (InDesign, Photoshop, etc.) is synced to your Creative Cloud account, then the color themes will show up automatically in your work spaces, too.
Give Kuler for iOS and the corresponding web app at kuler.adobe.com a try and let us know which hues are on your mind!