Season one of Agents of S.H.I.E.L.D. left the characters (and viewers) in dire straits. S.H.I.E.L.D. had been infiltrated by one of its own and all but destroyed. In season two, Director Phil Coulson will be at the helm rebuilding S.H.I.E.L.D. from the ground up. During its Comic-Con panel [1], it was revealed Lucy Lawless will play a S.H.I.E.L.D. agent [2] this Fall, to the crowd's whooping approval.
While the first season was about laying the groundwork for who all these characters are and how they fit into Marvel's classic comic book and film universe, season two, the panel revealed, gets to create its own stories and build on the characters fans love. You bet they'll be looking into Skye's parentage, with executive producer Maurissa Tancharoen insisting we'll discover the identity of the man with the bloody hand, while Chloe Bennett (Skye) says she wonders "Could I be Jessica Drew?" aka Spider-Woman [3].
And then there's the task of getting S.H.I.E.L.D. functioning again despite the villains of Hydra lurking around the corner. Brett Dalton, who plays double crossing Hydra agent Ward, teased in our interview that there could be "someone even higher up" than Garrett, his deceased Hydra compatriot. Not to fear! Clark Gregg said Coulson "and his team are pretty ingenious about coming up with what they need. It's going to go lo-fi, old school . . . back alleys, building it one step at a time, back to something that can really protect people and be trustworthy." Hail S.H.I.E.L.D.
Keep reading for more of what the show's cast and creators revealed of season two, including that whole SkyeWard romance and how Clark Gregg might be Phil Coulson.
Source: Getty / Frazer Harrison [4], Front Page image Facebook user Agents of SHIELD [5]
Hydra vs. S.H.I.E.L.D.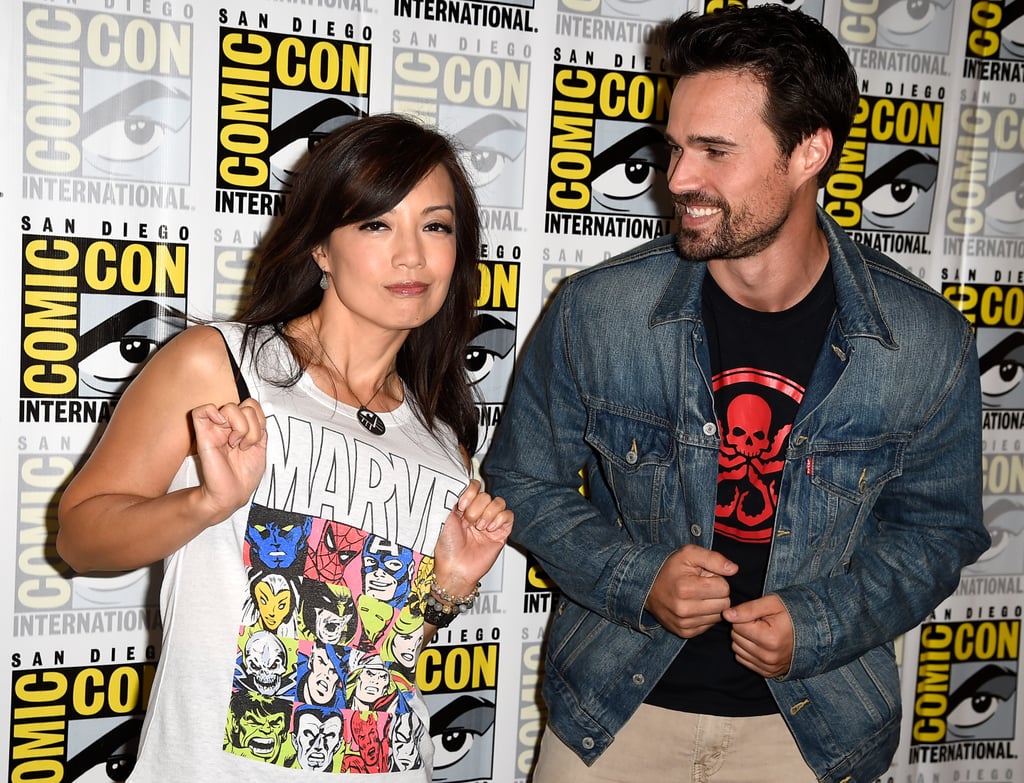 Ming-Na Wen (May) aptly described her character and probably every viewer's reaction when it was revealed S.H.I.E.L.D. had been double-crossed by one of its own — Specialist Ward. "It made me want to do some home improvement with some power tools . . . on his foot."
Despite the betrayal, the cast agreed it was a pretty crazy twist none of them saw coming. "It was so cool," said Clark Gregg.
Basically Clark Gregg Is Coulson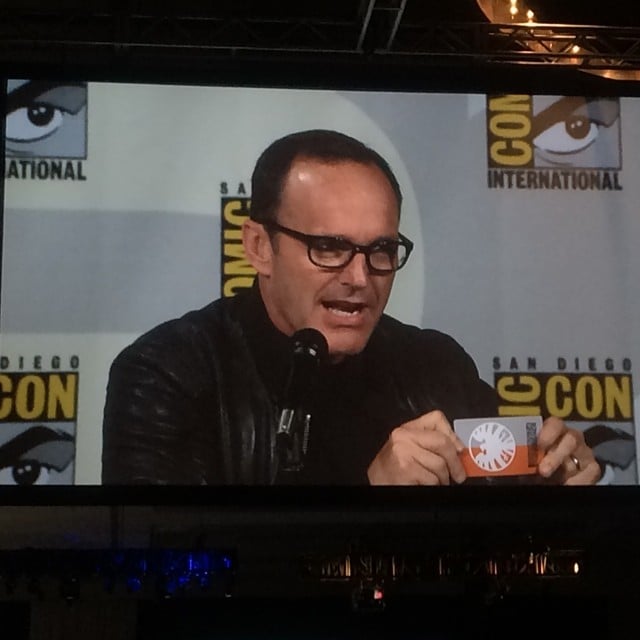 Clark Gregg might be evolving into Director Phil Coulson before our eyes. In an interview he told us "I don't want to know too much [as an actor]. The frustration of not knowing the stuff that Coulson doesn't know, helps me. When I find myself in a scene and I realize that Coulson knows more than I do, than I get one of the producers down, because I have to know at least as much as he does."
On stage during the panel he elaborated, "Agent, Director Coulson, and Clark have been merging for a long time. And inside I said SQUEE after the Nick Fury episode."
Phil Coulson = Clark Gregg.
Source: Instagram user aliciagai [6]
The Freedom to Rebuild S.H.I.E.L.D.
In the 22 episodes of season one, the show's creators not only worked within the constraints of what had already been determined as S.H.I.E.L.D. in the Marvel universe of comics and movies, but also the explosive destruction of S.H.I.E.L.D. in Captain America: The Winter Soldier [7]. In season two, executive producer Jed Whedon explains, they get to redefine S.H.I.E.L.D. completely. "In a way, it's the first time we have our own universe to build that's not just in the cinematic world they've already created." Prepare for anything and nothing that you've seen in a comic before.
Source: Twitter user POPSUGAR Tech [8]
How Agent Carter Will Coexist With S.H.I.E.L.D.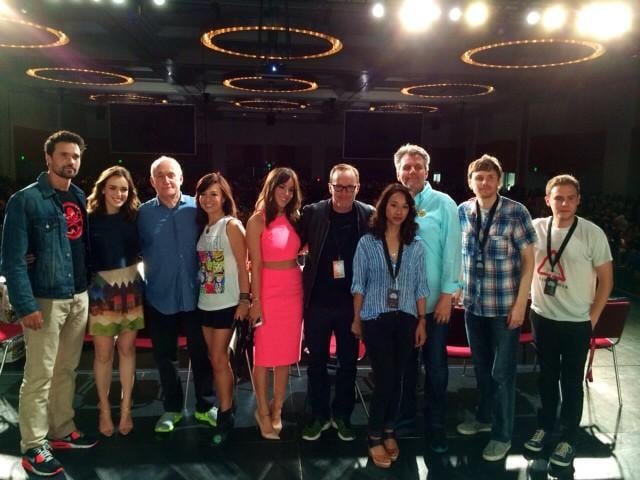 Just as the Captain America film [9] allowed S.H.I.E.L.D. to go in a new direction, the series Agent Carter [10] will create new opportunities for both shows. Said executive producer Jeph Loeb, "We have a unique opportunity in that we have a second series (Agent Carter), and that series is about the origins of S.H.I.E.L.D. While Director Coulson has been given the directive, 'Rebuild this. Make the dream come alive again,' we're also going to go back in time in the other show (to 1946), see the origin of that dream, and where it came from in the first place."
Source: Twitter user Agents of SHIELD [11]
The Future of a Skye/Ward Ship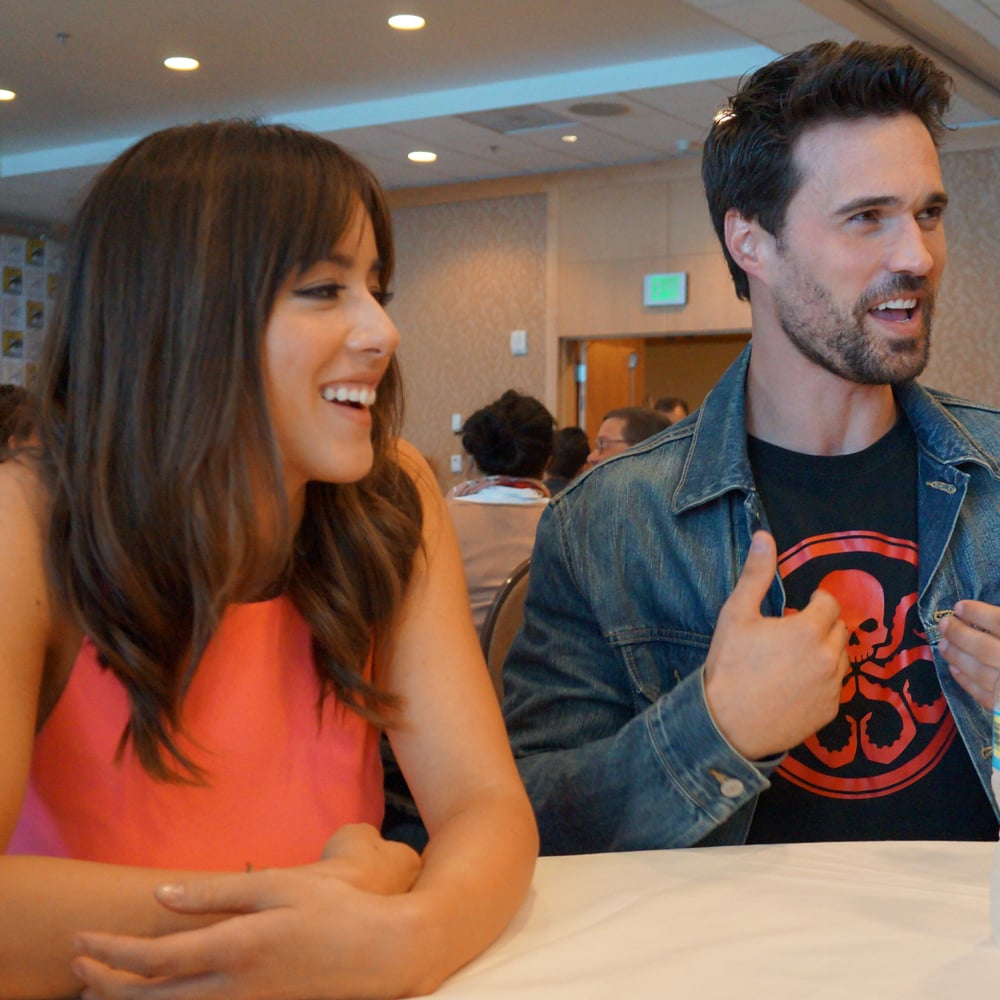 There were some sparks to say the least between Skye and Ward during season one. As Brett Dalton told us "Opposites attract. I think we are polar opposites, but there's a connection there." But then there's the whole double agent — Ward was actually infiltrating S.H.I.E.L.D. from the inside for Hydra thing. That would make for an awkward reconciliation for both the ladies that were involved with Ward. "You just kissed him. I slept with him!" said Ming-Na in the panel.
Still, don't write off Skyeward [12] yet, at least to Chloe Bennet: "I don't think they will be together this season. I don't know how long it will take, but I think something will bring them together again. They're going to find out that they have more in common than they think." Bring it.
Photo: Kelly Schwarze
JK, We Know Nothing Because Marvel Is as Covert as S.H.I.E.L.D.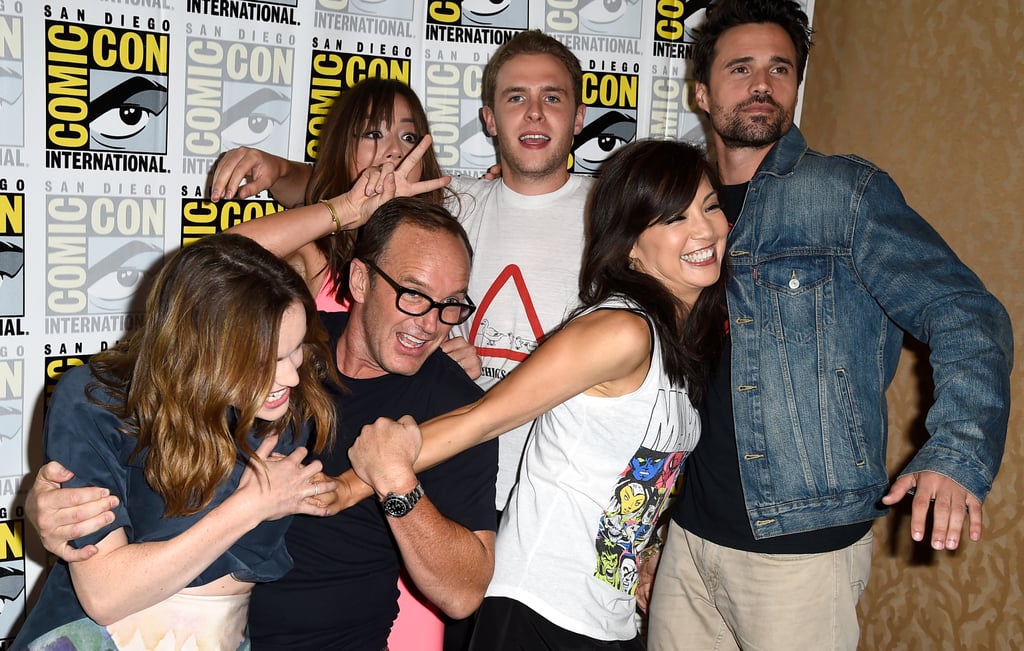 When pressed on what to expect for S.H.I.E.L.D. in season two, Jed Whedon got real with us, "We're not allowed to say anything, who are we kidding? We can recap the last season since it already aired, but we can't talk about anything because Marvel has a gun to our head right now."
So there you go, let's just all talk about season one again and the comic book origins of the agency until we're blessed with the return of Agents of S.H.I.E.L.D.
—Additional reporting by Nicole Nguyen