Airport Security Wait Time Information Through Your Cell Phone
Cells Used to Estimate Security Wait Times: Love It or Leave It?
Like us on Facebook
One of my favorite features about Google Maps is the traffic feature. I can't tell you how many hours I've avoided being stuck on the freeway because of its brilliance. So if you could get that kind of advance notice on what the current wait time is at your airport security checkpoint, would you want it? How about if getting that kind of data meant recording your cell phones' serial number when you enter and clear the checkpoints in order to get accurate wait times?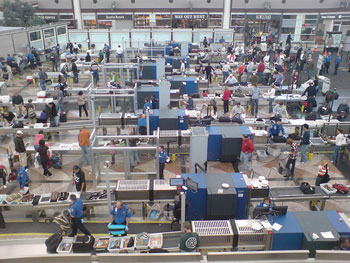 That's exactly what happened during a TSA mandated test-run of the Google Maps-like program at the Indianapolis International Airport last year. Whether you realize it or not, your cell phone broadcasts your serial number every 20 seconds or so when turned on. So when researchers at Purdue University placed a small receiver at the entrance of the airport's security checkpoint, they could see exactly how long it took for passengers to enter and exit the security line. Seems simple enough, right? Question is: do you really want government agents knowing your every move while at the airport (or anywhere else one of these receivers can be placed)? It comes down to privacy over convenience. So tell me — do you love this idea, or would you rather leave it?

Source: Flickr user dan paluska