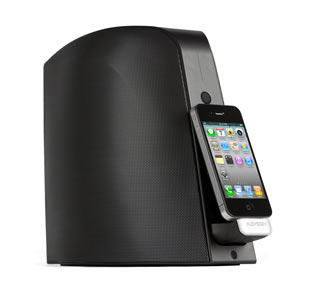 This bold, new iPod/iPhone dock is like none I've seen before — which is exactly what manufacturer Audyssey was going for when it designed the
South of Market Audio Dock
. The dock is designed to work with your iPhone or iPod and acts as a speaker for music and video and a speakerphone for phone calls (including
Skype
and
FaceTime
).
Find out more about it after the jump.
The dock itself is five inches wide and nine inches high and includes two microphones for making calls — one in the front and one in the back. The dock charges your phone or iPod when it's connected and also features Bluetooth connectivity, so you're able to play music from your device even if its not attached. And, it connects to your computer via USB to quickly sync music and videos. It can also be used as a desktop computer speaker.
The South of Market Audio Dock works with iPhone 3G and above, and retails for $399.