Back to the Future 2 Tech
Cool Tech From Back to the Future Part II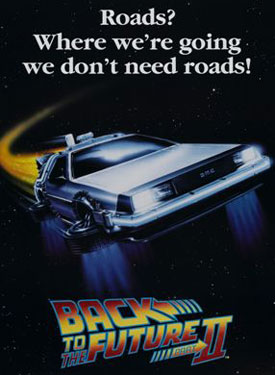 Corresponding with the 25th anniversary release of the original, Back to the Future II has seen a resurgence on the Internet over the past few days. Maybe it was the long weekend that left minds to wander to their favorite geeky movies, but I'm not complaining. Back to the Future II was one of my most-watched flicks in my younger days, mostly because it got me excited for the future — flying cars, hoverboards, and self-drying jackets? Count me in!

Here, we'll take a look back at some of the most notable tech from BTTFII and see how close we are to achieving them. We only have five years left to make it all happen!
Self-tying shoes — Finally, someone has developed a self-tying Nike hightop sneaker! Sure, they aren't as sleek as Marty's, but give Nike some time — it'll make it happen.
Hoverboards — I was stoked to learn that there was a real-life hoverboard in the wild. I'll take up skateboarding now so I can be ready when Mattel really does decide to bring the floating device to the mass market.
Flying cars — The FAA has already approved the road- and sky-ready Terrafugia, but I don't think the sleek and stylish models we saw in Back to the Future II will make it before Oct. 21, 2015.
See the rest of my Back to the Future II tech rundown after the jump.


Food rehydrators — Future Jennifer inserts a tiny pizza in a "food rehydrator" and in seconds has a full-sized, piping hot pie for the family to nosh on. This would save me lots of time during my late-night gaming marathons. When can I get one of these?
Personal video goggles — Marty Jr. is preoccupied with his personal video glasses throughout the family dinner scene in Back to the Future II. These seem like they could be a souped-up version of our newest personal 3D glasses, combined with augmented reality technology. There is already something like it on the market called Vuzix.
Video chat — Score! We can definitively knock at least one thing off the list.
Thumbprint home key entry — Jennifer doesn't need a key to enter her 2015 home in Hilldale — she just needs her thumb! Thankfully, you can live like Jennifer with one of these keyless thumbprint door locks.
Self-drying jackets — When Marty takes a dive into the Hill Valley pond, his jacket dries itself off. How useful would one of these be if you got caught in a rainstorm?!
Controller-less video games — When Marty plays Wild Gunman in the '80s Cafe, the two kids who watch him complain that you have to use your hands. Have you met the Xbox 360 Kinect? I'm sure this is just the beginning.