Bing Social Recommendations
Don't Know Who to Follow on Twitter? Ask Bing!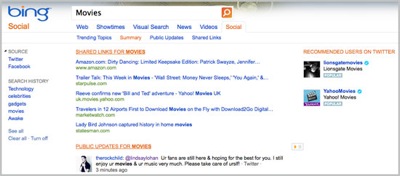 Twitter has a pretty well-rounded follower recommendation tool, but if you want to look elsewhere, you can now check out Bing Social, that not only gives you recommendations on influential Twitter users to follow, but you can also get the latest trending topics on the left hand nav bar, and public updates on Twitter and Facebook about any search topic you choose.

Plus, you can narrow down your keyword search by time frames in the past hour, day, or week.