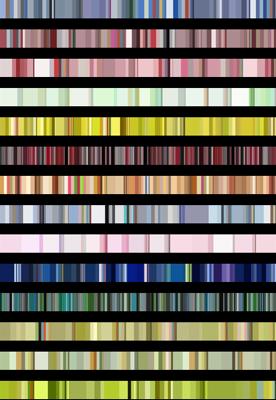 I'm a total
DIY freak
, and appreciate websites that help me reach my crafting goals. Take my last
DIY
project: the
charging station I made
from an
Ikea
shelving unit. Now if I wanted to take that a step further, I could add some decorative fabric to the back panels and really make the shelf pop. But how do I find the right fabric? I could browse racks of fabric at my local craft store, or I could do it the easy way (without leaving the warmth of my computer) and hit up
More Cloth
.
This site works seamlessly with Etsy to lead you to your perfect fabric. First it offers up a ton of color schemes to choose from (like in the photo to the right), and then directs you to the exact fabric patterns that contain those colors. Finally, More Cloth shoots you over to the Etsy page where you can add your chosen fabric to your cart, and prep your craft room accordingly — just sit back and wait for your fabric to arrive!
Have an interesting website you want to share? To learn how to post your favorite websites to our Website of the Day group,
.


First of all, join the Website of the Day group.
Click "New Post" under the website of the day tab at the top of the page.
Give your story a "Title."
Fill in the "Body" with a link to your favorite website and the reasons why you love it.
Type "Technology and Gadgets" in the Categories box
Add keyword(s) in the tag field with relevant tags (for example mine for this story was "Website of the Day").
Choose whether you want the post to be private or public.
Click "Create Post" to submit content.