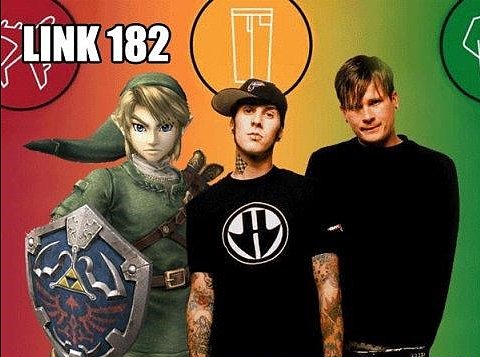 Source:
Twitter user Angry_Link
[1]
This year's
Comic-Con International: San Diego
[2] has begun in full force.
@Midnight
[3] on Comedy Central kicked things off with "Hashtag Wars: Comic-Con Bands." The battle continued on Twitter, where tweeples turned the idea into a beautiful, beautiful thing. Read on for "Link 182," "Grateful Walking Dead," and more geeky musical group mashups.
Get More: Comedy Central [4],Funny Videos [5],Funny TV Shows [6]
#ComicConBands [7] The Doctor Who @midnight [8]

— Michelle (@RageMichelle) July 24, 2014 [9]
#ComicConBands [10] Harry Potter and the Family Stone @midnight [11]

— Dolph Ziggler (@HEELZiggler) July 24, 2014 [12]
Eazy-Ewok #ComicConBands [13] @midnight [14]

— Samuel: Pie Slinger (@JanuarysGinger) July 24, 2014 [15]
X-Men at Work #ComicConBands [16] #80smusic [17]

— Elo H (@elo_bajo) July 24, 2014 [18]
Of Monsters and X-Men #ComicConBands [19] @midnight [20]

— John Wood (@JohnStandsUp) July 24, 2014 [21]
Imagine Dungeons & Dragons #ComicConBands [22]

— Chris Linville (@WChrisL) July 24, 2014 [23]
The Trolling Stones #ComicConBands [24] @midnight [25]

— Nicholas Assunto (@NickJAss) July 24, 2014 [26]
#ComicConBands [27] A Tribe Called Galaxy Quest

— Ben Bailey (@RealBenBailey) July 24, 2014 [28]
30 Seconds to Veronica Mars @midnight [29] #ComicConBands [30]

— Alison Quinn (@missalisonquinn) July 24, 2014 [31]
Cosplay Stills and Nash #ComicConBands [32] @midnight [33]

— Rick Damigella (@LinerNotes) July 24, 2014 [34]
Ghostbusta Rhymes #ComicConBands [35] @midnight [36]

— Tom Everette (@teverette11) July 24, 2014 [37]
Theon Grey Joy Division #comicconbands [38]

— Tim Andrews (@TimAndrewsRG) July 24, 2014 [39]
#ComicConBands [40] Batman & Robin Thicke

— Erin V (@Killpandakill) July 24, 2014 [41]
Hellboy George #ComicConBands [42] @midnight [43]

— David Clark (@Clarkeocrinus) July 24, 2014 [44]
#ComicConBands [45] Crisis On Infinite Earths, Wind and Fire @midnight [46]

— Dane Clark (@realDaneClark) July 24, 2014 [47]
D.C. Hammer #ComicConBands [48] @midnight [49]

— Amelia B. (@Mealz1042) July 24, 2014 [50]
Fountains of Bruce Wayne #ComicConBands [51] @midnight [52]

— Dan Stabb (@DanStabb) July 24, 2014 [53]
Chewie and the blowfish [54] #ComicConBands [55]

— T (@tfultz616) July 24, 2014 [56]
Front Page Image Source: Getty [57]