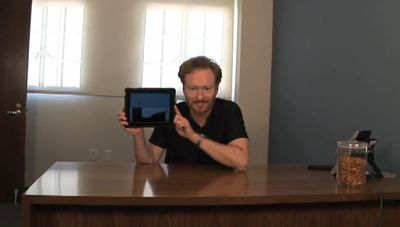 In a recent
YouTube video
,
Conan O'Brien
announced that he would be following in the
Old Spice guy's footsteps
by answering fan questions with a video response. His
new show kicks off Nov. 8 on TBS
, and he's inviting all of his fans to ask him anything. All you have to do is post your question on his
Team CoCo Facebook page
(there's already over 2,000 questions posted, so make it good!) and wait with anticipation to see if he answers yours.
Other fun facts revealed by Conan's YouTube video — he's got an iPad and is up to level four in Angry Birds. Awesome. Check out Conan's announcement in the full video after the break.