I admit, I shop at Costco for bulk items, but really, I love to browse the electronics section! Not only does Costco have an A+ return policy, but it has a great selection of Blu-ray and DVDs as well. And while hitting up some sweet post-holiday deals there over the weekend, I found this gem: a Bud Light Speaker Box. This box not only holds 24 cans of light beer to satisfy your waistline-pinching thirst, but you can plug in your MP3 player and blast your tunes as well. At $17, this may cost a few more bucks than your standard box of boozies, but hey, at least you can cut a rug to your favorite jam during your next outdoor party.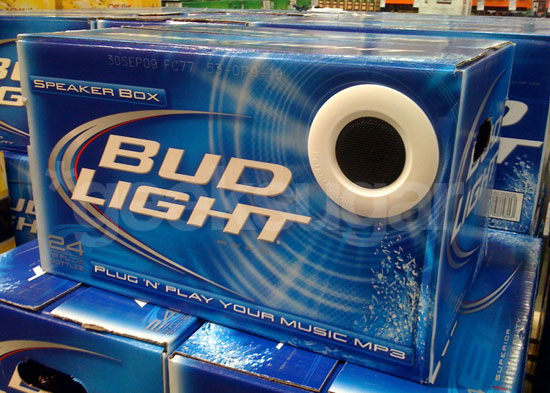 I didn't see an adapter (I assume it's on the inside?), so I'm not quite sure how this works, but I'm digging Bud's attempt at wooing us geeks with their tech addons. I'll be honest — I almost gave in. But with today being
Cyber Monday
and all, maybe Costco will knock a few bucks off so I don't feel so bad stuffing my fridge with all that beer.