Daily Candy Android Shopping App
Download of the Day: Daily Candy For Android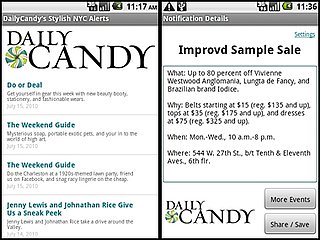 I'm obsessed with the PopSugar Daily emails I find in my inbox each morning. Whether they're spotlighting a new product, a new trend, or a super sale, it's a great tool that helps me plan my extracurricular (read: shopping) activities. Similarly for locals, the new Daily Candy Stylish NYC Alerts app takes these tips on the road and uses your Android phone's GPS function to monitor your location, alerting you via a push notification when you're near a Daily Candy-approved sale or event.

Non-New Yorkers, don't worry, Daily Candy plans to build out the service to include its other cities soon.

Have you found a cool download-worthy treasure you'd like to share with the rest of us? Join the Download of the Day group, where you can submit your favorite downloads, apps, and widgets.