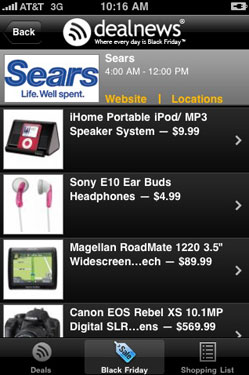 In case you missed it, it's November, which means
Thanksgiving
is right around the corner,
Christmas
will soon arrive and before you can shout "Happy New Year," it'll be 2010. Not to put the pressure on you, but November doesn't just mean turkey and stuffing — it means
Black Friday
. I predict that this year, good deals and sales will be more important than ever to get people in the stores to
shop for gifts
, so be on top of it all with the
Dealnews Black Friday app
.
This app is great because it gives you details on the best sales around right now, as well as confirmed and leaked Black Friday deals from all across the web and on store shelves. Plus, it even counts down the days until November 27 so you know exactly how long you have to plan your in-store shopping strategy. Keeping with the penny-pinching theme, the Black Friday app is totally free.