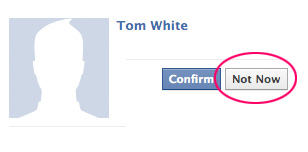 I'm a fairly judicious Facebook friend-er. If I don't know you well, I probably won't approve you as a friend. And even though I know that Facebook won't notify a potential friend that I've denied his or her request, I tend to avoid the finality of clicking "Deny." Instead, I have an inbox jammed full of friend requests that I'm putting off denying. But Facebook recently
changed the way denying is handled
, opting instead to choose from "Confirm" or "Not Now" options.
Find out more about the change after the break.
Clicking "Not Now" adds the request to a separate menu of "Hidden Requests." Sending a person's request to this group seems a little like Facebook Purgatory — because it is. You can revisit this list later and approve them at a later date should you change your mind. Or, you can choose the "Don't know this person?" option, and Facebook will block them from being able to request your Facebook friendship in the future, preventing annoying and spam-like requests.