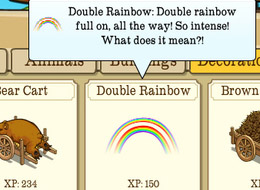 Facebook's
FrontierVille
, the new game from
FarmVille
creator Zynga, has a new decoration inspired by one of the
best viral videos of all time
. Now, for 25 horseshoes,
FrontierVille
players can
purchase a double rainbow
as a decoration.
The description of the item reads, "Double rainbow, full on, all the way! So intense! What does it mean?!" mimicking the viral video. The double rainbow was one of 15 decorations recently added to FrontierVille and will grant users 150 experience points. I just can't get enough of this Internet meme — double rainbow all the way!