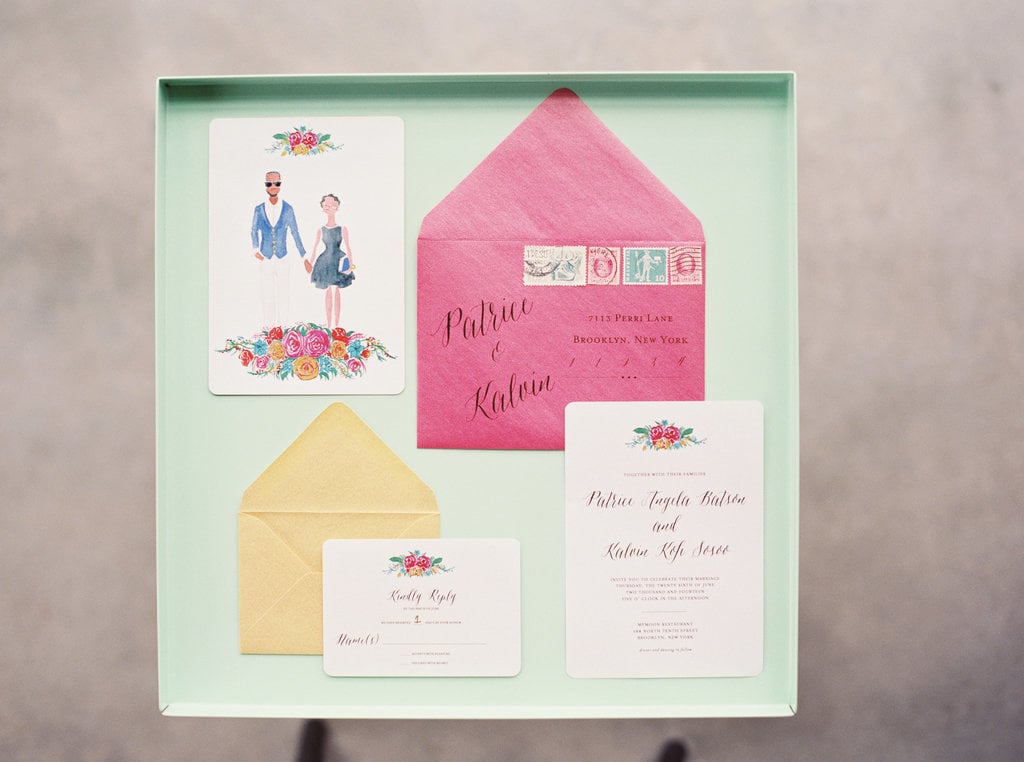 Between the bachelorette party, bridal shower, save the date, rehearsal dinner, and actual wedding-day invites, there are a lot of paper — or, for the most tech-savvy brides, online — goods to go around. If you're designing your own wedding [1] stationery, then a beautiful set of type makes all the difference. Fonts can set the tone for style just as much as the color scheme, and installing custom ones are really easy [2] on both Mac and PC.
We've scoured the Internet for the most elegant font freebies the web has to offer. Whether you're planning a romantic retro-, black-tie-, country-, or fairy-tale-themed affair, these type foundries have fonts fit for every type of wedding [3]. Check out the premium, professional-grade lovely letter offerings, provided gratis.
The Big Dogs
These sites have hundreds of fonts collected from design firms or individual typographers.
Font Squirrel [4] — The ultimate resource for free fonts licensed for commercial use (which you don't need to worry about for your wedding invites, anyway). Font Squirrel has a great selection of elegant script [5] and calligraphic [6] options.
Behance [7] — The graphic design showcase isn't just an online portfolio for conceptual digital work; it's also a great place to find beautiful free fonts from up-and-coming designers too. Some of our favorites: the straight-out-of-Mad Men Brandon Grotesque [8] and the subtly whimsical Valentina [9].
Open Font Library [10] — This home for open-source fonts promotes all freedoms as related to the use of type. Anyone is free to use, study, share, and remix the fonts available on the site. Sofia [11] is a fresh take on traditional script, and Caledo [12] is a dramatic, bold choice for a more formal event.
MyFonts [13] — The site claims to have the "largest collection of fonts," and while most of the fonts aren't free, MyFonts does have a selection of incredible, progressional-grade type that's available without charge. Mimix [14], for example, is $0 for personal use, but costs $39 for commercial applications, and Bergamot [15]'s ornaments are free, but the lettering costs $10 and up. Poke around, and you'll find some incredible downloadables.
Boutique Picks
These sites don't have as much to offer, but, as they say, less is more. You'll find more unique typefaces from independent designers here.
Font Fabric [16] — The type foundry unveils a new font every week and has 49 free offerings. The playful Multicolore [17] and graphic Rex [18] font families caught our eye.
Type Together [19] — The two-person, Czech Republic-based design team has some great reinterpretations of classic fonts, like Abril Fatface [20].
Ten by Twenty [21] — The design firm has a great pixelated font for a techie wedding called Munro [22]. There's also a fun icon set [23] that could be used to call attention to important info on your invites, like directions or a phone number.
Type Depot [24] — This small design studio has minimal, playful types like Piron [25].
Exljbris [26] — Look in the left navigation bar under "free fonts." Designer Jos Buivenga specializes in crafting sans-serif type.
The League of Moveable Type [27] — From the bubbly Sniglet [28] to the kaleidoscopic Knewave [29], this open-source type foundry has a wide array of fonts available.
To Type Away [30] — The students of University of Northamton specialize in fonts that look like hand-lettering.
Lost Type [31] — This design co-op is donation-based, so give what you can.