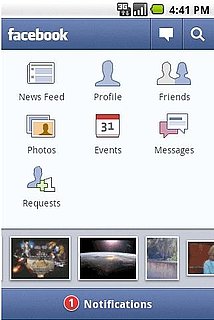 Amid Android 2.2 updates being sent to Android devices this week,
Facebook has updated its Android app
, redesigning it to closely resemble the iOS version of the Facebook app. The updated version, which works on devices running Android 1.6 or higher, adds a new notifications drawer and a photo reel displaying photos and videos posted by friends at the bottom of the home screen.
New features include improved functionality, including the ability to perform more actions — like respond to friend requests and RSVP to events — directly within the application. Plus, there's a simpler, one-touch button for updating your status. The update is available to new and existing Facebook app users in the Android Market.