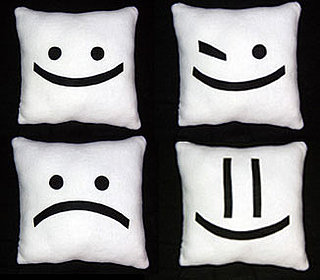 I seem to have a love/hate relationship with emoticons. On one hand, I have a soft spot for geeky emoticon products like this
shower curtain
and these
emoticon magnets
. On the other,
I frown on the overuse of emoticons
, especially when it comes to dating.
You can probably guess how I feel about these Emoticon Throw Pillows ($12). There are five designs pictured, but you can also request your own favorite emoticon design. What do you think?