Facebook and Google Online Privacy
Privacyfix: A Dashboard For Your Private Data
It can be tough going a day without using Facebook and Google in some capacity. Though we use these sites because they're useful, interactive, and, most importantly, free, that doesn't mean they come without a cost. We "pay" them with our personal data, which is why the settings that keep that information private are often hidden and hard to come by. Privacyfix (free), a new extension for Google Chrome and Firefox, takes the rocket science out of securing your online data by bringing all of those discrete settings together, in one clear place.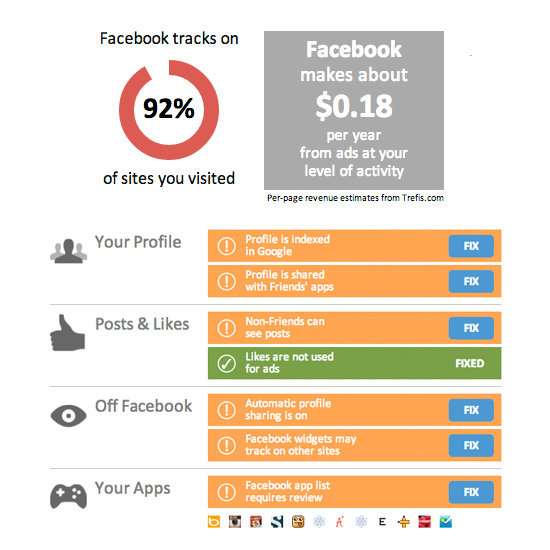 The browser app tells you which websites are sharing your data, tells you which are tracking you right now, and displays both Facebook and Google privacy settings in a simple, easy-to-navigate dashboard. Settings that you might want to "fix" are flagged in yellow, and clicking on the "fix" button will take you right to the opt-out page on the appropriate site, where Privacyfix shows you the pros and cons of changing that setting.
Also find out how much Facebook and Google make from ads at your level of online activity and what percentage of your browsing history is tracked. We found out that Facebook tracks over 90 percent of our online activity and Google makes about $830 per year from the ads it shows us!
Let us know what you think of Privacyfix and if you plan on installing this security tool on your browser.