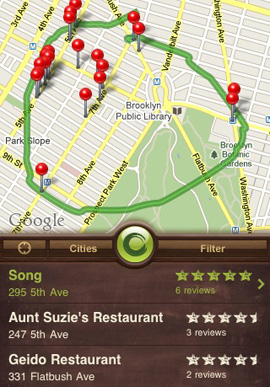 Yahoo just debuted a new iPhone app this week at the CTIA conference in Las Vegas.
Sketch-a-Search
is a restaurant search app that shows restaurants near you with no typing or keywords. Instead, use your finger to draw on the screen and identify an area you'd like to search. The app automatically detects your location, but it also has a pretty thorough list of cities to choose from. Select your location and circle the area you're interested in searching. The app returns every restaurant in that area, which you can then narrow further by location, restaurant type, or other detail.
There's no shortage of restaurant-finding apps, but this one would be particularly useful if you're walking down a busy street and don't want to type on your phone, or if you're road-tripping down the freeway and want to see restaurants miles down the road. The best part? This app is completely free!