Remember when online photo editing sites were practically nonexistent and you had to drop a load of cash to buy into software like Photoshop? Luckily that situation is long gone thanks to photo apps [1] where you can instantly edit and upload to Instagram [2]. But for those of us who want to edit photos on desktop to get a better look, these free online photo editing websites will turn your snapshots from drab to fab in just a few clicks.
— Additional reporting by Kristy Ellington
Photo: Lisette Mejia
Pixlr
This tool, which you can use on its own [3] or as part of Photobucket, allows you to work magic on your digital pics. Use filters, crop, resize, add effects, insert text, and lots more. There's even a retro Pixlr-o-Matic [4] for those who just want to add a few years onto their images. Also check out Pixlr Express [5], a pared-down version for easy edits.
Gimp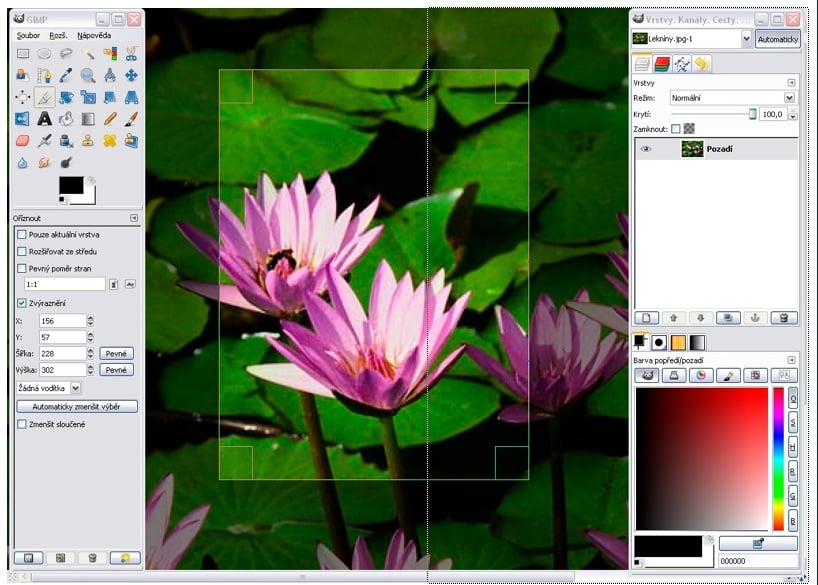 Gimp [6] is a free distributed program for things like photo retouching, image composition, and image authoring. It unfortunately requires a download to work, but it's considered the best online editing tool next to Photoshop.
FotoFlexer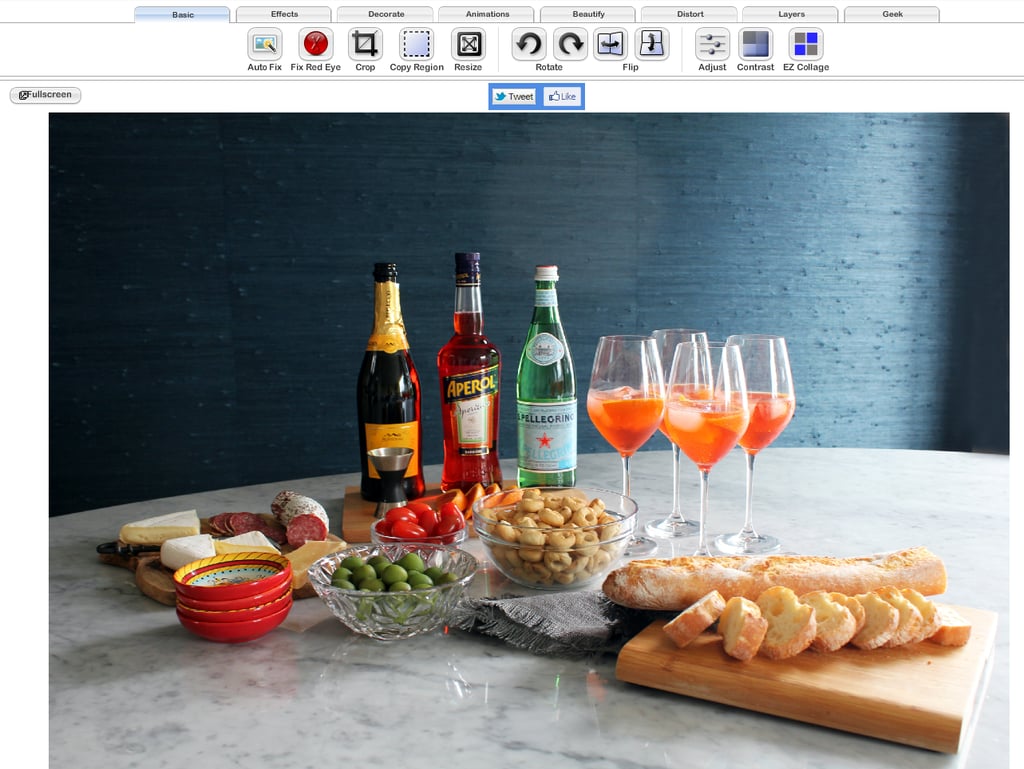 If you want to add some pizzazz to your photos, Fotoflexer [7] offers special effects, shapes, retouching, and even layering functionality. It's free, and it works directly from your browser.
PicMonkey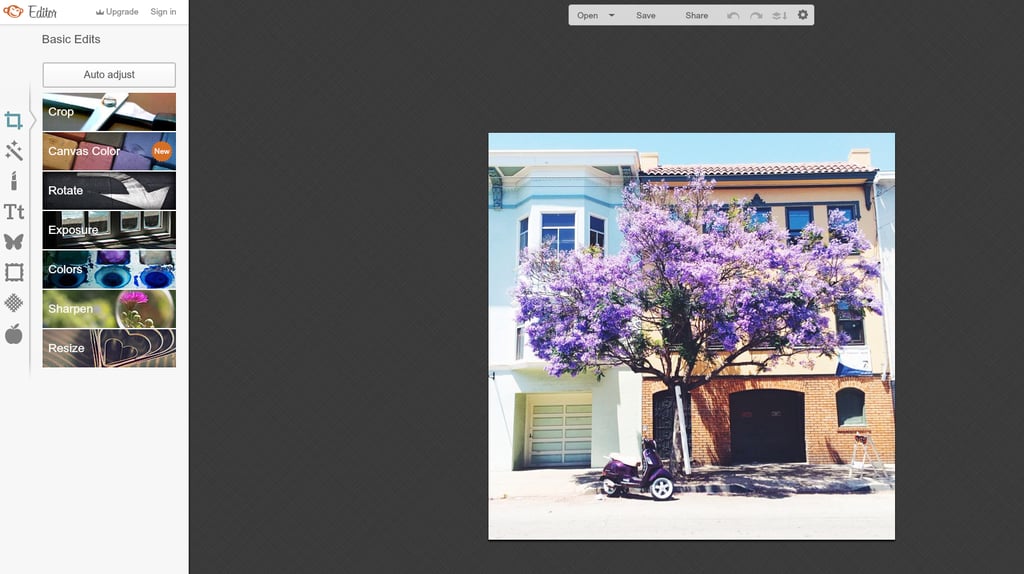 PicMonkey [8] comes with an incredibly clean interface that's easy to use. And what sets it apart from other editing tools is that it goes beyond the basics to offer features like sharpening and teeth whitening.
Phixr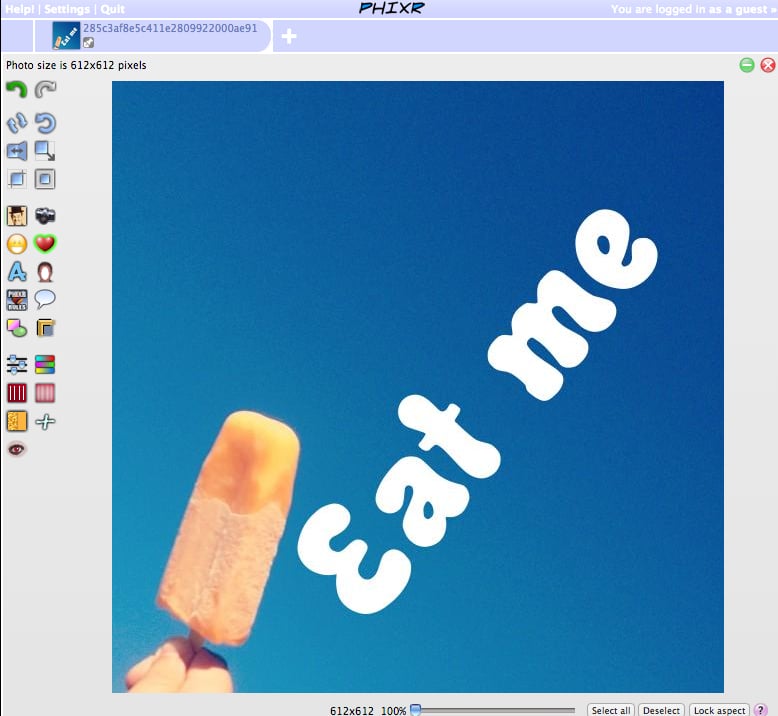 You guessed it! Phixr [9] is another free online photo editor that includes all the basic photo manipulation tools like cropping, rotating, removing red eye, and resizing. You can also add text to a photo in the form of a fun speech bubble!
Google Plus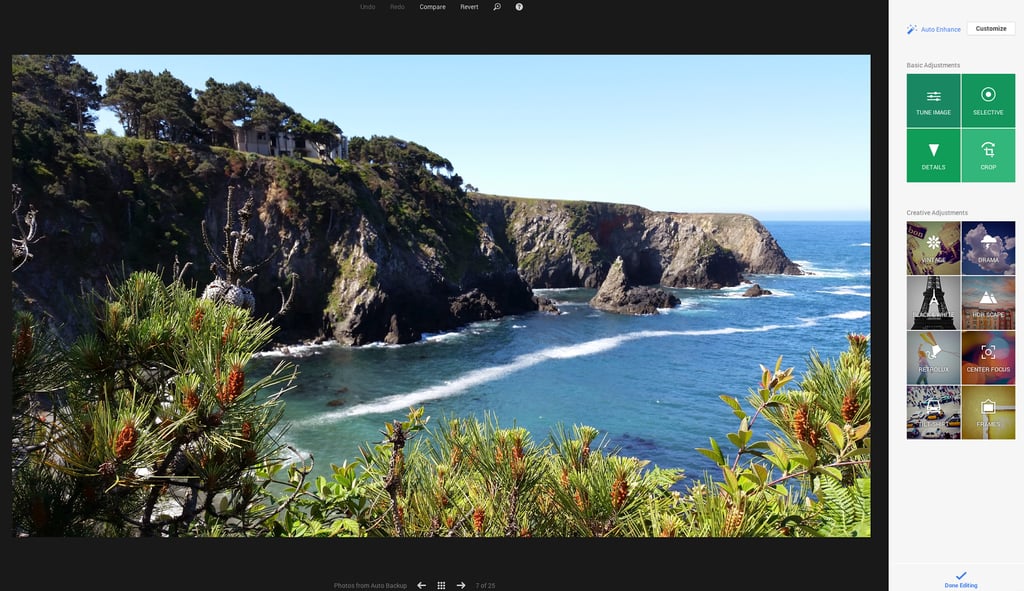 Did you know Google Plus has its own photo editing feature [10]? Of course, it requires you use Chrome and upload the photo to your Google Plus account, but then all you do is click the picture to view it in a full-screen lightbox and either rotate, zoom in, or crop. For even more features — like the ability to edit specific details of a photo without affecting other parts — simply click "Edit."
Sumopaint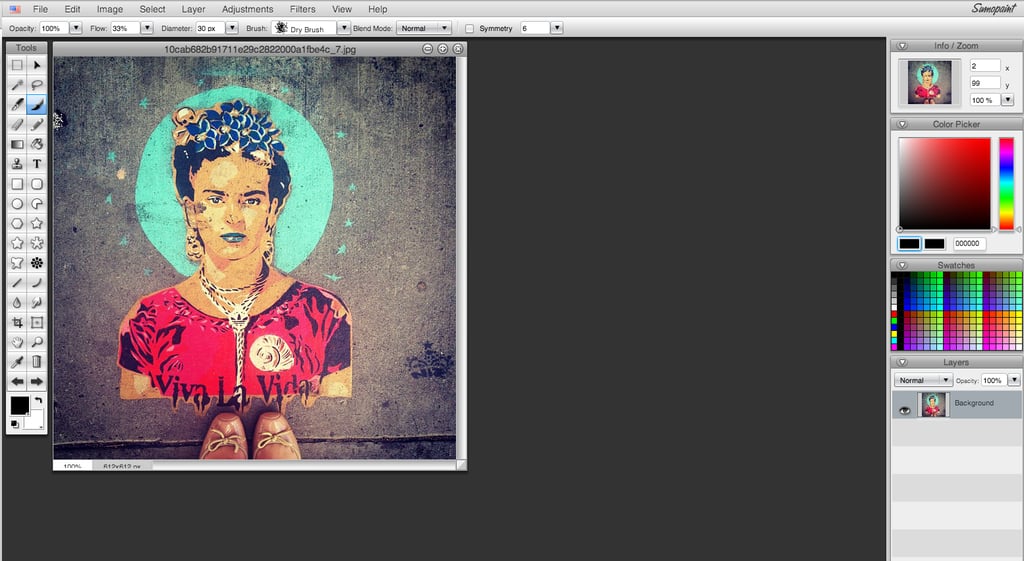 Sumopaint [11] is not just your basic photo editing site. Expect more involved features like symmetry tools, the ability to work with layers, and different brush tools.
Photoshop Express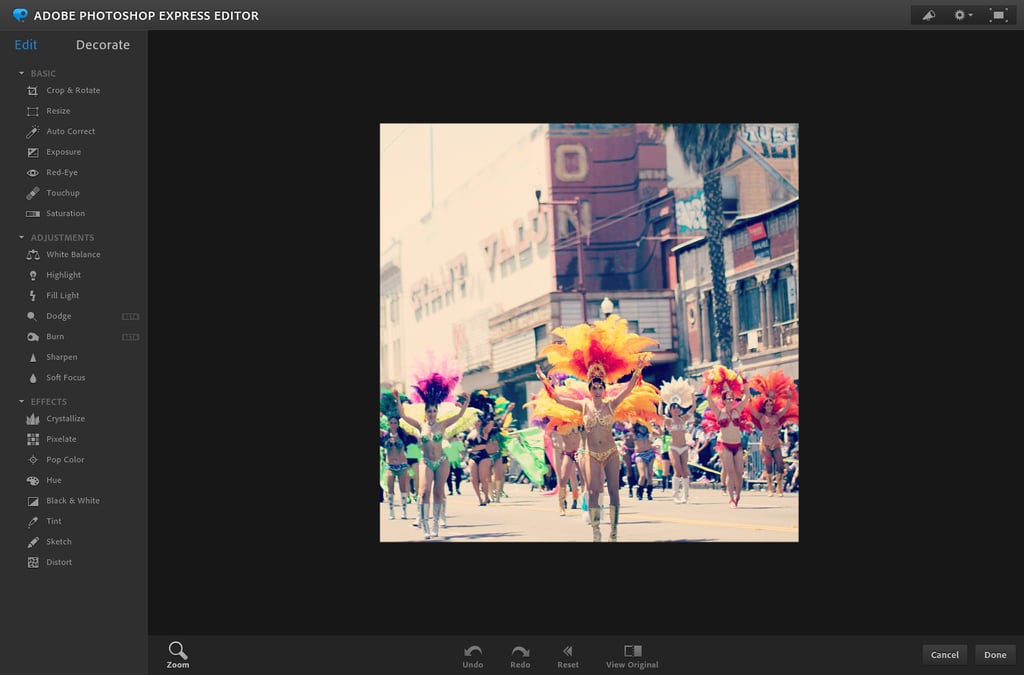 With 2GB of storage, Photoshop Express [12] is the one-stop solution for photo editing — but without the frills and gimmicks of regular Photoshop.
Ribbet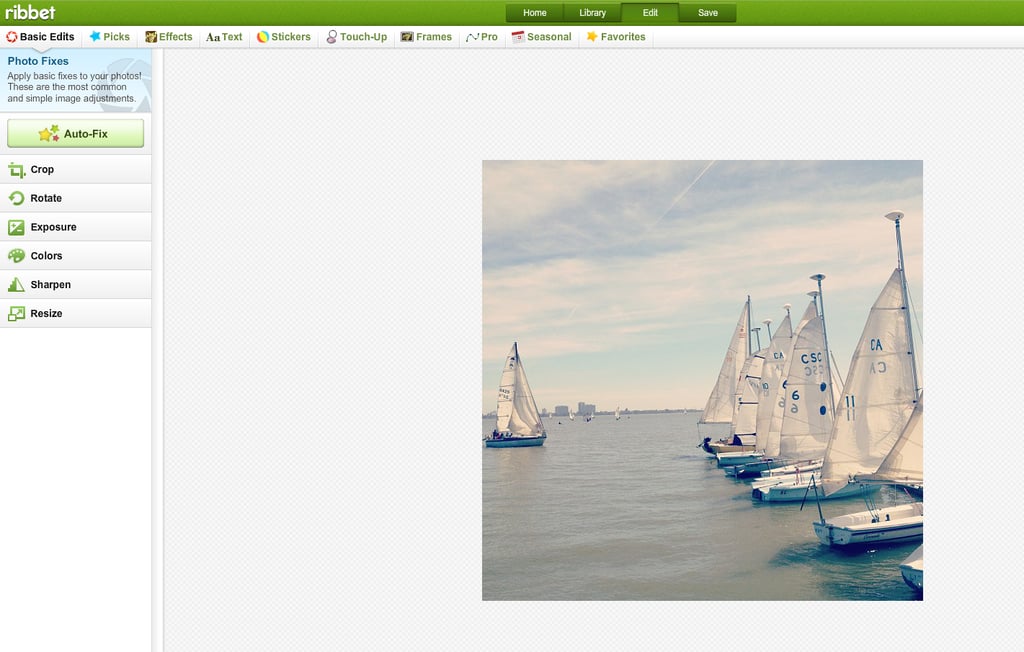 Crop, resize, rotate, and adjust color with Ribbet [13]. Plus, you can add stickers and cool effects and create photo collages in a cinch.
Dr. Pic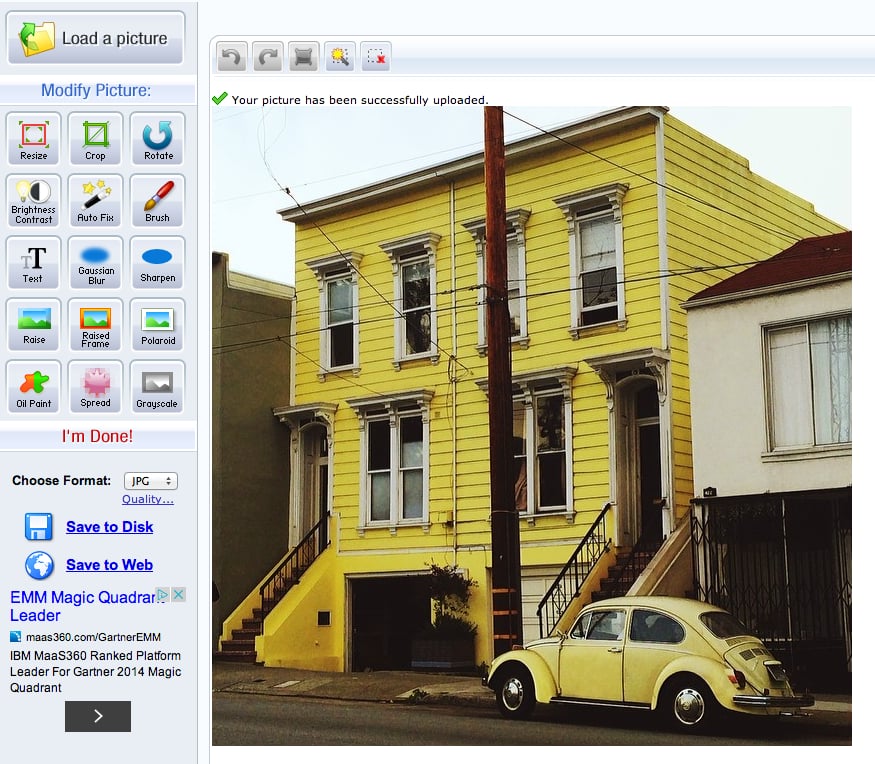 When you don't want to fuss with a lot of features and are simply looking for basics like auto fix, sharpen, and the ability to add picture frames, Dr. Pic [14] is the answer.