Geeky Heart Stamped Sterling Silver Rings
Metal Smitten <3 Rings: Totally Geeky or Geek Chic?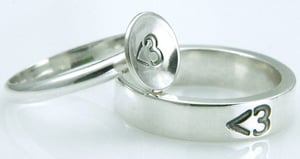 I'm going gaga over these rings from Metal Smitten. The sterling silver rings come in two designs, a thicker unisex version ($40) and slimmer design ($45) with the heart stamped onto a circular disc.
I've been typing with the <3 keystroke for years, and I think this is an adorable way to wear your geek — and love — on your finger. What do you think?