Geeky Languages From Movies and TV
14 Geeky Languages to Learn With Your Love
Love may be a universal language, but we're not sure that phrase includes the sci-fi alien races and fantastical creatures that rule the far depths of the galaxy, who express love in words beyond our human comprehension. When you're thinking of a unique way to woo your valentine this year, plan a tutorial to learn together one of these 14 geeky languages. While several of these Trekkie, Tolkien, or computer gaming-inspired languages have enough depth to warrant a university level class, many are not fully realized, so have fun discovering select words and phrases to bring to future geeky date outings.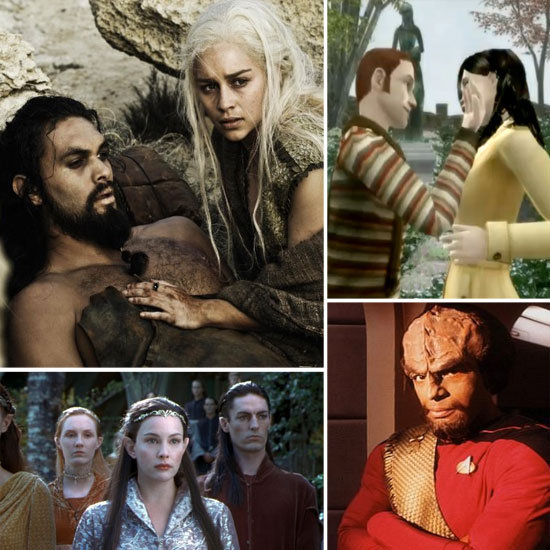 Check out even more languages to geek out over after the jump.
Simlish — The official language of SimNation is said to be just made up nonsense, but play the game long enough and you'll see linguistic trends. Look for the times the Sim people slip in a few words of English.
Dothraki — Game of Thrones fans may have already picked up a few key words of the nomadic Dothraki people's language on the show, but with over 3,000 words it extends quite further than seen in episodes. Developed by a linguist for the show after the books were written, the fan-created Learn Dothraki website can get you up to speed.
CSS or HTML or Java — Whatever your career, becoming fluent in these computer languages can only enhance your resume. Take time to grow your skill set and learn how to use these programming tools while also finally building a personal website or blog.
Parseltongue — Learn the language of the serpents by holding a Harry Potter marathon. Try out the Parseltongue translator, though it sounds an awful lot like wind blowing through the halls of Hogwarts.
Gelfling — The Gelfling people made a brief but memorable appearance in The Dark Crystal. Only male Gelflings can read their ancient language.
Na'vi — The language of the planet Pandora residents, the Na'vi people, in Avatar was methodically created by a University of Southern California professor. A free iPhone app and website can teach you the language's syntax rules and pronunciation, which the film's actors also learned.