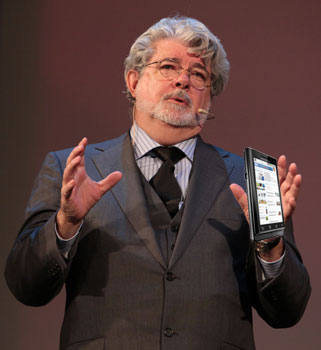 What do George Lucas and the new Droid have in common? More than you'd think! I'm stoked to get my hands on the new device being offered up by
Motorola
to see
if it really can top my iPhone
, but when I got an invite to the San Francisco launch party I noticed something interesting at the bottom: the word "droid"
is licensed to Lucasfilm LTD
, which means Motorola pays a fee to the
Star Wars
icon to use his trademarked term.
I got the facts confirmed by a friend that works at the Lucas compound, but also found some other interesting tidbits about the name. The same device is being called the Milestone in Italy and Germany, but comes with more advanced multitouch support. Ah, the things you learn!