Gift Ideas For Photographers
Gift Ideas For the Photo Enthusiast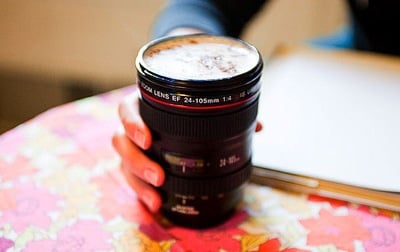 So you've got a friend who's always got a camera in your face. Shopping for these types can be a snap since there's always some sort of fun, functional, or essential item that they could use in their camera bag. For example, although you can't use the Lens Cap Mug ($25) for taking pics, your shutterbug can use it to sip their favorite hot beverage at home, or at their favorite cafe. Plus, how cool is this thing?!
More gift ideas after the break.
A cool camera strap — Don't let your friends use a camera without a strap! It does more than just keep your lenses handy, it helps stave off drops and breakage.
An Eye-Fi card — Forget the USB cables and attachments; an Eye-Fi card (starting at $50) will allow your photo enthusiast to transfer their pics from the camera to the computer over WiFi. Hot.
A versatile camera bag — Versatile and compact camera bags aren't so easy to come by, but the Crumpler SLR camera bag ($59) holds a camera and some lenses so your pic-taking pal can get the best shot wherever she goes.
UV lens filter — A UV filter will help your friend take the best pics possible outdoors (especially with film cameras), reducing the amount of glare, fogginess, or haziness that appears in her photos.