Need some extra cash? Always out and about in your town? Then Gigwalk is for you. This app allows you to perform "gigs" at local businesses (like taking pictures of menus, food items, or document venue or store information) and earn a few dollars for your time. It's like getting paid to explore your city, and what can be better than that?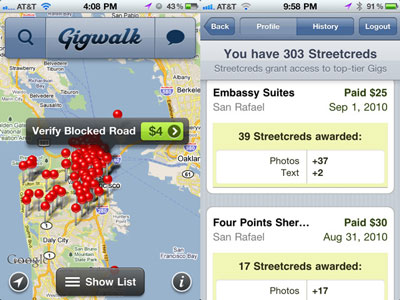 Local businesses can post gigs in order to entice you to visit, then ask you to record store info or features. In exchange you'll earn a few bucks, and some "streetcred," which allows you to earn bigger bounties for your hard work. All payments are made through your PayPal account. It's a free app for your iPhone, so there's no real reason why you shouldn't download. And if you're a business, you can easily
get on the Gigwalk train
and get people in your doors.