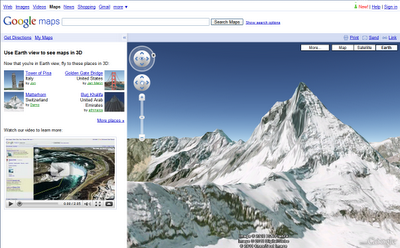 According to Google,
over 600 million people have used Google Earth
to take a trip around the world from their desktops. Although a virtual vacation is nothing compared to feeling the warm sun on your face while you lounge on a beach in the South of France, I guess it can come close if you don't have any
real
vacay time saved up.
Yesterday, Google announced another way you can get your world fix. Called Earth View, you can now get access to Google Earth's 3D images right in Google Maps, without having to launch the Google Earth application. Working for your PC and Mac, all you need to do is download the Earth View plugin. Already a fan of Google Earth? Then you should be ready to go just by clicking the "Earth" button on the top right of the map area. Happy (virtual) travels!