Change schmange. I'm not usually one to sing the blues when something in my Internet world changes (OK, maybe I do care about some changes), especially if it changes for the better and makes my life a little bit easier. But if it changes for no apparent reason and brings additional stress to my life — no thank you!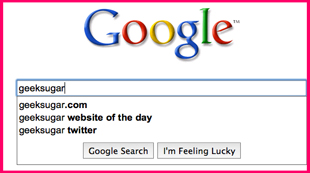 Yesterday I noticed that Google has supersized its
search page
. . . my guess is the font went from a 14pt to a 20pt font, which is a big difference! It's not that I'm Googling naked pictures of
Robert Pattinson
or anything (shh, don't tell anyone), but whatever you're typing in — plus the suggested results that show up — are pretty big on your screen. And when you have an already rather large external screen like mine, you can see everything and then some. What do you think? Is Google's new search page a tad on the big side for your liking?