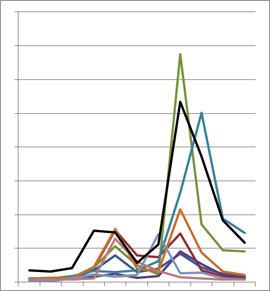 I love looking at interesting Internet search and content data — from Twitter's trending topics to popular Google searches, that kind of geeky data fascinates me. Toss that info into a graph and I am all over it. Similar to
Twitter's Super Bowl
graph, yesterday
Google posted a blog post detailing Oscar-related search traffic
. The post contains information about searches pertaining to Oscar fashion, winners, and event gossip. Who were the search winners?
During the red carpet, Zoe Saldana's purple Givenchy beat out Miley Cyrus's Jenny Packham gown as the most-searched fashion item. Searches for both nominated movies and nominated stars peaked in spurts during the show, with The Hurt Locker receiving a huge traffic spike, peaking when it received best picture. And as the stars go, the night's top three searches were a predictable Sandra Bullock, Jeff Bridges, and Kathryn Bigelow, whose searches peaked as soon as their names were announced.
Check out the official Google blog post for the full data, including which hot gossip items and which unusual words (hint: one of them is "spooning") made the list of hot search terms this year.