Grace From Outer Space
Why You Should Back Grace From Outer Space
Like us on Facebook
It's a fact: there aren't enough women in STEM fields, and Jenna Bryson thinks it's because there are too many princesses and not enough science-minded heroines. To get little girls interested in science, technology, engineering, and math, Jenna wrote a rhyming picture book with a female lead, called Grace From Outer Space.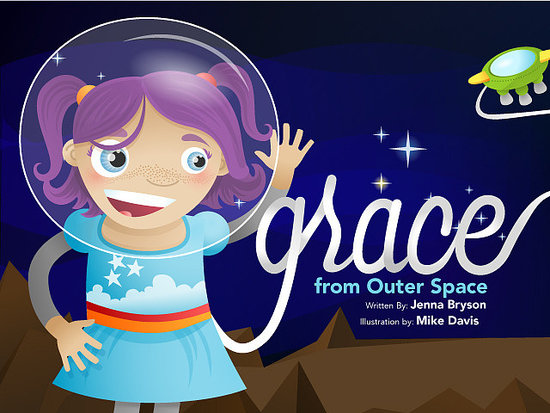 Grace is the most adorable little space cadet with purple hair you ever did see — and she has just three days left on her Kickstarter campaign. Jenna hopes to publish the book and hire developers to create an iPad app, but she's got a long way to go. Here are a few reasons why you should back Grace From Outer Space:
Real science — The story of Grace, who lives on a spaceship with her family, is fictional, but the scientific concepts discussed in the book are factual. Jenna cross-checked the theories of black holes, speed of light, and dark energy with material from her favorite astrophysicists: Carl Sagan, Neil deGrasse Tyson, and her cousin Lauren Brewer, an astronomy graduate student. Lauren was inspired by Dr. Ellie Arroway, the protagonist of Carl Sagan's Contact, and hopes that Grace will, like Ellie, become a science-minded female role model.
Interaction — This is not your typical picture book. Illustrator Mike Davis has already created great vector drawings of the leading lady and, Jenna hopes, to engage young readers in a new, modern way to

POPSUGAR, the #1 independent media and technology company for women. Where more than 75 million women go for original, inspirational content that feeds their passions and interests.