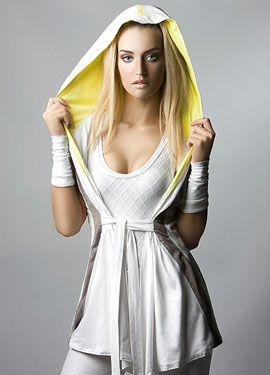 I thought having a Facebook app on my smartphone was enough to keep me connected to my friends, but who wants to live their lives with a phone in their face? A company called Electrofoxy is here with a solution — they are working on
an electronically-enhanced line of clothing
, including
the Ping hoodie
(seen here) that will take technology and fashion to another level, and do away with the need to check your favorite social network on your cell.
By integrating sensors into the garment, you can send status message updates to your Facebook page with just a few gestures — lifting up or lowering the hood, tying a bow, or zipping up, among others. Plus, you can program what each gesture says with an accompanying Facebook application, and even get alerted to incoming messages with a "tap" on the shoulder from the jacket. They say:
Clothing is a core part of our expression and offers ways for us to communicate who we are and the context in which we live. Technology enables a richer connection with people and our environment and offers a new platform for communication and expression.
Seems like Marty McFly's auto-drying and shrink-to-fit jacket from Back to the Future II isn't that far off after all!