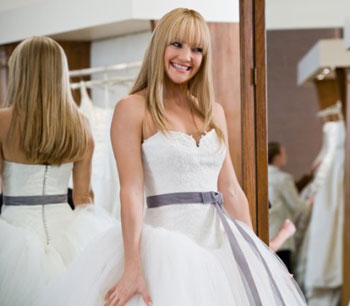 In case you haven't noticed, it's
wedding season
here on the Sugar Network! This week, we're focusing on the
wedding
parties — from bachelorette to bridal showers — and it's a given that you'll be taking lots of pics during your engagement festivities. Perfect timing, since May's National Photography Month provided us
with some great tips
on how to take fab photos! However, the lessons don't stop with the changing of the calendar — these tips are meant to help you look great
in front
of the lens, and can be used during your last single night out with your gal pals, or on your big day.
Don't over-do it! — Since you want these pics to last a lifetime, keep your hair and makeup natural to prevent dating yourself, and please, check the duckface at the door.
Avoid blinking — Have your photographer take two or three photos in a row to let your eyes adjust to the flash. Most people blink from the anticipation and shock of the bright light in their eyes.
See the rest of my tips after the break!
Pose like a celebrity — Although the over-the-shoulder pose may be more appropriate for the red carpet than a wedding, Eva Mendes's favorite pose — shoulders back, standing tall — is flattering on every woman, including brides.
Shoot from above, not below — Make sure you talk with your photographer on preferred angles — shooting from below isn't flattering for anybody, including curvier brides and grooms.
Get in some practice time — Employ all of your friends to bring their cameras to your various pre-wedding events and really snap away. This ensures you'll get used to the cameras being around, and will find yourself to be less nervous when the professional photographer shows up for your wedding.
Have fun! — If you're truly enjoying yourself, it will shine through in your photos.